onePULSE Foundation scaling down plans for museum, memorial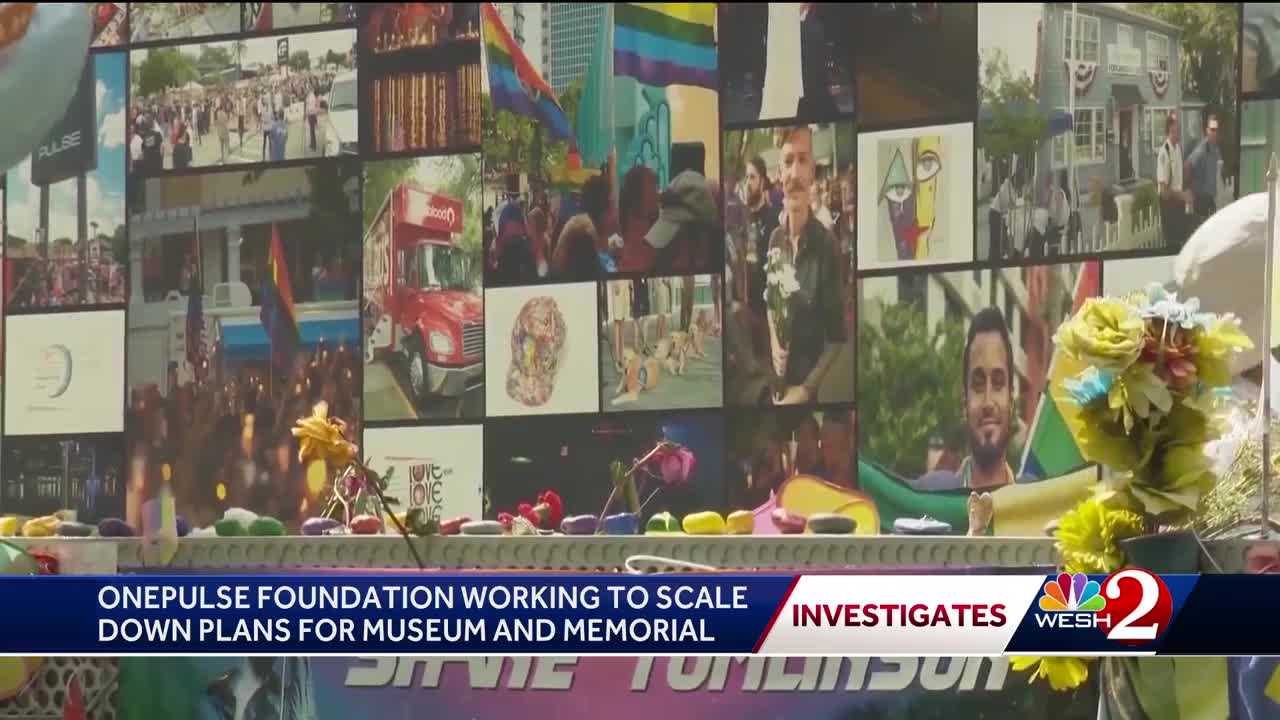 OnePULSE said it is scaling back plans to build a museum and memorial after it lost control of the old nightclub area where 49 people were killed. It's been almost 7 years since the massacre that killed 49 people at the Pulse nightclub and both construction projects have yet to break ground. In 2021, when we sat down with Pulse nightclub co-owner and then onePULSE founder Barbara Poma, she said $49 million was still needed to complete the projects. The foundation has yet to release updated figures on the project's costs, but the foundation revealed that it decided in January to rotate the plans when Bowie said it knew it could cost up to $1 billion. 100 million dollars. WESH 2 Investigators reported that number last month when we discovered a fundraiser advertised a nine-figure budget on its website for at least two months between May and May. July 2022. In addition to the increased costs, the fund last announced next month, it was unable to reach an agreement with Pulse nightclub owners Barbara and Rosario Poma, and their business partner Michael Panaggio, to donate land to the foundation – meaning that a memorial will not be built at the site of the massacre. It's another big change in plans and the organization says it's worrisome that there's no way to know what owners will do with the property. WESH 2 Investigates also reported back in May that the organization submitted a request for an additional $10 million in Tourism Development Tax from Orange County. We received a copy of their request that they redevelop the building they own at 438 W. Kaley Street to create a multi-use space. The Foundation confirms that the space can be used to benefit the LGBTQ+ community, providing communal space for local organizations as well as the memorial itself. It is also possible, as WESH 2 Investigates reported last month, that the fund purchased the land behind the Pulse nightclub. used for memorial. All options were on the table when the onePULSE Foundation found itself beginning the development process for the project. On Friday, WESH 2's Michelle Imperato will speak with executive director Deborah Bowie to learn more about this second shot at the memorial and museum project, as well as the key changes the foundation has undergone. passed last year. Related:Pulse survivors, victim's family members speak on onePULSE FoundationonePULSE Foundation seeking another $10 million in tourist tax from county
ORLANDO, Florida —
OnePULSE said it is scaling back plans to build a museum and memorial after it lost control of the old nightclub area where 49 people were killed.
It's been almost 7 years since the massacre that killed 49 people at the Pulse nightclub and both construction projects have yet to break ground.
In 2021, when we sat down with Pulse nightclub co-owner and then onePULSE founder Barbara Poma, she said $49 million was still needed to complete the projects.
The foundation has yet to release updated figures on the project's costs, but the foundation revealed that it decided in January to rotate the plans when Bowie said it knew it could cost up to $1 billion. 100 million dollars.
WESH 2 Investigators reported that number last month when we discovered a fundraiser advertised a nine-figure budget on its website for at least two months between May and May. 7 year 2022.
In addition to the increased costs, the foundation announced last month that it was unable to reach an agreement with Pulse nightclub owners Barbara and Rosario Poma, and their business partner Michael Panaggio, to donate the land to funds – meaning a memorial will not be built at the site of the massacre. It's another big change in plans and the organization says it's worrisome that there's no way to know what owners will do with the property.
WESH 2 Investigates also reported back in May that it had submitted a request for an additional $10 million in Tourism Development Tax from Orange County.
We received a copy of their request that they redevelop the building they own at 438 W. Kaley Street to create a multi-use space. The Foundation confirms that the space can be used to benefit the LGBTQ+ community, providing communal space for local organizations as well as the memorial itself.
It is also possible, as WESH 2 Investigates reported last month, that the land behind Pulse nightclub was purchased by funds used for the memorial.
All options are on the table as the onePULSE Foundation finds itself restarting development for the project.
On Friday, WESH 2's Michelle Imperato will speak with executive director Deborah Bowie to learn more about this second shot at the memorial and museum project, as well as the key changes the foundation has undergone. passed last year.
Related:
Pulse survivors, victims' relatives speak on onePULSE Foundation
OnePULSE is seeking an additional $10 million in tourist taxes from the county