Oscars: How to watch 2020s Best Picture winners, nominees
For our 2020s list we've included all the films nominated for best picture. The first two winners — "Nomadland" (2020) and "CODA" (2021) — got earlier-than-usual releases on streaming services (Hulu and Apple TV+), as did a few of the nominated films.
Keep an eye on this page, which will be updated as streaming availability for these films changes.
2020: 'Nomadland' (Winner)
93rd Academy Awards: April 2021
Rating: R, for some full nudity.
Running time: 1 hour, 47 minutes.
Streaming: Hulu: Included | Prime Video: Rent/Buy | Apple TV+: Buy
Near the beginning of "Nomadland," Chloé Zhao's wise, wistful hymn to the open road, Fern (Frances McDormand) drives her van through a chilly stretch of Nevada desert, singing to herself as the wind lashes her windows. Her destination is an Amazon warehouse where she will spend weeks bubble-wrapping and sealing packages for delivery, a grueling godsend of a job that will help her and many other itinerant workers get through the rough winter months ahead. The song she's singing is "What Child Is This?," a seasonally appropriate choice that sent my thoughts drifting back centuries to another group of wanderers, seeking shelter from a world that seems oblivious to their sufferings and ignorant of their worth.
"Nomadland" does bear a passing (and sometimes amusing) resemblance to a modern-day nativity play. Fern, played by McDormand at the plainspoken peak of her powers, is a widow in her 60s with no children to speak of, though at one point she does awkwardly cradle a sleeping infant. There is no transcendence at the end of her long, harrowing journey, but there are unexpected gifts, guardian angels and places of refuge. It would be hard to overlook the spiritual presence — a good word for it would be "grace" — that hovers over every frame of this movie and the spare, wrenching story it has to tell. (Read more) — Justin Chang
2020: 'The Father'
93rd Academy Awards: April 2021
Rating: PG-13, for some strong language and thematic material.
Running time: 1 hour, 36 minutes.
Streaming: Prime Video: Rent/Buy | Apple TV+: Rent/Buy
In "The Father's" house are many rooms, all of them beautifully appointed with details so sharp and precise that you might be startled to find them vanishing a few moments later: Didn't those backsplash tiles look different a minute ago? Wasn't there a lamp on that side table? The French writer-director Florian Zeller, adapting his internationally acclaimed play for the screen, has a meticulous eye and a keen sense of mischief, which doesn't lighten so much as heighten the implacable tragedy at the heart of this story. The moment-to-moment pleasures of trying to decipher the plot give way to crushing futility; you're left sifting through the pieces of a puzzle that's almost too painful to solve.
Those pieces have been plucked from the life of an 80-year-old Englishman named Anthony. Known as André in the play, he has been renamed here in honor of his interpreter, Anthony Hopkins, who repays it with a performance of extraordinary psychological cunning and emotional force. We first encounter Anthony in a darkened London apartment, listening to a recording of Henry Purcell and John Dryden's 1691 dramatic opera "King Arthur, or the British Worthy." Before long his daughter, Anne (Olivia Colman), comes in and the music stops, though not before the opening lines of an aria have rung out: "What power art thou, who from below / Hast made me rise unwillingly and slow / From beds of everlasting snow?" (Read more) — Justin Chang
2020: 'Judas and the Black Messiah'
93rd Academy Awards: April 2021
Rating: R, for violence and pervasive language.
Running time: 2 hours, 5 minutes.
Streaming: Prime Video: Rent/Buy | Apple TV+: Rent/Buy
In the coolly electrifying "Judas and the Black Messiah," you can't take your eyes off Daniel Kaluuya as Fred Hampton, the Black Panther Party leader who would become a 21-year-old martyr and revolutionary icon. One of the achievements of this movie, an expansive yet intimate chronicle of the events leading up to Hampton's 1969 killing during a police raid on his Chicago apartment, is that it restores the man, for two hours at least, to some dramatic semblance of his former glory. Memorialized for his tragic death, he is reclaimed here as a figure of boisterous, defiantly big-hearted life.
Kaluuya (Oscar-nominated for "Get Out"), an actor of boundless charisma and versatility, reveals the same qualities in Hampton himself. As chairman of the Black Panthers' Illinois chapter, he is the target of much hateful scrutiny from J. Edgar Hoover (a scowling Martin Sheen), who's shown directing his FBI underlings to take action against this potential "Black Messiah" and the various subversives he is bound to inspire. You can see why Hoover's so rattled: The Fred Hampton we meet is a born activist, a master orator and a ferocious critic of the white power structure. He urges his fellow Panthers to embrace socialism, practice militancy and reject any culture — even traditional African culture — that might tempt them from the path of revolution. (Read more) — Justin Chang
2020: 'Mank'
93rd Academy Awards: April 2021
Rating: R, for some language.
Running time: 2 hours, 12 minutes.
Streaming: Netflix: Included
There is some awfully good writing in "Mank," which is only to be expected for a movie about some of the finest writing ever to grace the silver screen. Under the circumstances, it seems fitting to quote a few examples. In one scene, the screenwriter Herman J. Mankiewicz (a superb Gary Oldman), laid up with a broken leg and a looming deadline, endures the lofty complaints of his editor, John Houseman (Sam Troughton). "You're asking a lot of a motion picture audience," Houseman says, describing Mank's latest work as "a hodgepodge of talky episodes, a collection of fragments that leap around in time like Mexican jumping beans. The story is so scattered, I'm afraid one will need a road map."
The screenplay under critique will eventually become "Citizen Kane," and as dim as Houseman's opinions may sound 80 years later, they're a reminder of the sheer audacity of that 1941 masterwork, not only in its dazzling technique but also in its defiance of the constraints of linear narrative. And "Mank," though hard-pressed to attempt anything comparably groundbreaking, nonetheless devises its own tricky, time-shuffling structure. (Read more) — Justin Chang
2020: 'Minari'
93rd Academy Awards: April 2021
Rating: PG-13, for some thematic elements and a rude gesture.
Running time: 1 hour, 55 minutes.
Streaming: Prime Video: Buy | Apple TV+: Buy
In the opening moments of Lee Isaac Chung's moving immigrant drama "Minari," Monica (Yeri Han) looks out the station wagon window at the lush Ozark landscapes she's passing through while following her husband, Jacob (Steven Yeun), on the way to their new home in rural Arkansas. When Jacob's moving van pulls up to a mobile home in the middle of an isolated field and stops, the look of horror on Monica's face calls to mind a line from another of the year's finest movies, the David Byrne theatrical concert "American Utopia."
Monica asking herself, "Well, how did I get here?" is the starting point to "Minari," the delicate, vividly textured story of a Korean couple who have decided (or, at least, the husband has) to move their two American-born children from California to a farm in the heartland to stake a claim for independence and a more meaningful life. (Read more) — Justin Chang
2020: 'Promising Young Woman'
93rd Academy Awards: April 2021
Rating: R, for strong violence including sexual assault, language throughout, some sexual material and drug use.
Running time: 1 hour, 53 minutes.
Streaming: Prime Video: Rent/Buy | Apple TV+: Rent/Buy | HBO Max: Included
Cassandra Thomas is a hell of an actress. (Ditto Carey Mulligan, who plays her.) The first time we see her in the deviously coiled revenge thriller "Promising Young Woman," she looks about ready to pass out drunk, struggling to steady herself in a club jammed with revelers, onlookers and predators-in-waiting.
It takes commitment to appear this helpless, to stumble down a flight of stairs in heels, one painful step at a time, on the arm of that nice guy who offered to take you home. But the payoff is worth it, for us and presumably for Cassie, who waits until just the right moment — after the nice guy has plied her with more booze and slipped off her panties — to snap to attention, fully conscious and fully sober. "Hey," she says, in a voice that could freeze blood. "What are you doing?"
We don't see what happens to the nice guy, though the angry-looking hash mark Cassie etches in her notebook the next morning doesn't bode well. He's the latest in her book of personal conquests, men who see her looking hammered in public and swoop in with concerned smiles, eager to take her home and take advantage, only to reel back in horror (or worse, indignation) when they realize they've been played. (Read more) — Justin Chang
93rd Academy Awards: April 2021
Rating: R, for language throughout and brief nude images.
Running time: 2 hours.
Streaming: Prime Video: Included
Every so often in the bruising, deeply moving drama "Sound of Metal," the director Darius Marder pulls off an abrupt shift in perspective. The camera will bring us close to Ruben (a sensational Riz Ahmed), a drummer who is going deaf, and make his consciousness our own: Voices suddenly become muffled, and a fuzzy, disorienting ambience floods the soundtrack. Then the movie will cut away to a wider shot, this time teeming with all the sounds he can no longer hear, whether it's a bunch of people laughing around a dinner table, a pharmacist trying to give him instructions or Ruben's own fingers tapping out a rhythm on a playground slide.
That rhythm is a reminder of his musical gifts, which means it's also a reminder of what he's lost. We first meet Ruben in happier times, drumming up a storm at his latest touring gig with Lou (Olivia Cooke), the singer-guitarist half of their punk-metal duo. They're partners in life as well as art. (Read more) — Justin Chang
2020: 'The Trial of the Chicago 7'
93rd Academy Awards: April 2021
Rating: R, for language throughout, some violence, bloody images and drug use.
Running time: 2 hours, 10 minutes.
Streaming: Netflix | Included
Demonstrators clashing with police. Black men violently silenced. A court battle waged by a vindictive administration. A fraught election year, a fast-climbing death toll, a nation in turmoil. These are a few of the things we see and hear in "The Trial of the Chicago 7," Aaron Sorkin's slick, garrulous new movie about the bloody chaos that erupted outside the 1968 Democratic National Convention and the trumped-up legal circus that followed. The echoes of our political present, booming at us from across half a century, are about as subtle as the shouts we hear during the protests and later on the courthouse: "The whole world is watching!" Indeed it was, as it is now. (Read more) — Justin Chang
2021: 'CODA' (Winner)
94th Academy Awards: March 2022
Rating: PG-13, for strong sexual content and language, drug use.
Running time: 1 hour, 51 minutes.
Streaming: Apple TV+: Included
My first review of "CODA," Siân Heder's sublime coming-of-age story of a child of Deaf adults (the film's title is that very acronym), came right after watching it on the opening night of this year's virtual Sundance Film Festival and consisted of a message sent to a colleague containing the sobbing emoji repeated three times.
Having had the chance to revisit the movie several months later, that review seems insufficient. "CODA" warrants at least half a dozen sobbing emojis, followed by a dozen hearts and a couple of bouquets of flowers and, I don't know, maybe a peach and an eggplant (or whatever the kids use these days) for the number of times the movie emphasizes the parents' spectacularly healthy sex life.
But as you're reading this, you might be interested in … I don't know … words. So let me say that "CODA" contains a great many elements familiar to this kind of movie. It's about a restless teenager trying to break free from her parents' expectations, helped along by an inspirational teacher, putting her on the path to a tense, make-or-break musical audition that's followed by an emotional catharsis that will wound even the most hardened soul.
But because Heder — whose previous work includes the Netflix series "Orange Is the New Black" and "Glow" and feature "Tallulah" — is so adept at establishing the emotional bonds between the film's close-knit family, the presence of all these conventions doesn't matter. Much. You might find yourself in the film's final 20 minutes begging for mercy as the story careens from a heart-to-heart talk between mother and daughter to a beautiful moment between father and daughter to the use of Joni Mitchell's "Both Sides Now" in a way that literally embodies the lyrics "tears and fears and feeling proud / To say, 'I love you' right out loud." But you will not mind because Heder has earned the right to destroy you emotionally. (Read more) —Glenn Whipp
2021: 'Belfast'
94th Academy Awards: March 2022
Rating: PG-13, for some violence and strong language.
Running time: 1 hour, 38 minutes.
Streaming: Prime Video: Buy | Apple TV+: Rent/Buy| HBO Max: Included
More than once during "Belfast," Kenneth Branagh's wobbly crowd-pleaser about his tumultuous early years in Northern Ireland, the characters sit back in a crowded movie theater and find themselves enraptured. We see their faces beaming up at the screen, backlit by the projector beam and bathed in the glow of images from "One Million Years B.C." or "Chitty Chitty Bang Bang," both excerpted here in all their bright-hued glory. The colors especially stand out because the rest of "Belfast" was shot in black-and-white (by director of photography Haris Zambarloukos), which is to say that this brisk coming-of-age yarn is also a self-conscious ode to the magic of the movies. (Read more) — Justin Chang
2021: 'Don't Look Up'
94th Academy Awards: March 2022
Rating: R, for language throughout, some sexual content, graphic nudity and drug content.
Running time: 2 hours, 18 minutes.
Streaming: Netflix | Included
Late into the unwieldy end-of-days satire "Don't Look Up," writer-director Adam McKay briefly sets aside the easy snark and broad targets and reaches for a note of awe. He just about hits it. An enormous comet has appeared in the night sky, finally visible to the naked eye after having spent months making a beeline for Earth. It's a terrifying sight but also a sublime one, a vision of inexorably approaching doom that — with an assist from a teary-eyed Leonardo DiCaprio and a gorgeously churning score by "Succession's" Nicholas Britell — can't help but stir a collective sense of wonder.
A moment like that stands in pointed opposition to the social malaise being diagnosed in "Don't Look Up," a semi-sweet, mostly sour comic dispatch from a world where wonder is for dummies and collective unity is a joke. (Read more) — Justin Chang
2021: 'Drive My Car'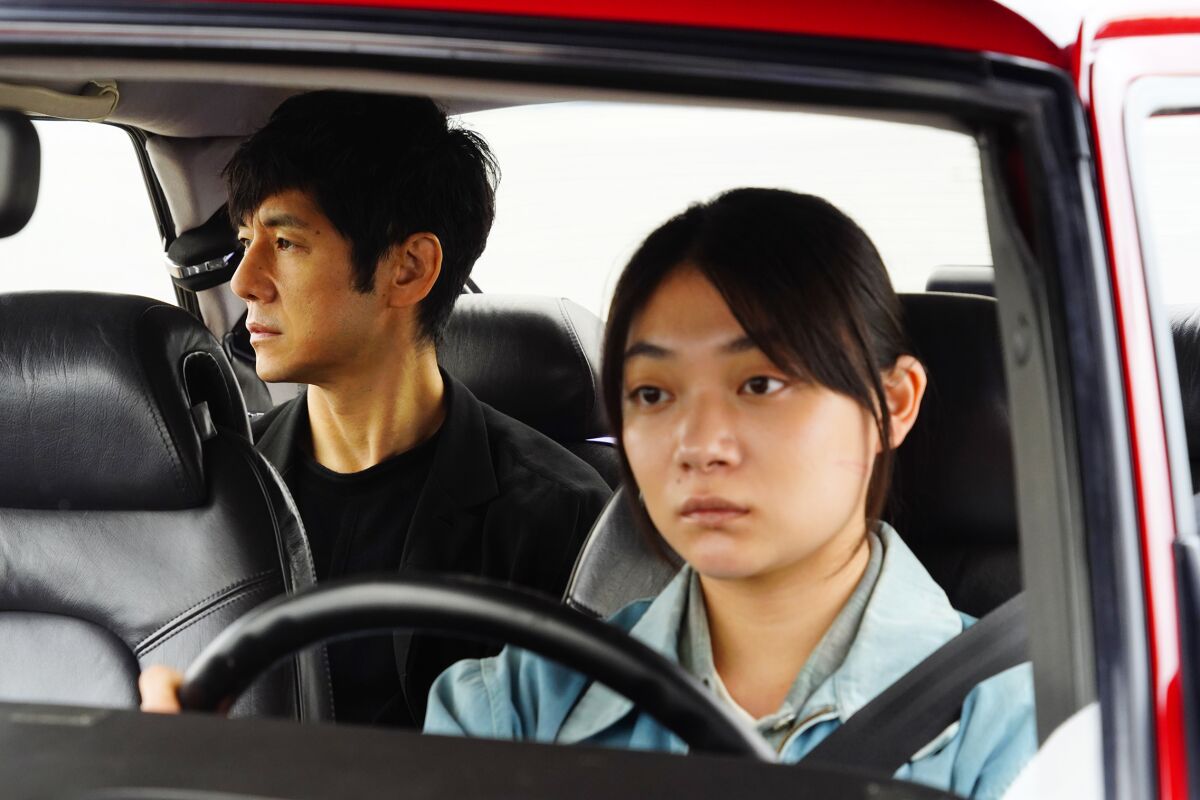 94th Academy Awards: March 2022
Rating: TV-MA
Running time: 2 hours, 59 minutes.
Streaming: Prime Video: Rent/Buy | Apple TV+: Rent/Buy | HBO Max: Included
At the simplest of its many intricate levels, Ryûsuke Hamaguchi's "Drive My Car" is a masterpiece — haunting and true, melancholy and wise — inspired by another. It follows a middle-aged actor and director, Yûsuke Kafuku (a superb Hidetoshi Nishijima), who specializes in experimental multilingual theater productions, the latest of which is "Uncle Vanya." The play's still the thing, but you've never seen or heard Chekhov quite like this, in a Babel-esque collision of tongues including Japanese, Mandarin, Korean and Korean sign language. It presents an unusual challenge for Kafuku's actors, who must draw on all their expressive powers to achieve an eloquence that transcends words.
They more than rise to that occasion — and so, with shimmering elegance and lucidity, does "Drive My Car." (Read more) — Justin Chang
2021: 'Dune'
94th Academy Awards: March 2022
Rating: PG-13, for sequences of strong violence, some disturbing images and suggestive material.
Running time: 2 hours, 35 minutes.
Streaming: Prime Video: Buy | Apple TV+: Buy | HBO Max: Included
The story in "Dune" is set in motion by an ambitious, unwieldy and ill-advised transfer of power — an undertaking that extracts a terrible cost and seems doomed to end in frustration and defeat. Something similar might be said of the previous major attempts to wrest Frank Herbert's 1965 literary colossus to the big screen, even if recent history has sometimes looked back on those failures with a forgiving smile. Alejandro Jodorowsky's assuredly trippy, never-completed version has become a much-mythologized cinematic ruin. David Lynch's 1984 flop, reviled by many (including Lynch himself), can still inspire spasms of admiration for its mix of narrative intransigence and visionary strangeness.
Still, to the extent that "Dune" endures, it does so on the strengths of Herbert's extraordinarily prescient work — its echoes of a real world ravaged by oil wars, climate change and other consequences of human greed — rather than anything to do with its dubious cinematic legacy. Not least among the book's mysteries is that it has shaped the iconography of so many classic science fiction and fantasy films — most obviously, though not exclusively, "Star Wars" — without yielding a classic of its own. (Read more) — Justin Chang
2021: 'King Richard'
94th Academy Awards: March 2022
Rating: PG-13, for some violence, strong language, a sexual reference and brief drug references.
Running time: 2 hours, 25 minutes.
Streaming: Prime Video: Buy | Apple TV+: Buy | HBO Max: Included
"Keep your stance open." These words, or some variation on them, form a steady refrain in "King Richard," Reinaldo Marcus Green's shrewd, slick and enormously satisfying drama about the forging of a pair of tennis superstars. To anyone who will listen (and some who won't), Richard Williams demands that his young daughters Venus and Serena use an open-stance technique, not the closed stance favored by most others. It's a nifty running gag, rooted in the truth: Richard and his then-wife, Oracene, really did teach their daughters this method, which would become more widely adopted in the wake of their fame and influence. And because sports dramas and biopics are all about tidy metaphors, it's also a lesson: Stay loose. Stay flexible. Keep an open mind.
This is admittedly rich advice coming from Richard, who is easily the most stubborn, closed-minded person in the movie and possibly the Greater Los Angeles area. As played by an outstanding, wholly committed, sometimes fearlessly insufferable Will Smith, Richard is a combination of helicopter parent, personal publicist, battle strategist and drill sergeant, with a disarmingly friendly, quippy manner that doubles as an instrument of persuasion. (Read more) — Justin Chang
2021: 'Licorice Pizza'
94th Academy Awards: March 2022
Rating: R, for language, sexual material and some drug use.
Running time: 2 hours, 13 minutes.
Streaming: Prime Video: Included | Apple TV+: Rent/Buy
For all the delightful surprises packed into Paul Thomas Anderson's film — starting with its title, "Licorice Pizza" — it may not shock you to learn that it opens with a hell of a pick-up scene. They're something of an Anderson specialty.
How this filmmaker loves his hard-sell hustlers and go-for-broke dreamers, and what delicious words he gives them as they chase their desires: love and sex, sure, but also money, power, greatness. Think of the fashion designer flirting with a waitress in "Phantom Thread," but also the oil baron greasing his way into a town's good graces in "There Will Be Blood." Think of the cult leader reaching out to a lost soul in "The Master," dangling the possibility of salvation with an unmistakable hint of seduction.
That leader was played by Philip Seymour Hoffman, which imparts a certain eerie exhilaration to the opening scenes of "Licorice Pizza." The pick-up artist here — played by Cooper Hoffman, the late actor's son — is a 15-year-old go-getter with the showbiz-ready name of Gary Valentine. It's picture day at a Tarzana high school in the mid-1970s, and Gary, ready to commit his wavy red hair and pimply smile to yearbook posterity, finds himself smitten with a photographer's assistant named Alana Kane (Alana Haim). Unfazed by her age (she's 25) or her disdain, he wears her down with nonstop chatter about his acting career, the PR company he runs with his mom and his insistence on taking Alana out to dinner. She doesn't say yes, but as she turns away a smile of surrender steals across her face. By that point she's earned your surrender as well. (Read more) — Justin Chang
2021: 'Nightmare Alley'
94th Academy Awards: March 2022
Rating: R, for strong/bloody violence, some sexual content, nudity and language.
Running time: 2 hours, 30 minutes.
Streaming: Prime Video: Rent/Buy | Apple TV+: Rent/Buy | HBO Max: Included | Hulu: Included
There's always been something faintly unsettled about Bradley Cooper — not unsettling, necessarily, but unsettled, as if he didn't entirely belong in his own skin. Handsome as the devil and about as trustworthy, his most memorable characters wear their good looks like a mask that keeps slipping, almost but not quite concealing some underlying disturbance.
As evidenced by the spectacularly grim neo-noir "Nightmare Alley," the writer-director Guillermo del Toro understands it. In this adaptation of William Lindsay Gresham's 1946 novel (it was previously filmed in 1947, with an excellent Tyrone Power in the lead), Cooper plays Stanton Carlisle, a man of lowly roots, high ambitions and a dark past that we see going up in flames in the opening scenes. It's immediately clear that Stanton's no good. But Cooper's moody, chilly beauty — to say nothing of the movie's — keeps us glued as he strides away from the smoky ruin and makes his way by bus to a traveling carnival, where the local impresario, Clem Hoatley (Willem Dafoe), sizes him up and gives him a job. (Read more) — Justin Chang
2021: 'The Power of the Dog'
94th Academy Awards: March 2022
Rating: R, for brief sexual content/full nudity.
Running time: 2 hours, 8 minutes.
Streaming: Netflix: Included
Phil Burbank is a 1920s rancher, a born rider of horses and a skilled leader of men. He is also a sadist, a master of psychological abuse and, as played by a monstrous, mesmerizing Benedict Cumberbatch, one of the scariest characters you may encounter in a movie this year. For all that, he may be less scary than he is proud, reveling in his dominion over the land and its creatures great and small. He especially prides himself on having the gift of sight, an ability to see things that others cannot, like the strange, elusive vision cast by shadows in the hills near his Montana ranch. "There is something there, right?" one of his men asks. Phil replies, "Not if you can't see it, there ain't."
The mystery of the seen and unseen lies at the heart of "The Power of the Dog," Jane Campion's brilliantly acted, insidiously gripping adaptation of Thomas Savage's 1967 novel. Like that book, it's predicated on several carefully concealed surprises, what contemporary discourse would refer to as spoilers but are better understood as ingenious tricks of perception. There is so much to see in this movie, with its sunrise cattle drives set against somber gray skies and craggy landscapes. (Read more) — Justin Chang
2021: 'West Side Story'
94th Academy Awards: March 2022
Rating: PG-13, for some strong violence, strong language, thematic content, suggestive material and brief smoking.
Running time: 2 hours, 36 minutes.
Streaming: Prime Video: Rent/Buy | Apple TV+: Rent/Buy Disney +: Included | HBO Max: Included
At the beginning of Steven Spielberg's brilliantly directed "West Side Story," the Jets whistle, snap their fingers and pirouette around New York, a city that looms and sprawls but is still nowhere big enough to contain their brash, combative energy. So far, so familiar. But anyone who grew up on Robert Wise and Jerome Robbins' 1961 Oscar-winning smash — and who has memorized every chord of Leonard Bernstein's music, every step of Robbins' choreography and every lyric composed by (sob) the late, great Stephen Sondheim — will immediately spot some differences.
Rather than opening with lofty aerial views of Manhattan, Spielberg's movie starts off lower to the ground, snaking its way through the brick-strewn rubble of a San Juan Hill tenement that's been demolished to make way for Lincoln Center. Once the dancing begins, the camera doesn't seem to be recording so much as propelling the performers' movements, matching and even amplifying their mix of balletic grace and street-gang aggression. (Read more) — Justin Chang
2022: 'All Quiet on the Western Front'
95th Academy Awards: Sunday, March 12
Running time: 2 hours 28 minutes | Rating: R, for language.
Streaming: Netflix: Included
"All Quiet on the Western Front," directed by Edward Berger, is hardly the first movie to argue — quite persuasively — that war is hell. It is, however, the first filmed adaptation of Erich Maria Remarque's seminal World War I novel in which the Germans actually speak German. The book's prior screen incarnations — Lewis Milestone's Oscar-winning 1930 film, Delbert Mann's 1979 telefilm — featured platoons of English-speaking actors cast as men with names like Kropp, Müller and Tjaden, a choice that made for some cognitive dissonance but scarcely mitigated their dramatic power or purpose. And that purpose — to de-glorify the horrors of trench warfare, mock the foolish vanity of nationalism and condemn the futility and cruelty of mass death — is one that should transcend barriers of language and culture anyway.
Even so, this solid, stirring new adaptation, which will represent Germany in the Oscar race for international feature, sets a noteworthy precedent. There's an undeniable power in seeing Remarque's once-serialized novel — an antiwar statement so definitive that it was duly banned by the Nazis a few years after its 1929 publication — brought to the screen in its original tongue. The sight of actual German actors in these roles can only lend authority to Remarque's lament for a generation of men — his generation — who were "destroyed by the war," even as it serves to bolster the movie's horrifyingly visceral realism. (Read more) — Justin Chang
2022: 'Avatar: The Way of Water'
95th Academy Awards: Sunday, March 12
Running time: 3 hours 12 minutes | Rating: PG-13, for sequences of strong violence and intense action, partial nudity and some strong language.
Streaming: In wide release, not currently streaming.
In "Avatar: The Way of Water," the director James Cameron pulls you down so deep, and sets you so gently adrift, that at times you don't feel like you're watching a movie so much as floating in one. From time to time he brings you to the bottom of an alien sea, shot with stunning hyper-clarity in high-frame-rate 3D and teeming with all manner of surreally strange fish — all oddly shaped fins, decorative tentacles and other vestiges of an otherworldly, faintly screw-loose evolutionary timeline.
You can imagine the fun (and the headaches) that Cameron and his visual-effects wizards must have had designing this brilliant ocean-floor nirvana. You can also see an astronomical budget (reportedly north of $350 million) and an extraordinarily sophisticated digital toolkit at work, plus a flair for camera movement that, likely shaped by the director's hours of deep-sea diving, achieves an exhilarating sense of buoyancy.
Much as you might long for Cameron to keep us down there — to give us, in effect, the most expensive and elaborate underwater hangout movie ever made — he can't or won't sustain all this dreamy Jacques-Cousteau-on-mushrooms wonderment for three-plus hours. He's James Cameron, after all, and he has a stirringly old-fashioned story to tell, crap dialogue to dispense and, in time, a hell of an action movie to unleash, complete with fiery shipwrecks, deadly arrows and a whale-sized, tortoise-skinned creature known as a Tulkun. All in all, it's marvelous to have him back (Cameron, that is, though the Tulkun is also welcome). He remains one of the few Hollywood visionaries who actually merits that much-abused term, and as such, he has more on his mind than just pummeling the audience into submission. (Read more) — Justin Chang
2022: 'The Banshees of Inisherin'
95th Academy Awards: Sunday, March 12
Running time: 1 hour 49 minutes | Rating: R, for language throughout, some violent content and brief graphic nudity.
Streaming: HBO Max: Included | Prime Video: Rent/Buy | Apple TV+: Rent/Buy
Also in theaters.
The year is 1923, and in the distance the Irish civil war is raging, providing some blunt yet hazy thematic scaffolding for this more intimate tale of men in conflict. The beauty of Inisherin will soon turn sour and corrosive, much like the once-harmonious friendship between Pádraic Súilleabháin (Colin Farrell), a sweet-souled dairy farmer, and Colm Doherty (Brendan Gleeson), a gruff, gimlet-eyed fiddle player. In the opening scene, Pádraic sets out to meet Colm for their usual afternoon pint, only to find the man sitting at home, his back to the window, quietly ignoring Pádraic's knocks and entreaties. Can a man scowl not just with his face but with his entire hulking frame? Somehow, Gleeson manages.
Bewildered by this silent treatment, Pádraic remains unperturbed — surely it must be some sort of joke or misunderstanding — and refuses to accept that the friendship is over, even after Colm later spells it out for him down at the pub: "I just don't like ya no more." After a pause that lasts a small eternity, Pádraic responds, with a mix of confusion, disbelief and heartache that Farrell plays to perfection: "Ya do like me!" And the funny thing is, he's right. (Read more) — Justin Chang
2022: 'Elvis'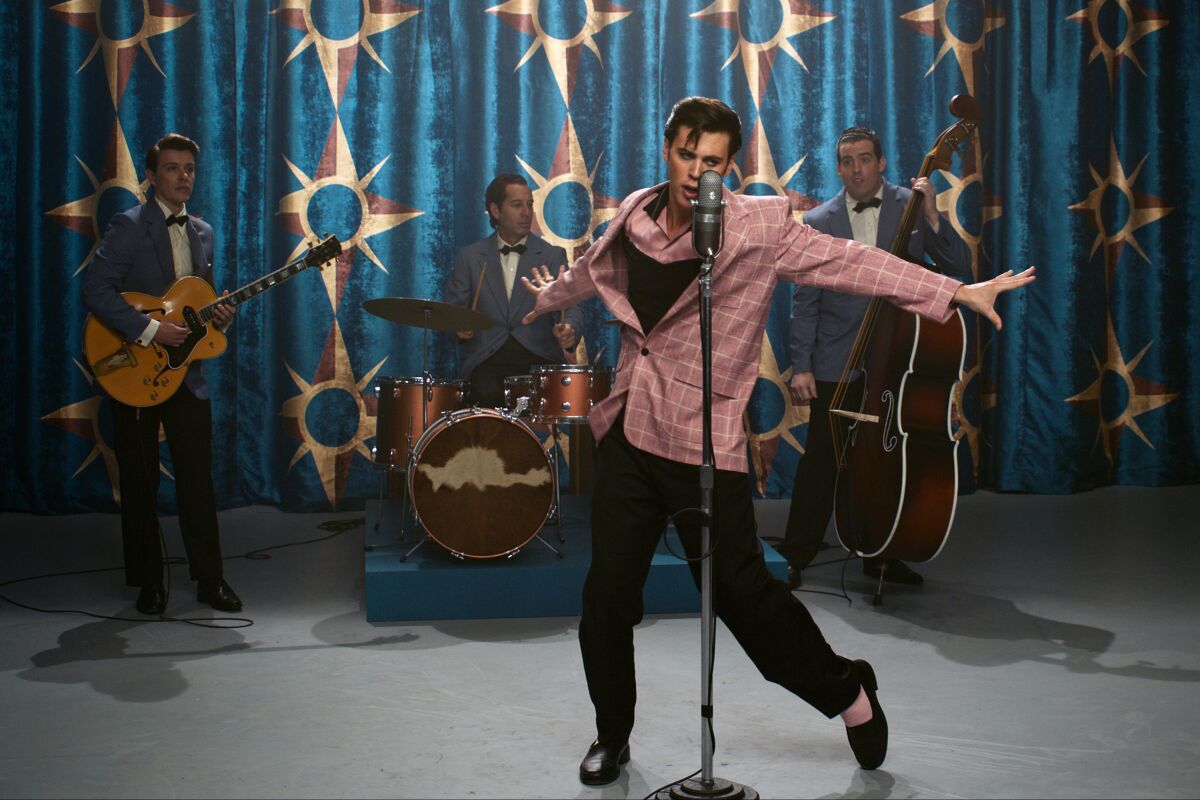 95th Academy Awards: Sunday, March 12
Running time: 2 hours 39 minutes | Rating: PG-13, for substance abuse, strong language, suggestive material and smoking.
Streaming: HBO Max: Included | Prime Video: Rent/Buy | Apple TV+: Rent/Buy
Why hasn't there been a great Elvis biopic yet? Well, Austin Butler wasn't around to star as the King of Rock 'n' Roll. At the center of Baz Luhrmann's sprawling pop epic "Elvis," a film as opulent and outsize as the King's talent and taste, Butler delivers a fully transformed, fully committed and star-making turn as Elvis Presley. The rumors are true: Elvis lives, in Austin Butler.
Swirling around Butler's bravura performance is a manic, maximalist, chopped-and-screwed music biopic in which Luhrmann locates Elvis as the Earth-shaking inflection point between the ancient and the modern, the carnival and the TV screen, a figure of pure spectacle who threatened to obliterate the status quo — and did. Luhrmann takes Presley's legacy, relegated to a Las Vegas gag, and reminds us just how dangerous, sexy and downright revolutionary he once was. He makes Elvis relevant again. (Read more) — Katie Walsh
2022: 'Everything Everywhere All at Once'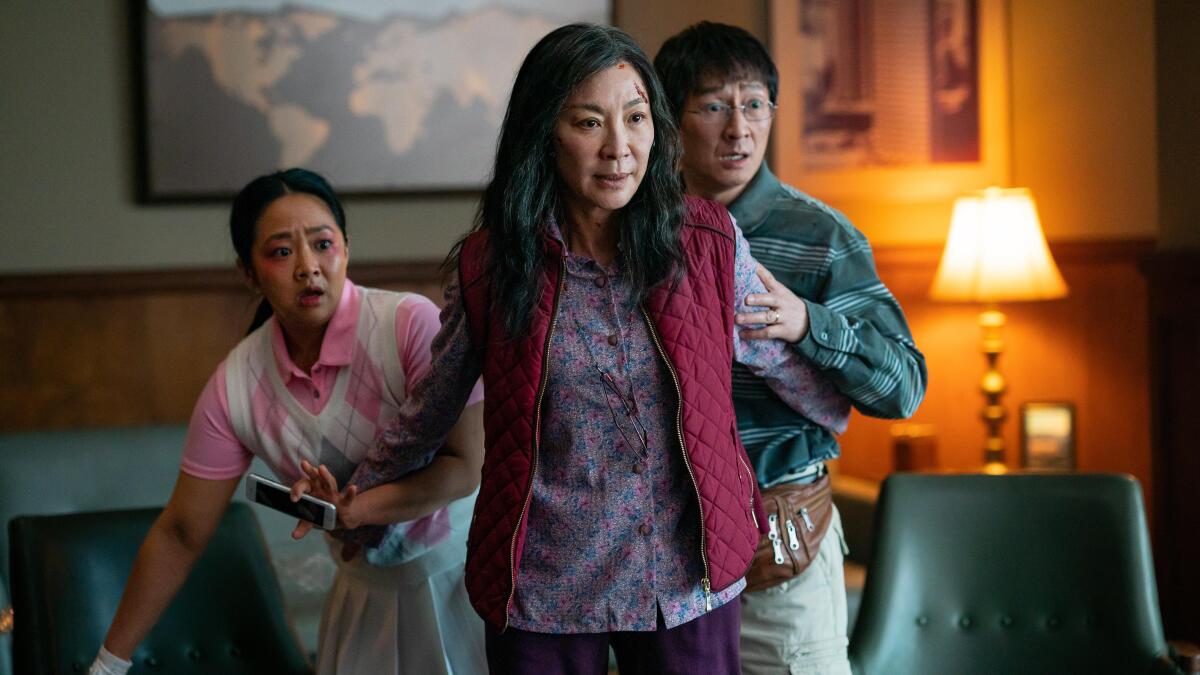 95th Academy Awards: Sunday, March 12
Running time: 2 hours 19 minutes | Rating: R, for some violence, sexual material and language.
Streaming: Paramount+: Included | Showtime: Included |Prime Video: Buy | Apple TV+: Buy
Also in theaters.
At the beginning of "Everything Everywhere All at Once," the camera creeps slowly toward a circular mirror — an apt start for a movie that will soon whoosh its characters through one looking glass after another. Amid all the whooshing, though, try to hold on to the image of that circle, which isn't the easiest thing to do amid all the sights and sounds, frenzied fight scenes and grotesque sight gags that Daniels — a.k.a. the writing-directing duo of Daniel Kwan and Daniel Scheinert ("Swiss Army Man") — have crammed into their latest surreal head-spinner of a movie.
Running a funny, messy, moving, grotesque, sometimes exhilarating and often exasperating 140 minutes, "Everything Everywhere All at Once" can be a pain and knows it; it might also be its own cure. Crammed with ideas, jokes, laments, non sequiturs and some terrific actors you've seen before (if not nearly enough), the movie comes at you like a warm hug wrapped in a kung fu chop: It's both a sweet, sentimental story about a Chinese American family and a wild, maximalist sensory assault. In the end, its many swirling parts unite around a remarkably coherent purpose: to provide a rare and dazzling showcase for a megawatt performer who scowls, gasps, punches, kicks, leaps, flips, soars and finally transcends.
That would be Michelle Yeoh, who has long been one of Asia's top action stars but — from early breakthroughs ("Tomorrow Never Dies," "Crouching Tiger, Hidden Dragon") through prestige disappointments ("Memoirs of a Geisha," "The Lady") to a few high-profile supporting turns ("Crazy Rich Asians," "Shang-Chi and the Legend of the Ten Rings") — has never enjoyed the spectacular Hollywood career she's long deserved. (Even "Everything Everywhere," originally conceived for Jackie Chan before Daniels decided to reconceive the lead as a woman, nearly eluded her as well.) The agony of what might have been haunts Yeoh's stardom, and it also looms over her Evelyn Wang, a stressed-out, desperately unfulfilled woman who's staring down the barrel of the IRS as the action gets underway. (Read more) — Justin Chang
2022: 'The Fabelmans'
95th Academy Awards: Sunday, March 12
Running time: 2 hours 31 minutes | Rating: PG-13 for some strong language, thematic elements, brief violence and drug use.
Streaming: Prime Video: Buy | Apple TV+: Buy
Also in theaters.
More than once during his fabled career, Steven Spielberg has been dismissed as a technician masquerading as an artist; as the most popular of American filmmakers, the logic goes, he must also be the most impersonal. It's a judgment that doesn't quite explain the intensely personal connection a lot of us feel to his movies. Or does it? More than any other director, Spielberg confounds the notion that the personal and the popular, or the technician and the artist, are fundamentally at odds. The intensity of feeling you experienced on your first (or third) close encounter with a Spielberg classic — maybe you levitated out of your seat at "Raiders of the Lost Ark" or had your nerves shredded by "Jaws" — was likely so pure that it felt like yours and yours alone, never mind that millions of moviegoers around the world felt the same way.
Like all great storytellers, Spielberg knows the value — the beauty — of artifice and embellishment, as well as the permeability of truth and fiction. "The Fabelmans" is as slick, transporting and painstakingly orchestrated as anything in his filmography, and also as funny, stirring and implacably sad. What makes it personal isn't that you believe everything in it happened exactly as you see it. It's how vivid and enveloping it feels as it's happening in front of you, and how recognizable and bittersweet an ache it leaves behind. (Read more) — Justin Chang
2022: 'Tár'
95th Academy Awards: Sunday, March 12
Running time: 2 hours 38 minutes | Rating: R for some language and brief nudity.
Streaming: Prime Video: Rent/Buy |Apple TV+: Rent/Buy
Also in theaters.
It's not until an hour into "Tár" that we see the title character — a classical conductor known the world over as Lydia Tár and played by an unimprovable Cate Blanchett — do what she was born to do. It's an astonishing performance nestled inside another: In one shot, Lydia towers like a colossus over the podium and the camera, her face visible only to the musicians seated off-screen, her arms spread wide as if she were embracing or perhaps possessing the world. Classical music buffs, who will have a particular field day with this movie, will also have sharper observations than mine on the merits of Blanchett's posture and baton technique. But this actor doesn't even need to lift a baton, or approach a podium, to make us feel we're in the presence of a singularly gifted musical body and mind.
A lesser movie — and one of the weird pleasures of "Tár" is that you can't stop imagining the lesser movie it so easily might have been — would have introduced Lydia in full-blown maestro mode, so as to convince us of her genius at the outset. But writer-director Todd Field takes that genius as a given and trusts we'll do the same; he respects the intelligence of the audience as surely as he does the magnificence of his star. (Read more) — Justin Chang
2023: 'Top Gun: Maverick'
95th Academy Awards: Sunday, March 12
Running time: 2 hours 10 minutes | Rating: PG-13, for sequences of intense action, and some strong language.
Streaming: Paramount+: Included | MGM+: Included | Prime Video: Rent/Buy | Apple TV+: Buy/Rent
Also in theaters.
"If you think, you're dead." That's one of Tom Cruise's more memorable lines from "Top Gun," a cautionary reminder that when your engine flames out or an enemy pilot locks you in their sights, hesitation means death. Inadvertently, the line also suggests the best way to enjoy Tony Scott's immortal 1986 blockbuster: Best not to think too long or hard about the dumb plot, the threadbare romance, the fetishization of U.S. military might or the de rigueur plausibility issues. The key is to succumb, like Cruise's high-flying Maverick himself, to a world of unchecked instinct and pure sensation, to savor the movie's symphony of screaming jets and booming Giorgio Moroder, not to mention all those lovingly photographed torsos and tighty-whities.
Jets still scream and muscles still gleam in the ridiculous and often ridiculously entertaining "Top Gun: Maverick," though in several respects, the movie evinces — and rewards — an unusual investment of brainpower. I'd go further and say that it offers its own decisive reversal of Maverick's dubious logic: It has plenty on its mind, and it's gloriously alive. (Read more) — Justin Chang
'Triangle of Sadness'
95th Academy Awards: Sunday, March 12
Running time: 2 hours 28 minutes | Rating: R, for language and some sexual content.
Streaming: Prime Video: Rent/Buy | Apple TV+: Rent/Buy
Also in theaters.
Ruben Östlund's social satire, "Triangle of Sadness," is many things: a cautionary tale about the perils of slurping shellfish on rough seas, a blunt (as in dull) critique of the one percent, a (wasted) opportunity to hear Woody Harrelson espouse the tenets of Karl Marx and a pessimistic suggestion that people — both the oppressors and the oppressed — share a fundamental willingness to exploit each other given the right circumstances. Strip away the Rolexes and scrub brushes, and we're all the same underneath — horrible!
Don't get me wrong. There are things to admire in Östlund's overstuffed exercise in derision. Example: No film in history has boasted so many artfully composed shots of people in the throes of intestinal duress. Just how much vomit is there? Imagine the blueberry-pie-eating scene in "Stand by Me" on top of Mr. Creosote's explosion in "Monty Python's The Meaning of Life" mixed with the overflowing toilets of "Parasite," and you have an inkling of what Östlund unleashes in a drawn-out second act set piece that might tax the patience of even those inclined to appreciate exercises in grotesque absurdity.
But let's put aside the puking as there's a bit more to "Triangle of Sadness." (Read more) — Glenn Whipp
'Women Talking'
95th Academy Awards: Sunday, March 12
Running time: 1 hour 44 minutes | Rating: PG-13, for mature thematic content including sexual assault, bloody images, and some strong language.
In theaters, not currently streaming.
For much of "Women Talking," Sarah Polley's suspenseful and galvanizing fourth feature, we are in the hayloft of a barn overlooking a remote stretch of farmland, with a lonely dirt road winding toward the horizon. The sunlight spilling in through the window seems to beckon to the eight women who have gathered here to think, rage, plan, argue and, yes, talk — about the abuses they've suffered and the impossible decision that awaits them. As the shadows lengthen and the conversation intensifies, the light also seems to fall gently on each speaker in turn, as though illuminating them from above or even within. Whoever might be wielding this light — be it the God they worship or the director behind the camera — these women have their full attention, and also ours.
Skillfully adapted by Polley from the 2018 novel by Miriam Toews, "Women Talking" unfolds in the aftermath of a sustained campaign of sexual violence. Over two years, several Mennonite men have raped more than a hundred women and young girls in their remote colony, drugging them with cattle tranquilizer and then assaulting them in their beds. The rapists, unidentified until recently (a male elder had attributed the attacks to evil spirits), have been jailed in a nearby town; the other men, complicit in spirit if not in deed, have gone to bail them out, leaving the women alone with just 24 hours to determine their response. Should they forgive the men, as their Christian beliefs would seem to demand? Should they respond with their own physical violence or pack their things and leave the colony? (Read more) — Justin Chang
https://www.latimes.com/entertainment-arts/movies/story/2023-01-25/oscars-best-picture-winners-nominees-how-to-watch-2020s Oscars: How to watch 2020s Best Picture winners, nominees