Over 16,000 Ukrainian refugees now call Washington state home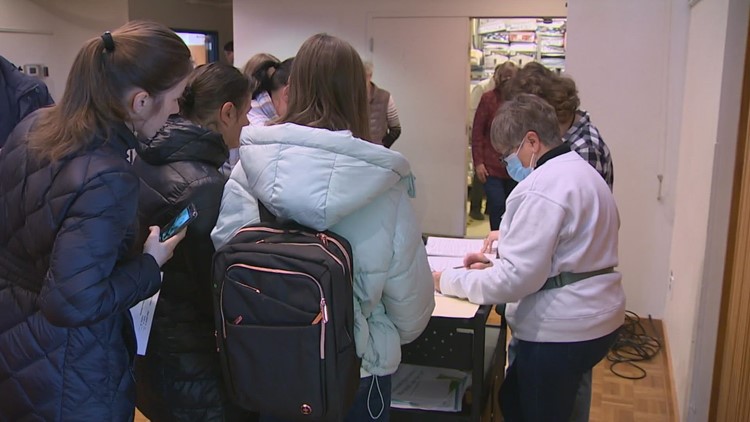 About 16,000 people are seeking refuge here, and more are coming every day.
EVERETT, Wash. — Everett is home to the only refugee welcome center in the entire state and it has been extremely busy over the past year.
Every Friday, immigrants and refugees, mostly fleeing the war in Ukraine, line up at the Carl Gipson Senior Center to get their basic needs met.
Many people arrive with less than clothes on their backs.
The program is run by Refugee and Immigrant Services Northwest (RISNW).
Yevgeniya Matsegora went to Washington with her mother and two children, leaving her husband to protect her homeland.
"I miss home," she said, through an interpreter. "I want to go home. We had plans for the future and those plans ended on February 24."
Russia invaded Ukraine on February 24, 2022, forcing 8 million people to flee to safety. More than 16,000 of them landed in Washington.
The transition to life in the US can be a difficult one. Volunteers from RISNW help them navigate it.
Every Friday, they study English together, and receive donated clothes and household items. They are also provided with a hot Ukrainian meal, bags of food and assistance in finding jobs, housing, driver's licenses and schools for their children.
The agency gives each family up to six months of free rent while they stand. Eighty new families arrive every month.
Farhad Aghayed and his wife Natalia now have their own place in Arlington. He found a job as a carpenter.
Both were overwhelmed by the kindness they received — even by simply standing in line at the grocery store.
"They say, 'Oh, you're from Ukraine. Our hearts go out to you. How can we help you? What do you need?" Natalia said.
The 16,000 Ukrainian refugees in Washington are the third most in the nation. Nearly 3,500 of them are in Snohomish County.
The first wave of Ukrainian immigrants arrived in Washington after the collapse of the former Soviet Union.
Many believe it is due to the similar climate.
Since then, relatives have followed, strengthening the Ukrainian community, establishing churches and resettlement programs.
On Friday, Secretary of State Steve Hobbs announced through the Combined Foundation, Washington State employees and retirees have donated more than $146,200 to more than 15 charities supporting Ukraine relief .
"I am continually inspired by the generosity of the people of Washington, who are supporting Ukraine in its darkest hour," said Secretary Hobbs. "Together, we are committed to ensuring Ukrainians have access to the food, clothing, medicine, shelter and other necessities they rely on on a daily basis. I am grateful to all the Washingtonians who are trying to help in any way they can."
Van Kuno runs the Northwest Refugee and Immigrant Service.
She said that opening the arms of the nation is our duty as Americans. She believes this because she used to be a refugee from Vietnam.
"I know I have to pay first," Kuno said. "The best way to do that is to greet them and assure them that you are safe and that you will build a better life in Washington."
https://www.king5.com/article/news/nation-world/ukraine/one-year-later-washington-welcoming-ukrainian-refugees/281-0d1a61b9-7439-47e5-9786-cab2dbcecfaa Over 16,000 Ukrainian refugees now call Washington state home