Overdose detection technology 'Lifeguard' could soon come to Seattle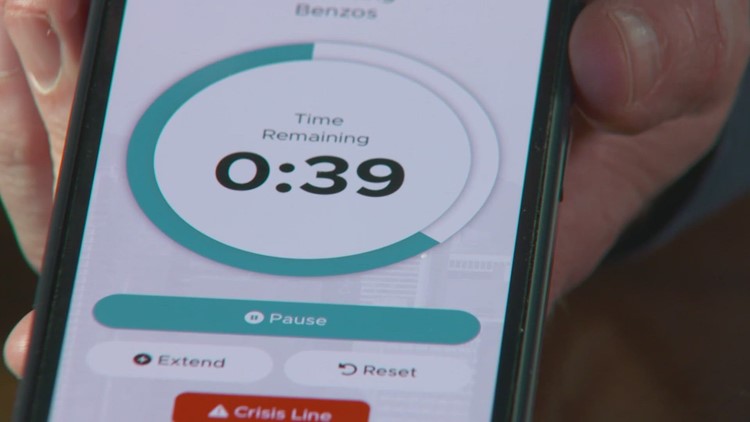 The app's founder says Lifeguard Digital Health has saved 66 lives in three years.
SEATTLE — Only in King County, 433 people died This year due to an overdose of fentanyl, and the problem is still widespread throughout the northwest, including in Canada.
In British Columbia and Ontario, a technology designed to save lives is gaining traction: a smartphone app called Lifeguards aims to connect drug users with first responders within minutes of an overdose.
"It saved my life twice," said Andrew Macleod, a former drug user and resident of White Rock, BC.
Macleod said he's been clean for three months now, but when it comes to use, he prefers to use drugs alone in his room.
"I just installed the app, didn't think about it, and then I woke up and they were doing CPR on me," Macleod said.
Since the "stop" button on the Lifeguard app couldn't be pressed on two separate overdoses, Macleod said the technology was able to save his life on both occasions.
"It will stay on that alarm mode and it gets really a little louder until someone actually turns it off," said Jeff Hardy, founder and CEO of Lifeguard Digital Health.
The app's founder showed KING 5 how it works.
"We hit confirm and the timer kicks in," says Hardy. The assumption is that when the time is up, the user will turn off the loud and urgent alarm.
But if it doesn't, "It thinks you've overdosed or is in crisis, so it sends an alert to the 911 desk," explains Hardy.
He added, "It will record your GPS location."
There is also a feature where you can fill in your address and any other useful details before hitting the start button on the timer.
A dispatcher will then call you to double-check that you are truly unreachable before sending first responders.
"It'll send an ambulance right to you," Hardy said.
Macleod said his family told him what happened: first responders showed up on his doorstep.
"My uncle said, 'Like, everyone here is fine, what's wrong?' They said, 'No, someone's not okay. So they went upstairs, found me and I guess hit me with some Naloxone and did CPR,' Macleod said.
In the meantime, another Lifeguard product could soon be used by the Public Health Departments of Seattle and King County. According to Hardy, their company is currently on the list of vendors for Lifeguard Lite, a wall-mounted physical timer, separate from the phone.
"Send an alert to the social housing front desk," Hardy said.
Lifeguard Lite, he said, is designed for residents of assisted homes, where the front desk can be notified if they don't turn off the timer alarm.
Given the practical application and functionality of the 911, Hardy said he is having a hard time breaking into the Seattle market.
"We're working with a lot of governments to try and be open with us so we can use it," Hardy said. "The real issue is who's going to pay for it. And often, the business model is that the government will pay, license it, and give it away for free."
Most of their work is with BC Emergency Medical Services, Hardy said. But another government currently using it is the Métis Nation in BC
"It can make the difference in saving a life," said Dr Kate Elliott, Minister of Mental Health and Harm Reduction, Métis Nation of BC.
The app also provides updates on local drug supplies, she said, including whether it's contaminated. She finds this feature helpful for all drug users in her community.
"If you're a non-drug user and you think you're going to use some cocaine, it doesn't take a lot of fentanyl or benzodiazepines in there to make you stop breathing," says Elliott. .
She said national leaders are continuing encourage Lifeguard app so they can attract more people to use this app.
"We have twice the rates of suicide, substance use and alcohol use than the non-Indigenous population… That's an extra layer of protection," said Dr. Elliott.
Hardy says the Lifeguard app has saved 66 lives in three years.
Hardy said the app is downloadable in the US on Google Play, but won't work until they get a local emergency services contract.