Pacific Northwest wineries continue to expand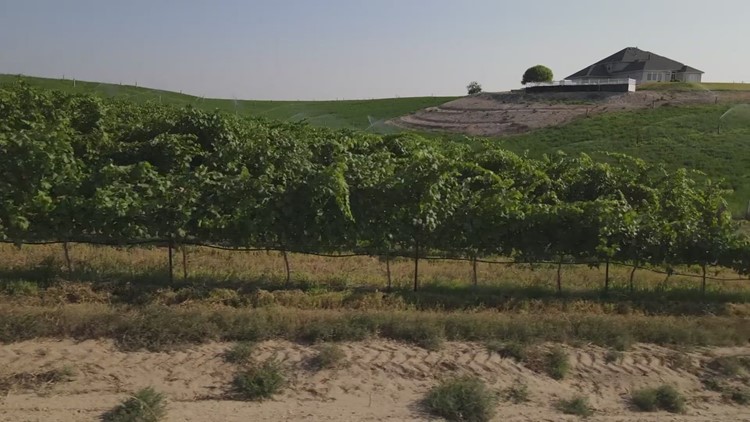 With the changing climate and environmental factors affecting grapes, some winemakers are looking to the Pacific Northwest to improve their winemaking practices.
WOODINVILLE, Wash. — In a time of changing climate and environmental factors, the wine industry in the northwest states is continuing to grow.
California continues to dominate the states in terms of wine production, but both Washington and Oregon have both surpassed 1,000 wineries in recent years. Washington has grown from about 500 winery in 2012 to double just eight years later in 2020.
Mineral Wines winemaker Brett Keller recently moved from California to Idaho because of climate issues he was facing in the golden state.
"We just needed to make a change from California," he said, sitting on his new property just north of Eagle, Idaho.
Keller said the move north stemmed from the constant fires he faced in the Sierra Foothills of northern California. He said insurance costs are too high, the smoke affects his grapes and their frequent power cuts damage crops.
"When you harvest grapes and you can't use your equipment because there's no electricity, the grapes don't keep. So we have grapes sitting outside waiting for power and two days later the grapes go bad," he said.
Keller acknowledges that the north is also facing increasing wildfires and a changing climate, but hopes it will be more manageable than the chaos in California.
These changing seasons are due to the winemaker Martin Fujishin knows it well. His wineries, Fujishin Family Cellars and Free Dog Wines, are based in the Sunny Slope region of Idaho. He said he remembers when there were only five wineries in the area and now there are about 20.
Fujishin said he watched the changing seasons.
"In the grape business, you like consistency. You want to see things stay the same every year and now that sometimes we see temperature spikes in the early spring, we'll see parts of the winter like February where it'll be really warm , which is always a threat to the vine he said.
When the weather changes suddenly, it can ruin crops, which can ruin a local brand like his.
"As a small winery, we can't just go out and necessarily source grapes elsewhere. Our brand was built on the Snake River Valley in Idaho," said Fujishin.
However, the Northwest is also known to overcome those problems.
Woodinville, Washington-based winemaker Linn Scott is winemaker for Sparkman Cellars and also works with the Washington State Wine Commission as a member of the WA Wine Research Advisory Committee.
Scott pointed out that 25 cents of every pint of wine sold in Washington goes to Washington State University for viticulture research. He and other researchers study everything from the effects of smoke on grapes to mastering the art of irrigation, which can be crucial in a time when temperature fluctuations are increasingly common.
"One of the things that Washington State does extensive research on is irrigated agriculture. Figuring out how to get the most out of our crops, other than grapes, is really about providing the right amount of water at the right time," said Scott.
Scott emphasized that it appears California wine country has reached its maximum capacity, so the northwest could be an attractive place to land with more affordable space to set up shop.
Additionally, he adds, the Northwest can get an extra hour of daylight during peak growing season compared to California, which is a big bonus for growing.