Pain of missing Ryder Cup will hit home now with LIV rebels – Rory McIlroy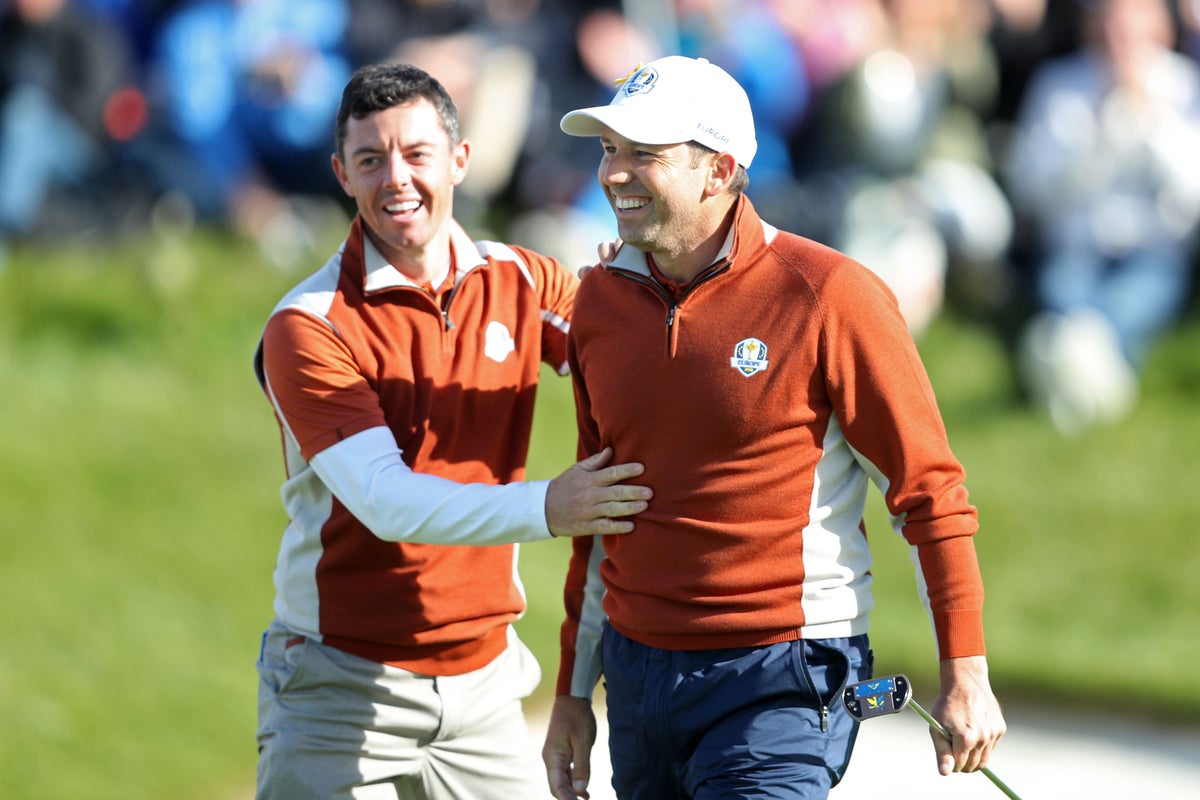 Rory McIlroy believes the LIV Rebels will feel the absence of Sergio Garcia, Ian Poulter and Lee Westwood from the Ryder Cup more than the European team in Rome.
The trio has been a fixture at the event for two decades, but barred themselves from taking part after joining the Saudi-backed spinoff and canceling their tour memberships.
Although Garcia, the Ryder Cup's all-time points scorer, made a futile late attempt to get back into contention, McIlroy said the current squad would not dwell on former teammates.
"I mean, it's definitely a bit strange not having them around," the Northern Irishman said.
"But I think this week of all days they'll realize they're not here, and I think they'll miss being here more than we miss them.
"This week it's just more realizing that the decision they made meant they weren't going to be there this week and that's tough.
"The golf landscape is constantly changing and becoming more dynamic and we will see what happens and whether they will be part of it in the future."
This summer's surprise decision to integrate LIV Golf into the PGA Tour should provide a path back for all those players who originally left the team, but there is still a lot of negotiation and compromise to be made before that picture becomes clear .
But with their Ryder Cup playing careers likely coming to an end, Justin Rose, who has returned from missing out on a record defeat at Whistling Straits, admits his former teammates still have something to offer as members of the backroom team.
"Obviously Westy and Poults have a lot to offer as captains or vice-captains or however they may or may not be involved in the future," the Englishman said.
"But the more we can win over the younger generation that is growing up, the faster we can skip this transition phase.
"Perhaps the transition started last time in Whistling Straits and now we are already past it."
McIlroy is making his seventh Ryder Cup appearance, the most of any player under Marco Simone, and will be considered Europe's leader on and off the course.
However, the world number two only wants to be seen as a regular member of the team and not as a hero figure.
"I am not there to give slogans and speeches. When we came on the training trip, I said to everyone – and some of these guys have seen me play on TV – I don't want anyone to look up to me," he added.
"I want them to look over at me. I want them to see me as if I am at their level and there is no hierarchy in our team.
"I think that's the one message I've tried to give to some of the younger guys on the team."
McIlroy will feel he has a debt to repay after a poor one-point result following a singles win over Xander Schauffele in 2021, but he admits his game is in much better shape than it was two years ago.
"I felt like I was searching a little bit. I didn't feel like I had full control of my game," he said.
"I gained a lot of confidence and belief in myself at Sunday's singles games at Whistling Straits because I certainly didn't believe in myself at that point, but the rest of my team believed in me and sent me out number one to to get a blue dot on the board.
"I realized that just being myself was enough. I think a lot of 2021 was trying to be something that maybe didn't come naturally to me.
"I think the last two years have kind of proven that I'm going to play my best golf this way, so I definitely feel a lot better about this Ryder Cup and I feel like I'm more than capable, more than "One point this time."
McIlroy was also questioned about the behavior of fans, particularly after Open champion and US team member Brian Harmon was abused at Royal Liverpool this summer.
"There is certainly a line. Most fans who come out to watch golf are very respectful and know what that line is," he added.
"Someone once said to me: 'If you want to be part of the circus, you have to put up with the clowns'."