Pakistani trans activists to appeal Shariah court ruling against law aimed at protecting them
Transgender activists in Pakistan said they plan to appeal to the country's highest court against an Islamic court's ruling gutting a law protecting their rights.
The Transgender Protection (Protection of Rights) Act was passed by Parliament in 2018 to secure the fundamental rights of transgender Pakistanis. Among other things, it secures them access to legal gender recognition.
Many Pakistanis have deeply rooted beliefs in gender and sexuality, and transgender people are often viewed as outcasts. Some are forced to beg, dance and even engage in prostitution to earn money. They also live in fear of attack.
The Federal Shariat Court on Friday overturned several provisions of the landmark law, calling them "un-Islamic".
It stipulated that a person cannot change their gender based on an "innermost feeling" or "self-perceived identity" and must conform to the biological sex they were assigned at birth.
The Sharia Court has a constitutional mandate to review and determine whether laws passed by the Pakistani Parliament are consistent with Islamic doctrine.
Around a dozen activists protested against the verdict in the southern port city of Karachi on Saturday.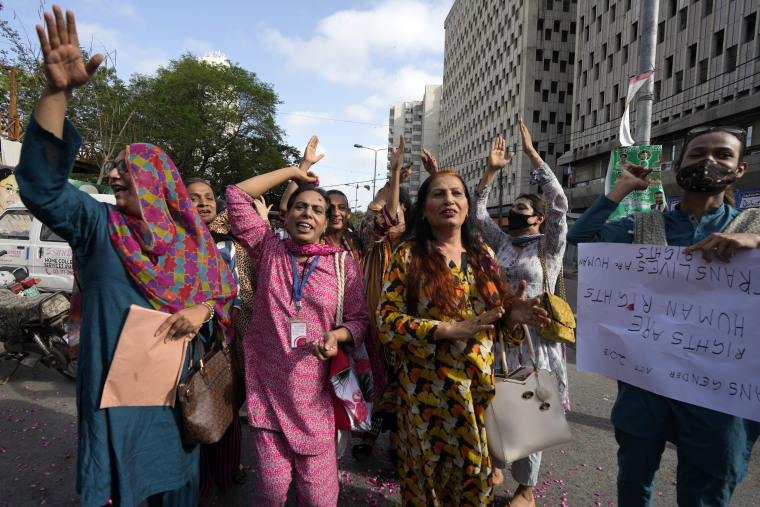 Attorney Sara Malkani, speaking at an event organized by the Gender Interactive Alliance, denied the legislation was un-Islamic. She said that the existence of two sexes did not limit the concept of gender identity and that Islamic texts, including the Qur'an, did not assign specific behavior to specific genders.
"We strongly intend to appeal the court's findings to the Supreme Court and we will prevail," Nayyab Ali, executive director of Transgender Rights Consultants Pakistan, told a news conference on Friday.
Ali said the transgender community "mourns the decimation" of Pakistan's first law protecting transgender rights in response to the Islamic court's finding.
However, clergymen and representatives of religious parties say the law has the potential to encourage homosexuality in this conservative Muslim-majority country. They want the Islamic court to annul the law.
The Sharia court ruled that the term "transgender" used in the law caused confusion. It encompasses several biological variants including intersex, transgender men, transgender women, and khawaja sira, a Pakistani term often used for those who were born male but identify as female.
It also rejected a clause in the law that would allow the country's national database and registration authority to change a person's biological sex from that assigned at birth on identification documents such as driver's licenses and passports.
It states that allowing everyone to change their gender according to their inner feelings or self-perceived identity would pose "serious religious, legal and social problems".
For example, it will allow a transgender woman — a person who is biologically male — to enter women's social and religious gatherings or women-only public places and vice versa, it said.
"This law will pave the way for criminals in society to easily commit crimes such as sexual harassment, sexual assault and even rape against women under the guise of a transgender woman," the court said.
However, the court stated that Islamic law recognizes the existence of intersex people and eunuchs and that they are entitled to all the basic rights provided for by the constitution for Pakistanis.
Pakistan's Human Rights Commission expressed dismay at the "regressive ruling," saying denying transgender people the right to self-perceived gender identity aims to "wipe out an entire population and their fundamental rights." It said the repeal of the transgender law would lead to further marginalization and abuse of an already vulnerable community in Pakistan.
Amnesty International called on the government to stop all attempts to prevent transgender people from obtaining official documents that reflect their gender identity without complying with abusive and invasive requirements.
"This ruling is a blow to the rights of the already beleaguered group of transgender and gender diverse people in Pakistan," Rehab Mahamoor, research fellow at Amnesty International, said in a statement.
She said any moves to deny transgender and gender diverse people the right to determine their own gender identity would violate international human rights norms.
Sana, 40, a eunuch in Rawalpindi who asked to be identified by a name, told the Associated Press on Saturday that she supports the court's decision because a large number of gay men are included in her "original and native" eunuch community become .
She claimed that those who become transgender men through surgical castration are denying "the rights" of their community by restricting their access to employment opportunities under the government's employment quota reserved for their community.