Paolo's Diary: His 1st All-Star weekend is in the books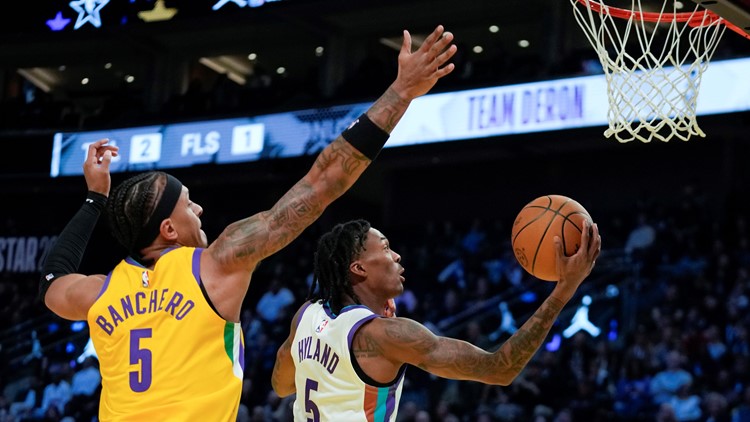 My first All Star weekend was great. When I walked in I didn't really know what to expect. I enjoyed myself, on and off the pitch.
SALT LAKE CITY — SALT LAKE CITY (AP) — (EDITORS' NOTE — Orlando Magic rookie and #1 draft pick Paolo Banchero is keeping a regular journal with The Associated Press this season to chronicle his freshman year in the NBA. This is his fourth episode. The first chronicled the former O'Dea star preparing for the season, the second discussed the learning curve for the Magic, and the third revolved around Orlando seeing improvements on the ground.)
My first All Star weekend was great.
When I walked in I didn't really know what to expect. I knew a lot was going to happen, but I didn't really know how to deal with it or what it would really be like. I enjoyed interacting with the fans on and off the pitch, doing a lot of appearances and stuff like that. And it's just a blessing to be a part of it. I grew up watching every single All-Star game, every single skill contest, every single dunk contest. I always looked forward to that.
And now I was part of it.
Our team, named and coached by Pau Gasol, won the Rising Stars games on Friday night. And our Rooks team took part in the Skills Challenge on Saturday night. I didn't win that, but it was fun to be back out there and be a part of that atmosphere.
But when it was over, I was officially on my All-Star hiatus. A few days off before we return to work at the AdventHealth Training Center and practice again on Tuesday afternoon. Let me tell you, a few days off means a lot. That goes far.
I'm a young man, but I'm definitely in some pain. I'll try to make the best use of the next few days. Get off my feet, relax my mind too. I also think it's important to take time to take your mind off basketball just so you come back feeling a lot more refreshed and focused. Some guys, some people, even myself, we can get caught up in just wanting to be that much better all the time. Just keep thinking about work. You think about basketball all the time and never let yourself breathe. But you have to. And that's why I absolutely have to take a break. Relax yourself. I look forward to it.
I expected a lot of stars to be out here in Salt Lake City. I think what surprised me the most was all the non-basketball stars that are here. Musicians, other sports stars. Guy Fieri was here, the Food Network guy. I mean everyone is here. Just seeing all of these people come out just to see NBA All-Star Weekend puts into perspective how much the NBA means to everyone, and it's a blessing to be a part of it.
I even met Oprah Winfrey's best friend. Gayle King from CBS Mornings. I met her in the hotel lobby. Maybe not everyone thinks that's a big deal, but it's a big deal. My grandma loves them, so I've seen them on TV a lot. When I met her, the one thing that made me think was, 'Oh, wow.' I'm not usually up at 7am to see their show. But my grandmother is. And I know that was a big deal for her.
Everyone knows how we started our season in Orlando. We were 5-20 and have gone 19-15 since. We gave ourselves a chance. It's really exciting. Games make sense now. We certainly have more to gain than lose the rest of the way. And I think we're ready to take on that challenge and embark on it. I think the guys are taking a break right now, recharging and I think we'll come back motivated. I'm excited. I'm excited. I think we will make a strong push. I won't guarantee anything but I think we'll be able to make a strong push.
We have goals. I also have more goals now. I was part of All-Star Friday this year, part of All-Star Saturday. Next year I want to attend All-Star Sunday and compete in the All-Star Game. We're trying to get there. We'll try to be a starter, but of course that's for the future. At the moment I just have to keep working. Stay focused and things will take care of themselves, but next year's All-Star Game, that's definitely a goal.
https://www.king5.com/article/sports/nba/paolos-diary-his-1st-all-star-weekend-is-in-the-books/281-f13b9133-ecb4-4123-b87a-3fb41aa1b06e Paolo's Diary: His 1st All-Star weekend is in the books