Parkinson's Disease support 'crucial' ahead awareness walks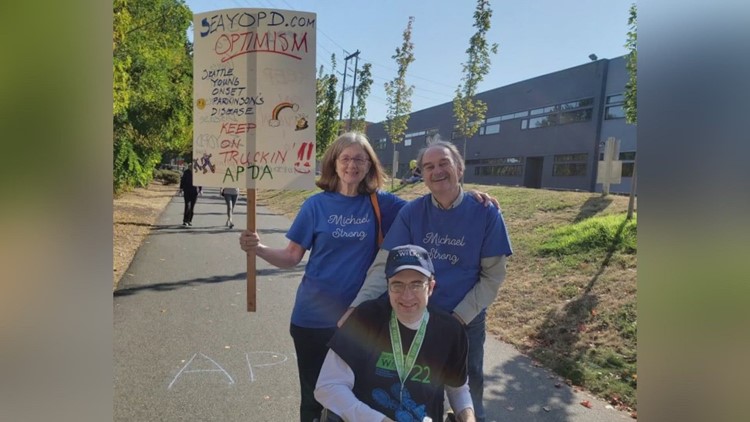 About one million people are living with Parkinson's disease in the United States and 60,000 live in Washington state.
SEATTLE – Health advocates say Parkinson's Disease is the fastest growing neurological disorder.
Parkinson's disease is a brain disorder that causes unwanted or uncomfortable movements such as tremors, stiffness, and difficulty with balance or coordination.
About one million people live with Parkinson's disease in the United States and 60,000 live in Washington state.
To hear from the APDA Northwest Chapter director and a local board member living with PD, click on the video player above.
Two fundraising and awareness efforts are taking place on September 30.
The Northwest Chapter of APDA will host one Optimistic walk from 9:30 a.m. to 1 p.m. in Seattle along the Ship Canal Trail at 150 Nickerson Street in Seattle.
The Olympia event takes place from 11:30 a.m. to 1 p.m. at Marathon Park at Capitol Lake, 1011 Deschutes Parkway SW.
The local chapter says this family event is a great way to support the fight against PD by raising awareness. Funds raised at this year's Optimism Walk help provide connections, support, resources and education to our local Parkinson's community.
The walk helps APDA organize programs like the new conference in October – YOPD-CON- an in-person event designed by and for the Young Onset Parkinson's Community. A Parkinson's disease diagnosis in your 40s is much different than a diagnosis in your 70s. This two-day event aims to make connections, gain practical skills, and learn how to live your best life with Childhood onset of Parkinson's disease.
YOPD-CON is set for October 14 and 15 at Four Points by Sheraton at 22406 Pacific Highway S. in Des Moines.