'Pat McAfee Show' coming to ESPN in multiyear deal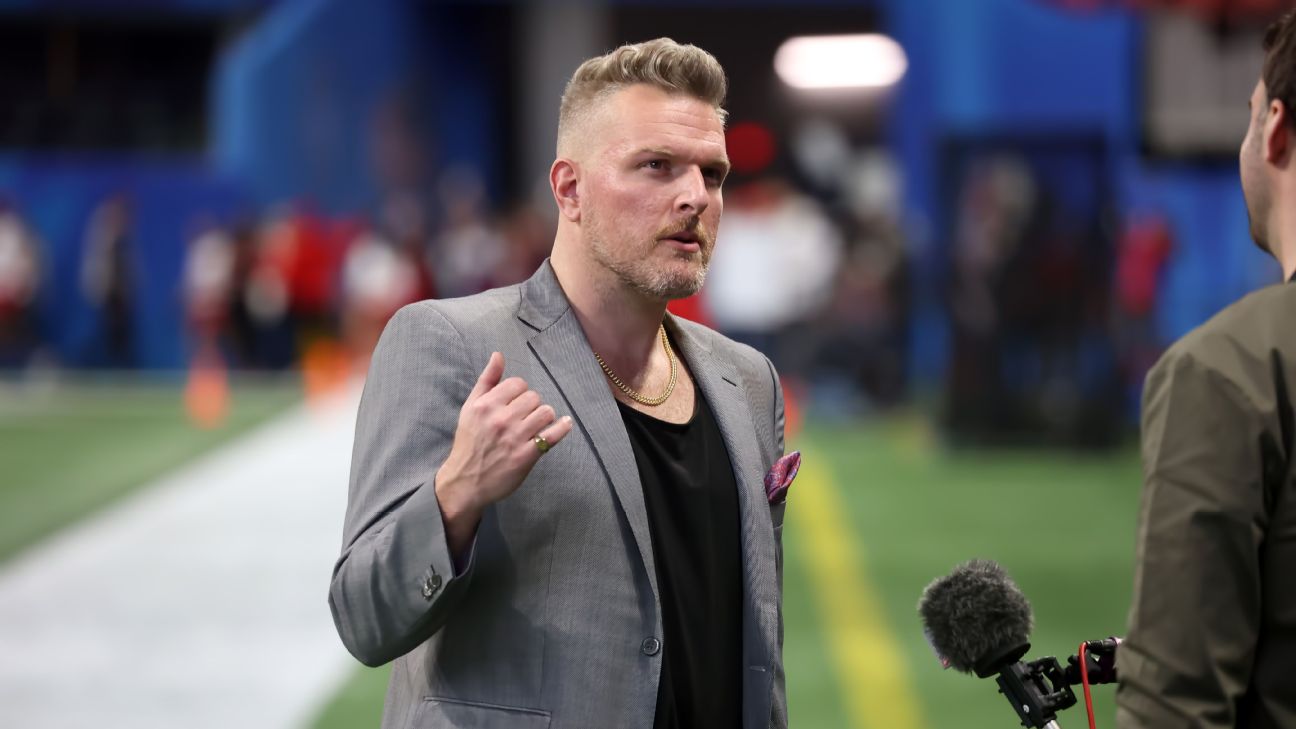 Pat McAfee is bringing his weekly sports talk show to ESPN this fall as part of a multi-year deal with the network announced on Tuesday.
The Pat McAfee Show airs live weekdays simultaneously on ESPN, ESPN+ and ESPN's YouTube channel. ESPN will announce the new weekday afternoon schedule before the show's fall launch. "SportsCenter" will continue to be included in the program.
"Pat is a proven talent," ESPN Chairman Jimmy Pitaro said in the statement. "He and his team have made 'The Pat McAfee Show' one of the most compelling shows in sports and all media. It's a destination for athlete interviews and breaking news, and the heart of a growing community of sports fans. We're honored to bring Pat and the show to ESPN through a diverse, cross-platform approach."
McAfee will also continue his role as an analyst on ESPN's College GameDay and host alternate broadcasts of ESPN's college football programs.
McAfee, a former All-Pro punter for the Indianapolis Colts, launched his show in 2019, co-hosted by former NFL linebacker AJ Hawk, and starring Boston's Connor Campbell, Ty Schmit, Tone Digs and others. The show, which is currently streaming on McAfee's YouTube channel, has garnered national attention for its weekly interviews with quarterback Aaron Rodgers throughout the NFL season.
"We are very honored that ESPN is gifting us with this opportunity to be part of the next chapter of the ESPN family," McAfee said in the statement. "We don't take this lightly and will work hard to ensure this is a success. Everyone involved agrees it's time for some sports stooges to throw in some fun and a celebration of the sport at a Thunderdome in Indiana." So."
McAfee said during ESPN's presentation to advertisers Tuesday that he wouldn't swear "nearly as much" if his show moved to ESPN, but the show's content and style wouldn't change despite its new home.
"We're not changing anything," McAfee said. "Every other word is fine. … We won't do that because it's the middle of the day, but everything else will be fine."
ESPN also announced a documentary series about Serena Williams. In the Arena: Serena Williams has begun production and follows the 2021 series Man in the Arena: Tom Brady. The Brady series consisted of 10 parts and focused on each season in which Brady led his team to the Super Bowl.
ESPN hasn't revealed how many parts there will be for the Williams series. Williams has won 23 singles titles in Grand Slam tournaments.
The Associated Press contributed to this report.