Pedro Munhoz suffered corneal abrasion during no-contest vs. Sean O'Malley at UFC 276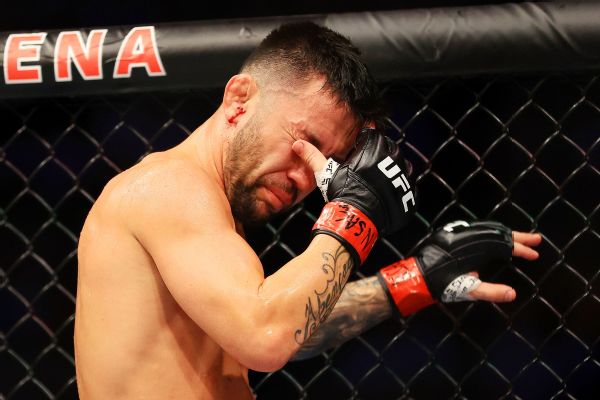 LAS VEGAS — Pedro Munhoz suffered a right corneal abrasion from an accidental eye bump by Sean O'Malley at UFC 276 on Saturday night, Munhoz told ESPN on Sunday.
Munhoz said he was hospitalized after the fight, which ended in a no-contest in the second round when he was unable to continue because of the eye bump. Munhoz said his eye was swollen, he couldn't open it and he needed to be given multiple medications to treat it.
He also posted a video on Instagram in his native Portuguese explaining the situation.
UFC manager Reed Harris tweeted Sunday morning that he saw Munhoz at the Fighter Hotel and that his eye was "swollen shut."
After the fight, O'Malley said he felt Munhoz was looking for a way out of the bantamweight fight and could have moved on. But Munhoz had won the first round on two of the three judges' scorecards.
O'Malley is considered one of the rising stars at UFC bantamweight, and Munhoz, a robust veteran and perennial favorite, has been billed as his toughest test yet.
https://www.espn.com/mma/story/_/id/34189296/pedro-munhoz-suffered-corneal-abrasion-no-contest-vs-sean-omalley-ufc-276 Pedro Munhoz suffered corneal abrasion during no-contest vs. Sean O'Malley at UFC 276