Pelé's mausoleum in Brazil opens to public: Photos, video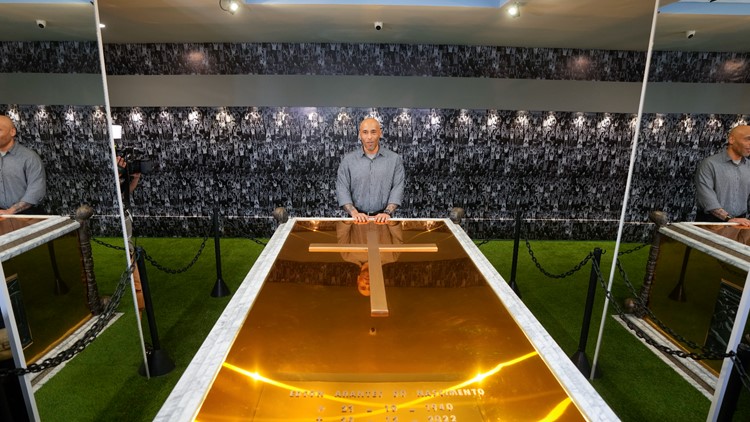 "This was done with a lot of love by those who knew him, those who lived with him. It was the essence of who he was," one of Pelé's sons said.
SANTOS, State of São Paulo – The mausoleum built for Pelé's golden coffin was opened to visitors on Monday.
On the second floor of a vertical cemetery in Santos, a suburb of Sao Paulo, the mausoleum greets fans with two golden statues of Pelé; the floor is artificial grass; the walls are pictures of fans in a stadium; and there was an endless cheering music, as if Pelé was still playing. The ceiling above the coffin of the three-time World Cup champion is blue.
Pelé was laid to rest here on January 3, five days after he died at the age of 82 from colon cancer.
"This is done with a lot of love by those who know him, who live with him. It has the essence of who he is," Edson Cholbi do Nascimento, one of Pelé's sons, said emotionally after a small ceremony with family and friends.
The mausoleum was planned by the cemetary, Pepe Alstut, who passed away in 2018.
Alstut hopes the mausoleum will be on the ninth floor, overseeing the Santos club Vila Belmiro stadium, where Pelé starred for 18 years. Instead, his family buried him on the second floor for easier access by fans.
"I'm shaking. The energy of this place is phenomenal," said Erica Nascimento, a 42-year-old economist with tears in her eyes.
Former player Roberto Milano, 56, was also moved.
"He was a part of my life," Milano said. "As we age, we need to follow the best role models. He's probably the biggest of all these role models.
Fans who wish to attend must make a reservation in advance on the Memorial cemetery's website.
Pelé led Brazil to the World Cup championship in 1958, 1962 and 1970. He is the only player to win it three times. Last month, a Brazilian dictionary added the word "Pelé" as an adjective to describe someone who is "special, one of a kind, unique." The Michaelis dictionary announcement is part of a campaign that has gathered more than 125,000 signatures to honor the impact of the late football great.
AP journalist Mauricio Savarese in Sao Paulo contributed.