Pete Carroll talks keeping playoff appearance streak alive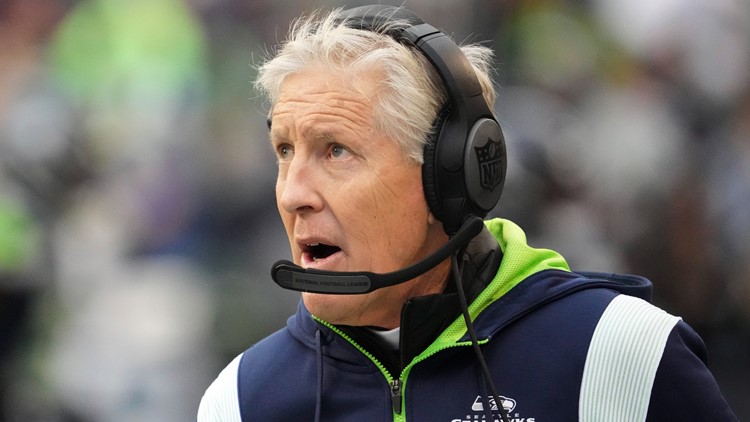 Running game success will be a huge key to beating the Rams on Sunday, January 8th.
SEATTLE — The Seahawks have never missed the playoffs in two straight seasons under head coach Pete Carroll. To keep that streak alive, the Hawks need to beat the Rams at Lumen Field on Sunday and hope the Lions can beat the Packers later tonight.
"We're always competing against each other, so we're going to try to get the guys back together," said Carroll. "It's a championship opportunity. We're gearing up for that, to get to those end-of-season games that you have to have and there's no alternative, so we're here and we're ready."
Success in the running game will be a huge key to beating the Rams. The Seahawks' fast attack seemed to take a turn for the better in the second half in Kansas City on Christmas Eve, and last Sunday the team rushed 198 yards and won against the Jets. Ken Walker ran 133 yards in the game. In an interview with Carroll on Seahawks Central, he said the foundation for strong gameday performances is laid during the week.
"It's the whole process," Carroll said. "When they go through the walkthroughs and we introduce stuff to them, we practice there and then it goes back to the film room and looks at stuff and talks about it. All of this is crucial. We've bonded over the past few weeks in the best way we've had yet and you can see they're working together at a higher level. We'll see if we can take it to this game and do it again.
Geno Smith continues to lead all quarterbacks in completion percentage, hitting 70.2% of his passes. He's exceeded most expectations this season and possesses many of the qualities that go into not just a strong quarterback but a strong personality.
"He was pretty quotable, bloody quotable," said an amused Carroll. "His ability to stay balanced with everything that's going on around him, how to handle the situation, coming in at the start of the season, taking the job and that transition. And then to continue with the success and everything that follows, it's an incredibly good story.
He got hammered for it, and he's been on point all year. It was really, really impressive that he was able to keep up his performance. He's had a fantastic year. I'm really honored to just watch this thing happen."
As the Seahawks enter the final weekend of the regular season, they know they've left quite a few wins on the table over the past few months. They struggled through a stretch in which they lost five games out of six, but for all the inconsistencies, this team can still make the postseason with their handful of young stars.
"It would be a good reward for a season where we've grown so much," said Carroll. "The players have been so connected all season.
You didn't let anything upset you; They have stayed the course with the routine we maintain. They took some hits too and we recovered so that would be really important to move forward and if we're able to do that no matter where we go then we'll know next year is really big for us too. "
https://www.king5.com/article/sports/nfl/seahawks/pete-carroll-seahawks-keep-playoff-appearance-streak-alive/281-d15c0607-4bdf-424e-9137-0f776c75000d Pete Carroll talks keeping playoff appearance streak alive