Pete Carroll wants Seahawks to always embrace challenges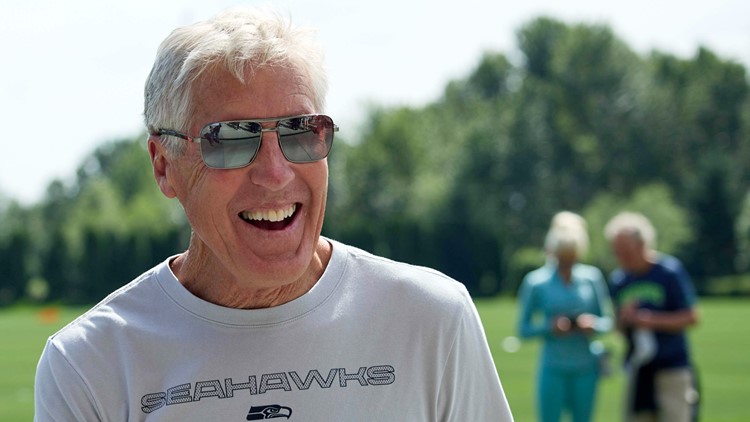 No matter the opponent on the field, competing at the highest level is always top of mind for Pete Carroll.
SEATTLE — As Pete Carroll enters his 14th season as head coach of the Seattle Seahawks, he shows no signs of slowing down. His desire to be great still burns hot.
The Seahawks are picked by many to reach the National Football League (NFL) playoffs for what would be the 11th time in the Carroll era. To get there, the 'Hawks have to endure a tough stretch in the schedule, playing three games in 12 days, starting with Thanksgiving night against the defending NFC West champion 49ers.
"We like all that stuff," said Pete. "I never complain about the schedule, because what are you going to do about it? We have some rhythms to this schedule that are interesting. I like playing at home in the opener, that's always nice. The back-to-back Thursdays are a real opportunity for us to max that out.
"We've had a lot of tough schedules and a lot of tough traveling challenges, so we're used to that mentality. We also have two 10 o'clock games. That and the Thursday games are the most challenging."
There's a saying among all competitors – iron sharpens iron. Carroll has all his players believing it.
"The harder and the more challenging, the better," said Carroll. "We have to play tough matchups. We have to play tough games in tough situations on the road or in the weather if you're going to have a great season. You have to welcome those challenges. So, my mentality is, I'm looking forward to doing something with every one of those chances."
One topic Carroll refuses to talk about is his retirement. He turns 72 years old in September, retaining his title as the oldest head coach in the NFL.
He keeps himself in great shape physically and mentally, knowing the importance of having balance in life.
"I have to be good at it. There are spaces between the spaces, and I have to maximize those so I can find the time to get clear and quiet so I can be at my best. I have to perform for these guys as much as they do.
"I love fly fishing. I'm on the river whenever I can get there. I love going to the beach, too. So, we figure out a way to do both of those things. I don't feel like I'm burnt or over-challenged. I'm pretty groovy right now and I look forward to it."
Carroll and the Seahawks begin training camp on Wednesday at the Virginia Mason Athletic Center in Renton. Tune in to the Seahawks Training Camp Special, airing at 12 p.m. Wednesday on KING 5. 
The Seahawks' first preseason game, scheduled for Aug. 10 against the Minnesota Vikings, will also be broadcast live on KING 5. Kick-off is scheduled for 7 p.m. PT.