Pictures of the week: climate protests in London, a solar eclipse and Wrexham's football victory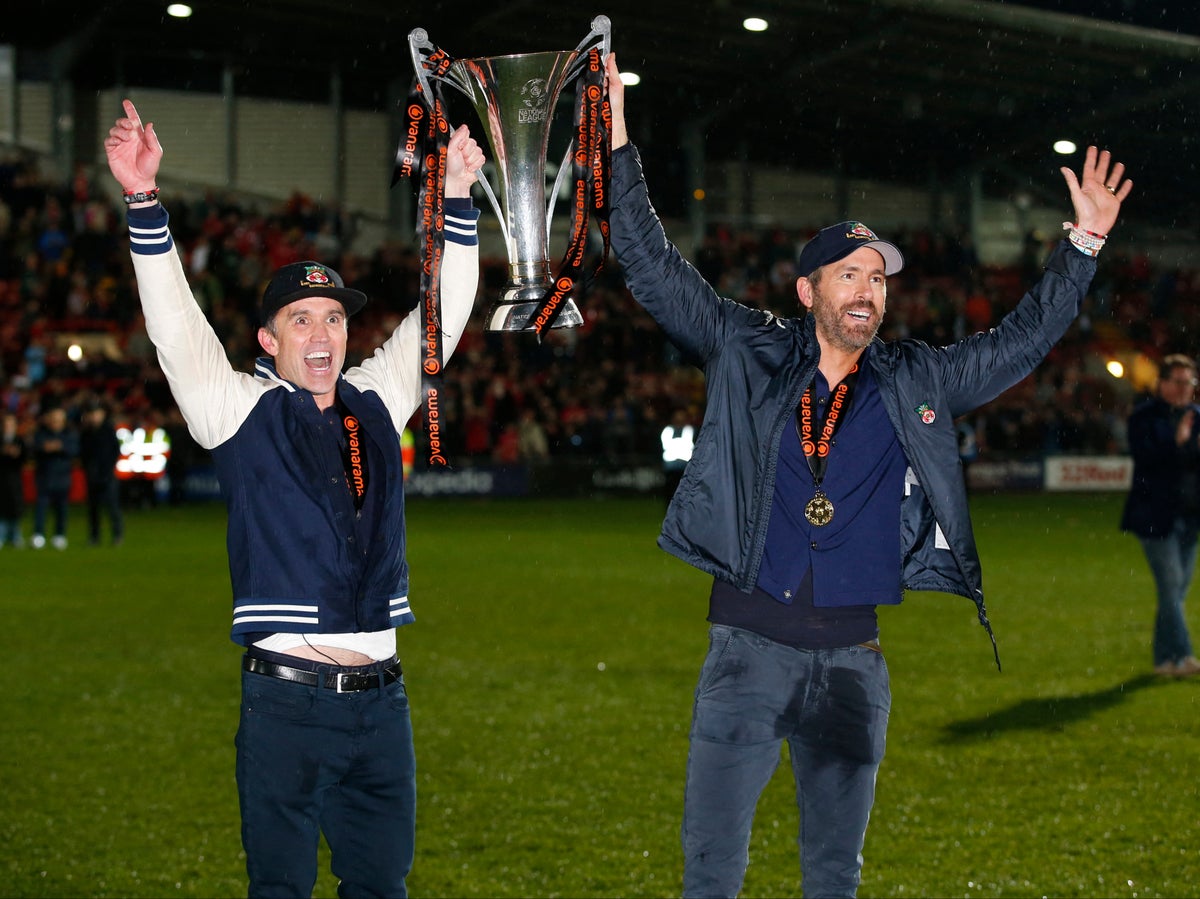 Each week, The Independent's photo editors sort through hundreds of thousands of images sent to us by photo agencies around the world.
These are some of the most eye-catching and impactful images from culture, news, politics, sports and lifestyle.
You can also keep up to date with the latest headline-grabbing photographs via our Instagram profile.
Indian boys cool off in the Ganges River on a hot afternoon in Kolkata, India.
A Kashmiri man holds an umbrella to protect himself from rain while walking on a makeshift wooden bridge on the banks of Dal Lake in Srinagar, the summer capital of Indian Kashmir.
Riders take part in an equestrian show celebrating the 450th anniversary of the cultural institution Real Maestranza de Caballeria in Ronda, southern Spain.
A viewer visits Everything, an immersive installation by Turkish studio Nohlab at the MEET Digital Culture Center in Milan.
People gather ahead of a total solar eclipse at a viewpoint 24km from Exmouth, Western Australia, Australia.
A guest arrives at the Mugler H&M Global Launch Event in New York City.
Hyacinth macaws feed during a media tour of Bird Paradise, a new 17-hectare bird park in Singapore's Mandai Wildlife Reserve, home to 3,500 birds from 400 species.
A protester wears a costume as people protest during Extinction Rebellion's 'The Big One' event in London, Britain.
Paul Rudd alongside Wrexham fans at The Turf Pub before the Vanarama National League match at the Racecourse Ground, Wrexham.
The Bathhouse at Howick is a small cottage on the Northumberland coast beneath the Milky Way.
A green pedal boat is moored to a dock in a dried up part of the Sau reservoir some 100 km (62 miles) north of Barcelona, ​​Spain.
The only working Tiger 1 tank in the world, Tiger 131, drives around the tank course at the Tank Museum in Bovington, Dorset, as the attraction holds 'Tiger Day' to mark the 80th anniversary of the Tiger tank's 1943 capture in Tunisia to celebrate desert.
A woman sits in a beach shelter on the promenade in Llandudno, UK.
Indian boys jump into the Ganga River while cooling off on a hot afternoon in Kolkata, India.
A person visits an installation at the Milan design week FuoriSalone 2023 in Milan, Italy.
People hold an umbrella while crossing the street as temperatures hit a record 45.4 degrees Celsius (113.7 Fahrenheit) in Bangkok, Thailand.
Sunrise behind Bass Rock in the Firth of Forth near North Berwick, East Lothian.
Muslim worshipers pose after prayers on the first day of Eid al-Fitr, which marks the end of the holy fasting month of Ramadan, in Bujumbura.
A person sits in a blooming Kwanzan cherry tree in Central Park in New York, New York, USA.
Police officers stand during a protest after a grand jury voted against charging police officers in the fatal shooting of unarmed black man Jayland Walker in Akron, Ohio.
Wild bluebells, which bloom around mid-April and turn the forest completely blue, form a carpet in the Hallerbos, also known as the 'Blue Forest', near the Belgian town of Halle, Belgium.
A provided image of a total solar eclipse, Exmouth, Western Australia.