Pictures of the week: Surfers Against Sewage protests, Rishi Sunak in Japan and a monkey quenching its thirst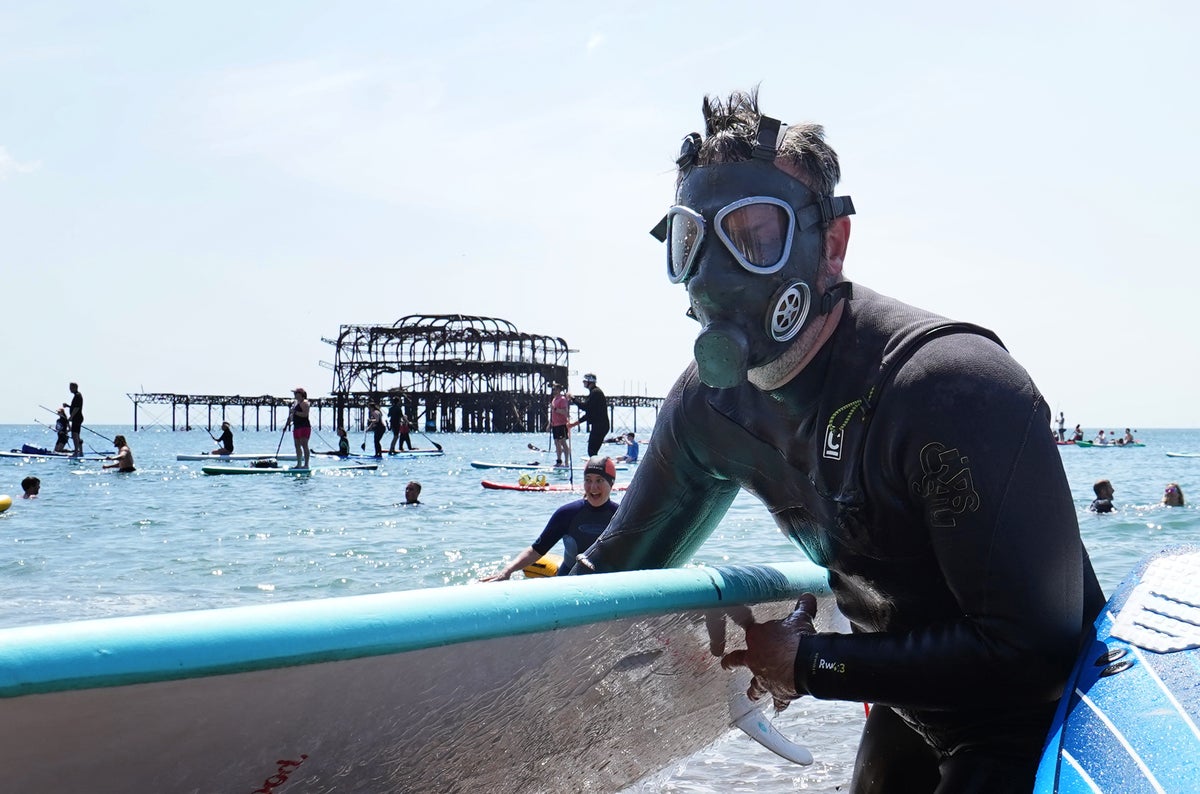 Each week, The Independent's photo editors sort through hundreds of thousands of images sent to us by photo agencies around the world.
These are some of the most eye-catching and impactful images from culture, news, politics, sports and lifestyle.
You can also use our to keep up to date with the latest headline-grabbing photographs Instagram.
The Popocatepetl volcano spewing ash and smoke seen from Puebal, Puebla State, Mexico.
Performers during the closing ceremony of the Southeast Asian Games in Phnom Penh, Cambodia.
Cattle graze on the meadow in front of the Reichstag during a protest by the environmental organization Greenpeace for animal welfare in Berlin.
Oxfam activists carried "big heads" of G7 leaders during a demonstration in Trafalgar Square, London, stressing their lack of action to tackle the hunger crisis in East Africa ahead of the start of the G7 summit in Japan.
Visitation assistant and art history student Emma Scarr Hall takes a closer look at @Pink Roses (1923) by Scottish colourist Leslie Hunter, estimated at £60,000-80,000 at the forthcoming Bonhams Scottish Art Sale in Edinburgh.
Supporters of Turkish President Tayyip Erdogan and the AK Party (AKP) gather in Istanbul, Turkey on election night.
Choristers of the University of Cambridge's St John's College Choir look on from the top of the chapel tower before performing the Ascension Day Christmas carol, a custom dating back to 1902.
Prime Minister Rishi Sunak aboard the Japanese aircraft carrier JS Izumo, where he inspected an honor guard along with Deputy Defense Minister Toshiro Ino during a visit to the Japan Maritime Self-Defense Force at Yokosuka Naval Base ahead of the G7 Summit in Hiroshima.
Part of a children's jacket during a photocall for the 'China's Hidden Century' exhibition which opens at the British Museum in London.
People take part in the 'Brussel Pride – The Belgian & European Pride 2023' parade organized by the LGBTQIA+ community in Brussels, Belgium.
Around 1200 windsurfers start for the 21st edition of the Defi Wind in the Mediterranean off the coast of Gruissan in southern France.
A raven lands on a barn roof as thick smoke from wildfires obscures the sun near Cremona, Alberta.
French-Israeli actor Tom Mercier performs acrobatics while posing with French actress Billie Blain during a photocall for the film 'Le Regne Animal' at the 76th edition of the Cannes Film Festival in Cannes, southern France.
Indigenous women participate in the "Prayer for Rain" ceremony on the shore of the Chicabal Lagoon in San Martin Sacatepequez, Guatemala, which was formed on the crater of a former volcano and is considered a sacred site by the Mayans.
A monkey tries to quench its thirst from a water tap on a hot summer day in Prayagraj, India.
A potter bee rests on a lavender in a park on World Bee Day in Madrid, Spain.