Pilot adopts dog abandoned at San Francisco airport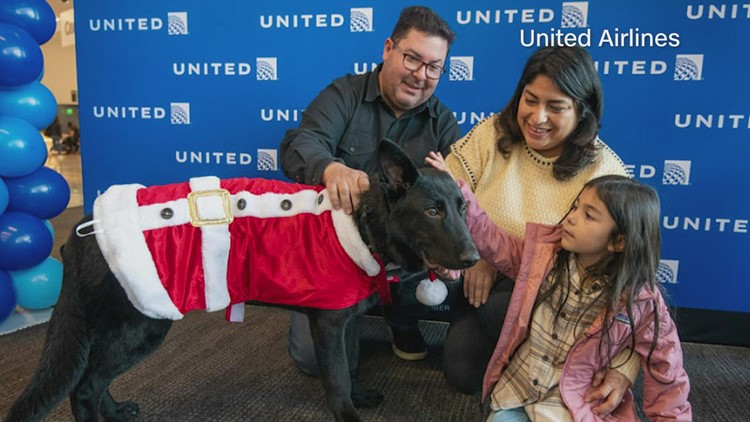 United Airlines employees looked after the puppy while it completed the requirements to enter the US. Later, a dog named Polaris was adopted by a pilot.
SAN FRANCISCO — A puppy abandoned at San Francisco International Airport this fall received an early Christmas present this month: A forever home.
The dog, named Polaris, was left at the airport after it was denied entry to the US and the international tourists traveling with it decided to continue the journey without it.
According to the San Francisco Society for the Prevention of Cruelty to Animals, United Airlines employees cared for the puppy while it completed the requirements to enter the US, including the quarantine period.
RELATED: IACS Launches 'Comfort Death Prevention List' With Up To 20 Dogs Suitable For A Variety Of Families
Vincent Passafiume, United's customer service manager, said: "From the moment Polaris came into our care, our entire SFO United team took care of him 24/7 until we got him. can ask permission to keep him safe in America.
According to Lisa Feder, head of San Francisco's SPCA welfare and rescue division, it's not an easy task.
"The United Customer Service team has taken on a sizable challenge to ensure Polaris stays safe, healthy and finds a loving home," said Feder.
But Polaris' story as an international traveler doesn't end when he leaves the airport. In fact, he was eventually adopted by Captain William Dale of United Airlines and his family. And, to celebrate the adoption, United threw a party on December 15. The airline also donated $5,000 to support the San Francisco SPCA.
Passafiume said: "It is a great feeling to see this story come to fruition and that Polaris will have a lovely home with Captain Dale of United Airlines and his family—just in time for the holidays, ' said Passafiume.
https://www.king5.com/article/life/heartwarming/dog-abandoned-at-san-francisco-airport-adoped-united-airlines-pilot/531-e638328a-ff73-447b-b8eb-a1dd02057b23 Pilot adopts dog abandoned at San Francisco airport