Piroshky Piroshky owner announces campaign for City Council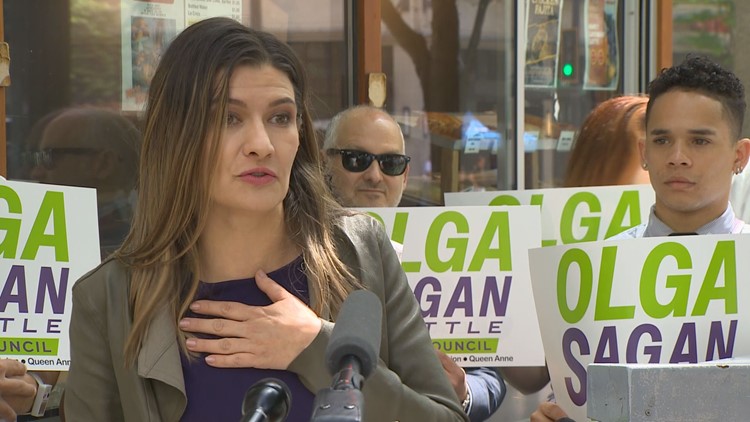 Olga Sagan announced her campaign for District 7 on Tuesday, May 16. She seeks to replace Andrew Lewis.
SEATTLE — The owner of the famous Piroshky Piroshky bakery in Seattle is running for city council.
Olga Sagan announced her campaign for District 7 on Tuesday, May 16. She's looking for an alternative Andrew Lewiswho took the oath of office in 2020.
"I am running to turn Seattle around and really solve our city's problems — not hide them," Sagan said in a prepared statement. "We must work with our community partners to help the homeless get off the streets and find shelter. We must support small businesses and reduce the cost of doing business in Seattle. We have to make sure families can enjoy our parks, sidewalks, and public spaces. That's not happening right now — and that's why Seattle deserves a fresh perspective and a change in leadership."
Sagan became outspoken after a series of crimes outside her downtown bakery caused the business to temporarily close. The closure was announced on February 27, 2022, following a deadly shooting at 3rd Avenue and Pine Street; The shooting was the third in the area in a month. Sagan said the crimes forced her to close the venue for the safety of employees and customers.
"Today's shooting happened at 1pm on Sunday, in the middle of downtown. There are tourists and families, and it's becoming normal. And it totally makes me very, very much. angry," Sagan said at the time.
Incumbent Andrew Lewis said he is running for a second term.
"Over the past four years, my office has brought together many different groups of people to make progress in solving our biggest problems, and you can see that downtown where we are located. I gathered JustCARE; We've dismantled some of the worst camps in the City of Seattle; We have We Deliver Care, currently on 3rd Avenue with an emphasis on de-escalating crises and connecting people to services. We have a constant emphasis by West District police on Third Avenue to reduce escalating violence and hold criminal law violators accountable. And I'm truly proud to be running for office as the head of a diverse coalition that includes everyone from John Scholes, CEO of the Downtown Seattle Association, to Pramila Jayapal, Progressive Congresswoman our. And it really shows that you can make a big difference if you bring people together and that's what defined my tenure on the council," Lewis said.
Lewis continued: "We need to continue to emphasize getting people in crisis off our streets and getting some form of care. Everyone needs to be in the hospital. They need to stay in shelters. They need to be in a place where we can be taken care of," Lewis said.
District 7 includes Magnolia, Interbay, Uptown, Queen Anne, West Lake, Belltown, South Lake Union, Downtown Seattle and Pioneer Square. Council members are elected to four-year terms.