Pittsburgh Steelers list rookie Kenny Pickett atop quarterback depth chart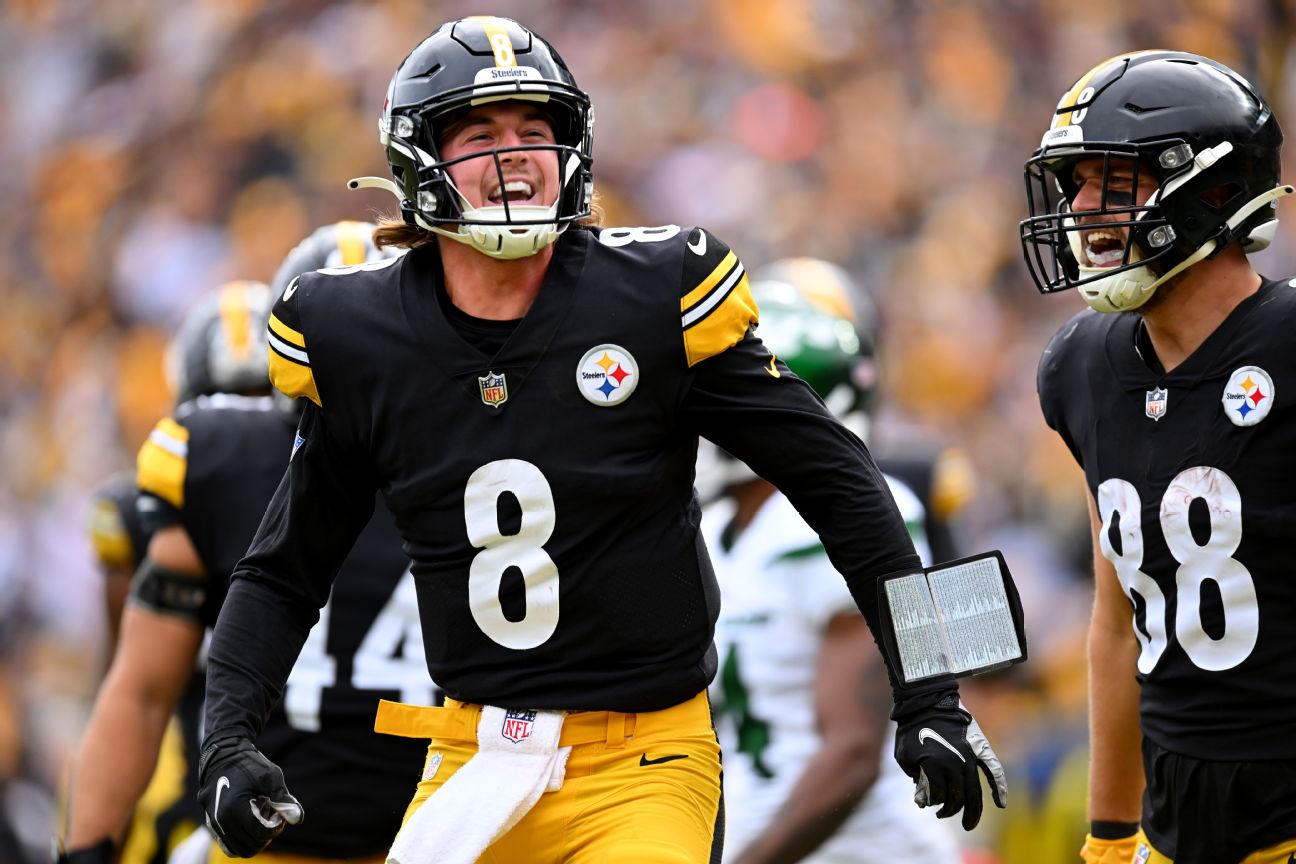 PITTSBURGH — The Kenny Pickett era is officially here.
The Pittsburgh Steelers listed their 2022 first-round pick as a starter on the depth chart — ahead of Mitch Trubisky — for Sunday's game at the Buffalo Bills.
"I don't want to put the responsibility for what happened at Mitch's feet," coach Mike Tomlin said on Tuesday. "It's not fair to him. He played better than that description, but we didn't. And so we decided to get better, to score more points, to move the ball more fluidly. I go to Kenny hoping he would give us a spark…not just in terms of our ability to pass the ball move, but only in terms of energy.
"And hopefully that's a catalyst for us as we try to move forward and change the outcome of some of these games."
Pickett will be the first rookie quarterback to start for the team since undrafted free agent Devlin Hodges started six games in the 2019 season.
Looking for a spark, Tomlin used Pickett to replace Trubisky at halftime in the Steelers' 24-20 loss to the New York Jets. Pickett responded by completing 10 of 13 attempts for 120 yards, with three interceptions and two rushing touchdowns.
And even after considering returning to Trubisky for his familiarity as a former Bills backup, Tomlin is sticking with Pickett as the Steelers enter the roughest part of their season in Buffalo on Sunday.
"We have no qualms about what Kenny will be able to do in terms of schematics," said Tomlin. "Obviously we have a level of concern about the environment that we're putting them in, but we have a level of concern about any quarterback that you put in that environment versus that defense and that venue.
"Kenny has shown us maturity at every point during this process. He's older than most newcomers and that was obviously discussed leading up to the draft process, the things we appreciated about him from a draft perspective: fluid and quick decision making, pro-like expectation and things like that have come to pass proven."
On his regular-season debut, Pickett averaged 9.2 yards per attempt and 13.2 air yards per attempt, well above Trubisky's season average of 5.6 yards per attempt and 9.9 air yards per attempt.
"With Kenny in there, we could be the attacker," tight end Pat Freiermuth said Monday. "Obviously there will be some mistakes, some balls tipped and all those things, but we have to keep working on it and being there for Kenny, especially as he's a young guy."
Tomlin said it was ultimately a gut feeling that prompted the move.
"Mitch's performance was part of the decision, but not the only part of the decision, and I just want to be very clear about that," said Tomlin. "Often the quarterback position gets too much credit, too much blame."
Tomlin added: "I don't know if it's a specific thing. It's just how I felt, how we felt in the game. I think we talked about this last week too, how do you know when you're there? And I said, "You just know when you're there." I think that's probably the perspective I have on the decision-making component."
Before entering Sunday's game, Pickett hadn't worked with the first-team offense since the preseason, but the Pitt product impressed his teammates with his calm, confident demeanor in the scrum and attitude on the field. Perhaps his most impressive throw came when he completed an 18-yard pass to Freiermuth over the middle on the third and long pass as Jets defensive tackle Quinnen Williams flew unblocked at him. Pickett took the shot with facial pressure and smiled at Williams as he got off the field.
"He played with swagger," wide receiver Diontae Johnson said Monday. "If he gets into a rush, he'll say something like, 'Hold up, come in, listen.' Everyone respects him. He's a great player and he's young, he'll keep learning and developing. It's our job to make him look good and help him feel good while he's out there."
Pickett, 24, was the first first-round quarterback selected by the Steelers since the organization selected Ben Roethlisberger in 2004.
The Steelers (1-3) drafted Pickett 20th overall with the intention of eventually making him a franchise quarterback, but he entered the preseason as the No. 3 quarterback on the depth chart behind Trubisky — who is in free agency was signed – and longtime backup Mason Rudolph.
Pickett struggled in the early weeks of camp but regained momentum in the first game of preseason when he completed 13 of 15 attempts for 95 yards with two touchdowns — including a game-winning drive against the Seattle Seahawks. He finished the preseason with an 80.6 completion percentage and an average of 7.3 yards per attempt.
However, the Steelers were determined to start Trubisky because of his veteran experience and leadership, and the team even chose him to captain. He will continue to be captain and perform the role's duties, including the coin toss, Tomlin said.
Trubisky and the offense struggled through the first 3½ weeks, and their offense performance hovered near the bottom end of the league, averaging 18 points per game.
Though Tomlin preached patience and pointed to encouraging signs of offensive improvement after the Week 3 loss to the Cleveland Browns, he ultimately opted to field his rookie at halftime in Sunday's game against the New York Jets.
For his part, Pickett showed leadership and confidence after Sunday's loss and vowed to help drive the offense forward.
"I find [I have] a bit of an edge for me," Pickett said. "I want that to rub off on everyone. I want us to have an attitude when it's out there in the field. I look forward to getting back to work and getting us back on track."
https://www.espn.com/nfl/story/_/id/34724839/pittsburgh-steelers-list-rookie-kenny-pickett-atop-quarterback-depth-chart Pittsburgh Steelers list rookie Kenny Pickett atop quarterback depth chart