Planned safe parking for those living in RVs in Interbay will eventually become pickleball courts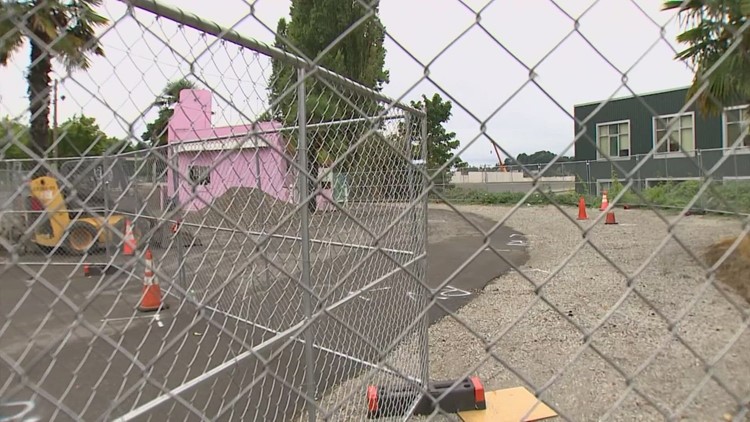 SEATTLE — Work is underway to convert a 35,000-square-foot space just south of the Ballard Bridge into a secure, fully staffed RV park that will eventually accommodate up to 10 tiny homes.
The project is the work of the Low Income Housing Institute (LIHI), a group that is addressing construction permits filed with the City of Seattle for the same site that call for a mixed-use apartment building complete with Maximum 22 apartments. court.
The contact for handball court projectlisted on the permit application, did not respond to KING 5's request for comment. The project's sponsor is Seattle Storm Co-Owner Virginia Gilder.
"I think there's some confusion that the pitching field is somehow getting us out, or we're getting pushed out, or it's slowing us down, none of those things. "We are still moving forward and will proceed as planned in about six weeks," said Jon Grant, LIHI's chief strategy officer.
Back in May, a packed community meeting was held and neighbors protested what they were told was a done deal. LIHI officials are clarifying that they have a five-year lease with the property owner.
They say they knew full well that at some point they would have to move the RV park – and the project was moving forward anyway.
The tiny houses will also be packed up and moved elsewhere. What Grant calls standard practice in the world of temporary and low-income housing.
"So the RV safety lot is a really important resource for our community. There were a lot of people sleeping in their cars tonight, so we had to stay open and we were assured by the owner that we would be able to operate there for years before the pitching field was even there. problem," he added.
That pitching facility and apartment complex won't be underway until 2025, and until then – plans are moving forward with what they call Salmon Bay Village. The one they hope will stay as long as the property owner has them.