Police haul more items from home of man charged in Gilgo Beach killings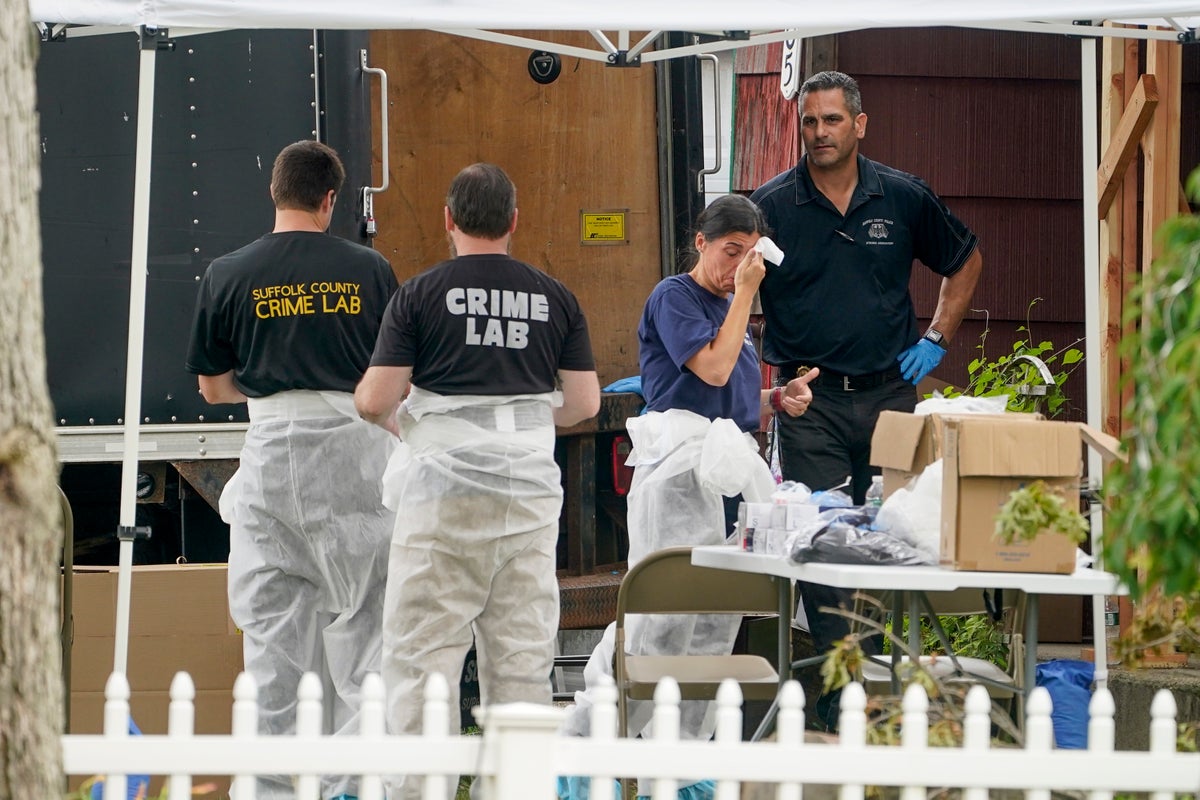 Police on Tuesday carted more boxes of potential evidence from the Long Island home of Rex Heuermann, who is accused of killing at least three women and leaving their remains on a secluded stretch of beach road.
Items recovered from Heuermann's Massapequa Park home in recent days included more than 200 firearms, a large doll in a glass case, a large portrait of a woman with an injured face and a filing cabinet.
Investigators, some wearing "crime lab" T-shirts and hazmat suits, were seen Tuesday removing a desktop computer, a large picture frame, a mirror and many other household items.
It remains to be seen whether any of those points will help authorities as they draft their case against Heuermann, an architect charged with the murder of three women on Friday and who a prosecutor has named as a suspect in a fourth murder.
According to his attorney, Michael Brown, Heuermann has denied killing the women.
Heuermann has been on suicide watch since his arrest at the Suffolk County Correctional Facility, according to a spokesman for the sheriff's office. According to spokeswoman Vicki DiStefano, the classification, which requires "high security measures" and close observation, came after an assessment by county medical personnel.
The indictment was a remarkable development in one of New York's most notorious mysteries.
As of 2010, while searching for a missing woman near Gilgo Beach on Long Island, police discovered ten human remains scattered along a long barrier island. Among the dead were eight women, a man and a small child.
Authorities concluded that it was unlikely that one person killed all of the victims, but that several of the bodies found in relatively close proximity were likely the work of a serial killer.
Heuermann, 59, is accused of murdering Melissa Barthelemy, Amber Costello and Megan Waterman. Suffolk County District Attorney Ray Tierney said investigators are still working to indict him in the death of a fourth victim, Maureen Brainard-Barnes. All four women had been sex workers. Their bodies were found on the same quarter-mile (0.4 km) stretch of Ocean Parkway.
Investigators in this case also searched storage space rented by Heuermann, who also owned vacant land in South Carolina and a timeshare condo in Las Vegas.
The missing woman whose disappearance sparked the police search that led to the accidental discovery of Gilgo Beach's remains, Shannan Gilbert, was herself found dead in a nearby coastal swamp in 2011.
Suffolk Police concluded she drowned accidentally – a finding her family did not accept as they believe she was also killed.