Poor track conditions caused a 2021 Amtrak derailment in Montana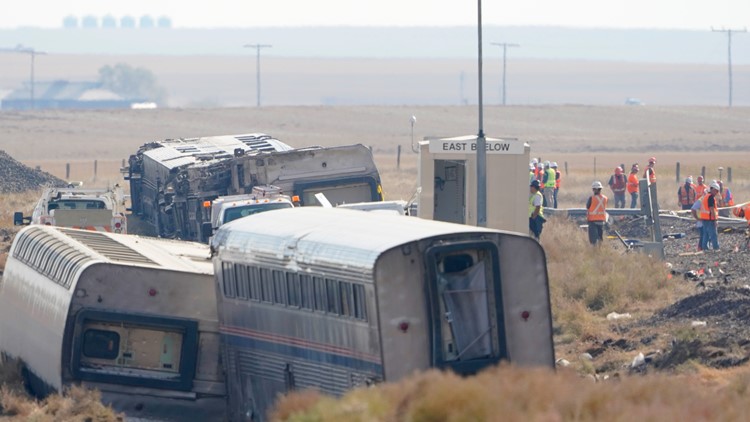 Poor track conditions that should have been flagged by a freight railroad company's inspectors caused the derailment of an Amtrak train in Montana.
HELENA, Mont. — Poor track conditions that should have been flagged by a freight railroad company's inspectors caused the derailment of an Amtrak train in Montana that killed three people and injured 49 others in 2021, federal investigators said Thursday in a final report.
The combination of wear and damage to the railroad track, had it been noticed by BNSF Railway inspectors, should have led to the track being replaced before the derailment occurred, the National Transportation Safety Board found. Investigators also found that a train inspector's workload likely prevented him from doing a walking inspection of the area before the derailment.
The poor track conditions included a worn rail, vertical track deflection, misalignment and instability in the rail bed, the report found. The track is owned by BNSF railroad.
"This tragedy is a powerful reminder that there's no substitute for robust track inspection practices, which can prevent derailments by identifying track conditions that may deteriorate over time," said NTSB Chair Jennifer Homendy.
The NTSB said BSNF showed "a shortcoming in its safety culture." It also said that safety measures on the train could have led to less severe injuries. It noted that passengers were not restrained and that windows on the Amtrak train did not remain in place.
Emails sent to Amtrak spokesperson Marc Magliari and BNSF railroad spokesperson Lena Kent were not immediately returned.
Amtrak's Empire Builder derailed Sept. 25, 2021, in northern Montana while en route from Chicago to Seattle and Portland, Oregon, with 154 people on board.
Investigators also found that if a locomotive equipped with an automated vehicle-track interaction monitoring system had traveled over the area, it would have detected the deteriorating track conditions and BSNF Railway would have had an opportunity to make repairs. NTSB is recommending that all trains be equipped with that technology.
Thursday's finding follows what was revealed earlier this year in the agency's investigative documents. Investigators identified a bent track based on video footage, including from two BNSF freight trains that went around the accident curve within 90 minutes before the Amtrak derailment.
The problem got worse as the freight trains traveled over the area before the crash.
The three passengers who died and two who were seriously injured were in an observation car that ended up on its side, the NTSB said in February.
Killed in the accident were Margie and Don Vardahoe, a Georgia couple on a cross-country trip to mark their 50th wedding anniversary, and Zachariah Schneider, 28, a software developer from Illinois.
Families of those who were killed and injured passengers have filed lawsuits against BSNF railroad and against Amtrak.
BNSF is owned by Warren Buffett's Omaha, Nebraska-based Berkshire Hathaway conglomerate.