Port of Dover 'extremely busy' with holiday traffic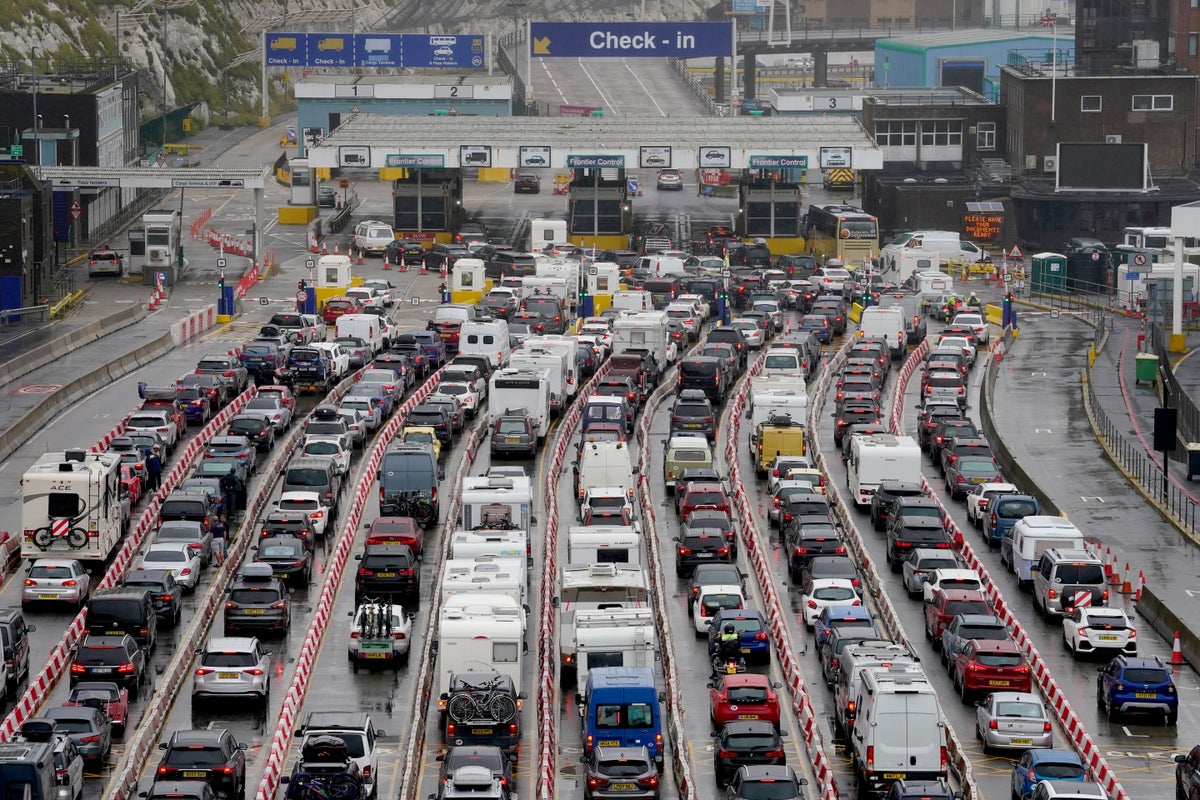 Holidaymakers travelling through the "extremely busy" Port of Dover have faced "bottlenecks" of traffic, bosses there said.
The processing time at the border was previously 90 minutes, which is the time expected for peak travel days, an update from the Kent port said on Thursday morning.
On Thursday afternoon, port bosses said the processing time at border control is 20 minutes and that 14,898 people had set sail from the port so far on July 27.
All the positions for French border officials, Police Aux Frontieres, are open, it is understood.
On Thursday morning, a Port of Dover spokesperson said: "The port is extremely busy due to high volumes of passengers arriving too early for their sailing, causing bottlenecks.
"Please keep to main routes (A2/A20) and do not arrive more than three hours before your sailing."
The Kent port has been preparing for summer holiday getaway traffic, with measures put in place to minimise queues.
Bosses are urging car passengers embarking on summer getaways to arrive up to but not more than three hours before their booked sailing.
This is up from two hours last year, while before the end of the Brexit transition period the port gave no advice for when people should turn up.
Port bosses said anyone who misses their sailing will be put on the next available trip.
Expected car arrivals were expected to peak at more than 2,000 on Thursday morning and nearly 3,000 on Saturday.
As of 9.25am, 1,836 cars had sailed from the port.
Bob McKay, 36, from Faversham, Kent, said he was "frustrated" after spending several hours queuing at the Port of Dover to board a ferry.
Mr McKay is travelling as part of the Kent-based Caritas Chamber Choir, a musical group which specialises in acapella music and early choral pieces, to perform at the Cathedrale Notre-Dame-de-la-Treille in the city of Lille on Saturday.
Speaking to the PA news agency, he said: "We drove down to Dover and arrived about 100 minutes before our sailing time… and we spent most of that time queuing through border control.
"Once we got through, we drove around to the actual ferry check-in and that was about a half-an-hour queue. You expect there to be queues when it's a busy time of year and during the holidays, that makes perfect sense.
"But we felt a little bit frustrated given we booked a 10am ferry and now we're having to wait for a 12pm one, so it's quite a long time in the car.
"We were in the car by 7.15 this morning; so it's just a very long day."
Despite the long queues, Mr McKay added: "It's fine, we're all in good spirits and having a nice weekend away.
"I think the frustration has been that there's very little communication about the amount of time queues are taking and the reasons for the delays.
"Then the response from the DFDS (ferry company) on Twitter was a bit lacking, I think.
"I know that they haven't necessarily got all of the live information but I think when your real experiences are being challenged… that can be frustrating."
PA has contacted DFDS for comment.