Port of Seattle approves $399 million Sea-Tac Airport project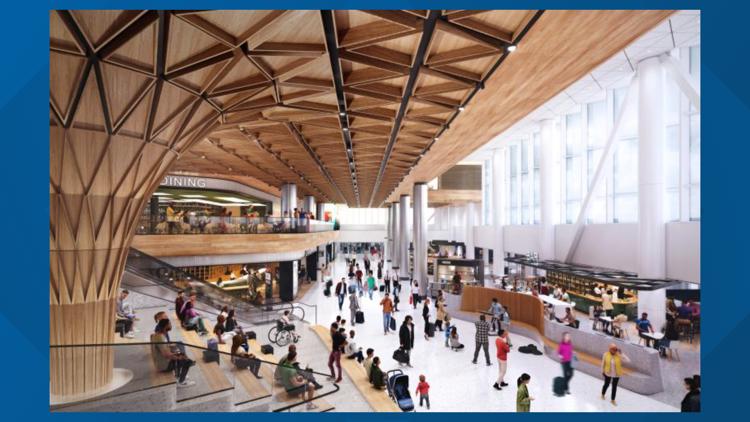 Construction is expected to begin early next year with an expected opening date of mid-2026.
SEATAC, Wash. — Major upgrades aimed at improving the passenger experience and increasing revenue at Seattle-Tacoma International Airport are underway after the Seattle Port Commission recently approved the plan. Project cost 400 million USD on Tuesday.
The Concourse C Expansion (CCE) project will add four additional floors between Concourses C and D on the east side of the airport.
The commission approved $213 million in additional funding for the concourse expansion project on September 26, adding to the $185.1 million previously approved. With a 5-0 vote, the committee authorized bringing the total budget to $399 million.
According to the project memorandum, the establishment of the project is to meet the need for additional catering and retail capacity, office space and premium lounge space at the airport. New amenities that will be included in the expansion are new restrooms, interfaith prayer and meditation rooms, nursing rooms, outdoor public observatories and more.
The expansion includes a more than 20,000-square-foot Alaska Airlines lounge, according to project website.
"The C concourse expansion rethinks the airport experience where the design creates an intuitive journey, a sense of calm and climate consciousness," the website says.
Construction on the expansion project is expected to begin in early 2024 and is expected to be completed by mid-2026.
This project is part of SEA Upgrade, a campaign to modernize the airport and meet growing traveler needs.
With the expansion, the goal of the 226,530-square-foot space is to increase airport revenue through food and retail offerings, increase office leasable space and add lounge capacity.
In 2022, the airport handled 45.9 million passengers, 11% less than the number of passengers recorded in 2019. The airport is expected to reach pre-pandemic passenger numbers in 2024.
For comparison with 2013, Sea-Tac Airport handled 34.8 million passengers, recorded on both domestic and international flights, according to the Passengers, Cargo and Operations summary from 2013.
Once completed, the Concourse C Expansion project is expected to earn $21 million in non-aviation revenue by 2031, according to the commission's project memorandum.