Potential road rage shooting on SR 18 in Federal Way investigated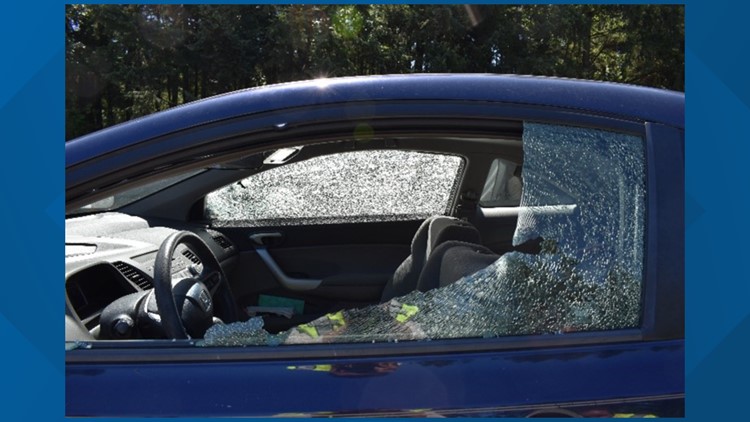 A bullet shattered the glass of the victim's car and "nearly" missed the victim, according to state patrol. A shard of glass cut the victim's head and neck.
FEDERAL WAY, Wash. — One person was injured in a possible traffic shooting along State Route 18 on Federal Way Thursday morning.
The shooting happened around 10:25 a.m
The driver of a Honda Civic told the Washington State Patrol that she was traveling south on Interstate 5 near the Enchanted Parkway/SR 18 exit and another car erratically drove alongside her. The driver of the suspect vehicle allegedly gave the victim the middle finger before driving past the victim and slowing drastically.
The cars were traveling east on SR 18 and the suspect vehicle pulled up next to the victim.
According to the Washington State Patrol, a passenger fired a gun at them before fleeing.
A bullet shattered the glass of the victim's driver's side window, went through the Civic and exited through the passenger window. According to the WSP, the bullet "nearly" missed the victim.
A shard of glass from the broken window cut the driver in the head and neck. She was taken to the hospital.
Police are looking for the two suspects and the suspect vehicle, which is described as an older cream-colored passenger car. The driver is described as a slim woman in her 20s with shoulder-length hair. The passenger is described as a slim man with short hair and a white T-shirt.
This is at least the third highway shooting in two days on western Washington roads.
A driver reported his car was shot at on I-5 near South 200th Street in SeaTac Wednesday morning. The driver said another car hit them and pulled up on the passenger side before shooting what appeared to be a pistol.
The rear passenger window shattered and the suspect fled.
Police determined that an air pistol was used in the shooting.
Later Wednesday, the occupants of two vehicles exchanged gunfire on I-5 north of State Route 900 in King County. In this incident, two cars crossed the shoulder of the road into traffic. A Kia occupant shot a Dodge Charger with children inside. The driver of the Dodge Charger then fired a shot at the Kia.
This is an evolving story. Check for updates again.
Download our free KING 5 app to keep up with news from across western Washington.
https://www.king5.com/article/news/crime/road-rage-shooting-sr-18-federal-way/281-8be61f6c-2039-44b9-99f0-10b8f08b37b3 Potential road rage shooting on SR 18 in Federal Way investigated