Sports
Predicting WSU's starters and how Kyle Smith divvies up minutes for the 2022-2023 season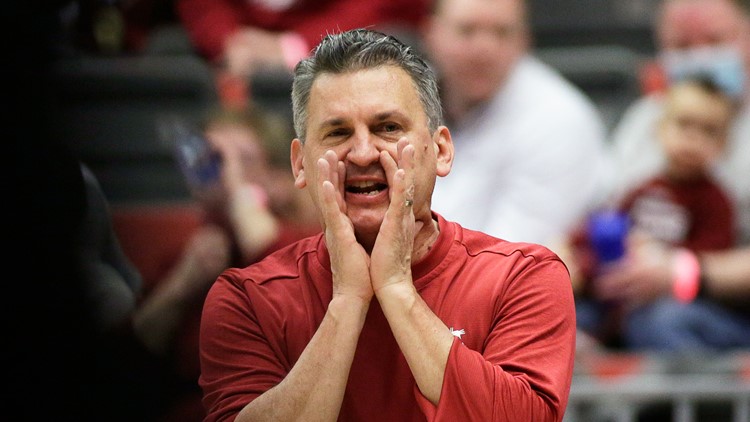 WSU's basketball program has had its ups and downs this offseason. We're taking stock of how the squad looks now and making some predictions.
PULLMAN, Wash. — We took a close look at Gonzaga's starting lineup for next season and how the staff will split the minutes on Wednesday. Now it's WSU's turn as their roster only took shape a few days ago.
Once again the obvious starters are eliminated here in Mouhamed Gueye and TJ Bamba. This leaves three starting places to be filled.
The point guard's position is the most obvious in relation to the starting position. Myles Rice changed his red shirt last season so he didn't see a moment of game time but the staff are very high on him and have publicly reported how impressed they were with him in training. Rice is the only true point guard on this roster and will carry a significant amount of weight for someone who hasn't played a minute of DI basketball. I think he's WSU's most important player next year because if he does well, everyone will be fine. If he has problems, it also affects everyone's game.
Let's get to the shooting guard. Again, I think that's pretty obvious with Justin Powell, who just transferred from Tennessee this week. Powell didn't find himself in the Vols' rotation last year, but he averaged 11.7 points per game in his freshman year at Auburn before a concussion ended his ten games in the season. The Cougs are hoping Powell will return.
At the bottom, the Cougs have a decision to make. Go small with Andrej Jakimovski on the 4 and Mouhamed Gueye on the 5, or go big and put Gueye on the 4 and Dishon Jackson on the 5. I choose the big lineup.
So, in summary, these are Myles Rice at position, Justin Powell at 2, TJ Bamba at 3, Mouhamed Gueye at 4, and Dishon Jackson at 5.
As I said with Gonzaga Wednesday, I'm talking about how minutes will spiral in big games, not minutes against lower-level competitors. Also remember that there are 200 minutes per competition.
Let's start with Gueye and Bamba since they were my obvious starters. I toast them both up to 30 minutes per game. Gueye averaged 24 minutes per game in conference play last year, so I think that's a perfectly realistic increase. Meanwhile, Bamba no longer plays with Tyrell Roberts or Noah Williams, so he's getting those starting protection minutes.
Let's move on to Myles Rice and Justin Powell. I think Rice is up to 30 too because he's the only real point guard on the roster. I have Powell at 25 minutes. That means Powell plays 10 minutes per game point spelling Rice and then plays the other 15 at shooting guard.
Dishon Jackson averaged 16 minutes per game last year. I see it goes to 20.
That leaves us 65 minutes for the bank.
There are two guys from the bank that I would have a hard time with if their roles diminished. These two players are Andrej Jakimovski and DJ Rodman. DJ is a great spark of energy and Jakimovski has proven that he can play in both defensive and forward positions. They both averaged about 20 minutes per game last year, so we have 30 minutes left.
When I spoke to Kyle Smith a few months ago, he originally saw Jabe Mullins start the Saint Mary transfer. I don't think that's the case now with Powell's move, but I still see Mullins playing a role, so I'll give him 15 minutes.
That leaves us with newcomer Adrame Diongue. I think the 2.1m tall Senegal will be a great support to Jackson so I'll give him the remaining 10 minutes.
Overall, I think this team is in a pretty good place considering WSU fans were pretty concerned about a month ago.
We'll see if they can finally break the NCAA tournament drought, which will now be 15 years this season.
https://www.king5.com/article/sports/ncaa/ncaaf/cougars/wsu-starting-lineup-2022-2023/293-02690eb5-eabe-439e-aaa9-5add065ea37c Predicting WSU's starters and how Kyle Smith divvies up minutes for the 2022-2023 season