Premier League 2023/24 predictions: Champions, top four, relegation, best signing, top scorer and more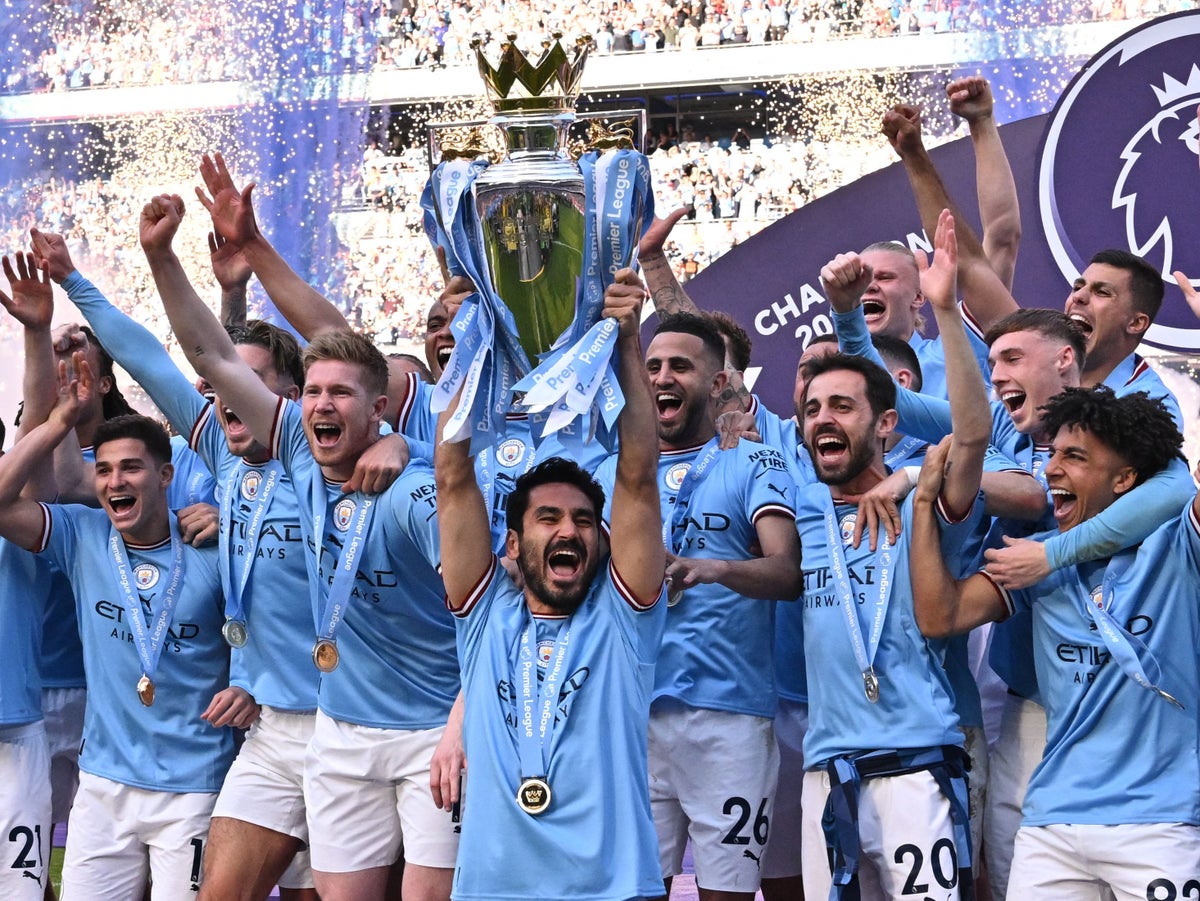 The Premier League is back ahead of a new season with different teams emerging as front runners and the prospect of top players leaving European football.
But there is plenty of intrigue surrounding Arsenal and whether they will be able to push champions Manchester City again, especially with their lucrative spending and the addition of Declan Rice.
Liverpool will hope that their last campaign was more of a blip with Chelsea also looking to firmly leave the 2022/23 season in the dust. There will be questions concerning Newcastle who surpassed expectations to qualify for the Champions League last time round, as well as Tottenham who finished outside the European spots.
While there is great uncertainty at the bottom, with Nottingham Forest looking to avoid a second-season dip, and Luton just looking to survive.
Here, our writers make their predictions for the next season:
Champions?
Miguel Delaney (chief football writer): As promising as Arsenal look, Manchester City are at the point where they have to be considered the default pick for all competitions.
Jack Rathborn (sports editor): Manchester City Four in a row? It'll be a first for the top flight in English football. Ilkay Gundogan is a massive loss, but Pep Guardiola has proven the treble winners are capable of adjusting. Any issues replacing Gundogan (and Riyad Mahrez) should be countered by Arsenal's clustered schedule back in the Champions League and the teething issues accommodating Kai Havertz in his new role.
Richard Jolly (senior football correspondent): Manchester City. A desperately unoriginal pick but while there are reasons to think that each of Arsenal, Manchester United, Newcastle, Liverpool and Chelsea are stronger this season (and Tottenham will be too, if Harry Kane stays) and that City could miss Ilkay Gundogan, that does not necessarily mean anyone will overhaul City. For starters, it will probably require over 90 points. So City it should be.
Karl Matchett: Manchester City. Nobody has made up any real ground on them. I get the train of thought that consistency after winning the lot is tough to maintain, but they have a world-class coach pushing them to do just that – and if the starters don't perform, well, they only have World Cup winners and a whole string of internationals ready to take their places.
Michael Jones: Arsenal. Manchester City are the obvious choice, and will compete again this year, but Mikel Arteta's side have proven they can challenge so I'll go with them to be different. They've strengthened over the summer and the next step in their development will be to win a big trophy. Why not the Premier League?
Luke Baker: Manchester City. Occam's Razor. No point overthinking this one and you don't need me to sit here and explain why Man City are the best team in English football right now.
Alex Pattle: I'll admit that my imagination does not stretch as far as a world in which Manchester City do not win the league, much as Arsenal improved last season and have made promising signings.
Sonia Twigg: As much as I would like to see someone new and unexpected win the league, I can't look past Manchester City, they just seem utterly dominant.
Jamie Braidwood: Manchester City.
Kieran Jackson: Manchester City. Undisputed favourites once again. Pep will not let his players relent despite last season's treble. That being said, perhaps there's a reason no team has ever won four Premier League titles in a row (said more in hope than expectation…)
Who else will finish in the top four?
MD: Arsenal, Manchester United, Liverpool. This could actually be a top five depending on the new coefficient rules with the Champions League expansion, which I think would bring Chelsea in.
JR: Liverpool, Arsenal, Manchester United. These four sides look like they've separated from the rest, with Liverpool right there with Arsenal as City's strongest competition. If one of these four endure a rotten spell, how about a real outsider such as Brighton, who were favourites against Manchester United at Wembley towards the end of last season. It'll be tough now without Moises Caicedo, too, but the Seagulls have proven to be a well-oiled machine.
RJ: Manchester United, Arsenal and Liverpool, possibly in that order, possibly not. Liverpool's fundamental issue last season was in midfield and bringing in Alexis Mac Allister and Dominik Szoboszlai – perhaps with Romeo Lavia to follow – could help address that so they might leapfrog Newcastle, who face the challenge of balancing Champions and Premier League. Arsenal don't look one-season wonders while United should benefit from a second season under Erik ten Hag and with a goalkeeper who suits his style of football.
KM: Liverpool, Arsenal, Manchester United. 
MJ: Manchester City, Manchester United, Liverpool. City and Arsenal are nailed on for two of the spots while United's increased squad and discipline should repeat their success from last season. The fourth spot is a trickier one but I'm going with Liverpool after a summer overhaul has brought new life into their midfield.
LB: Liverpool bounce back as Klopp's rebuild takes shape, Arsenal kick on from a hugely exciting season with another solid campaign and a decent bash at the Champions League, while Erik ten Hag gets just enough out of a Man United team that still clearly has deficiencies to hold off Newcastle and a surprisingly Postecoglou-inspired Spurs.
AP: Manchester United, Arsenal, Liverpool. Signs suggest that Arsenal should only get closer to City this year, but I have a feeling it may not be quite that simple – especially with Erik ten Hag building something encouraging at United all the while. Also, I don't expect Chelsea to be far off here.
ST: I think Newcastle will push the others close, but having to play in Europe and battle in the league might be too much in the end, so Liverpool, Arsenal and Manchester United.
JB: Arsenal, Manchester United, Liverpool.
KJ: Liverpool, Manchester United, Arsenal. Expecting a Liverpool resurgence, particularly if they can bring in another midfielder before the window closes. Against the grain, predicting a bit of a drop-off for Arsenal with the added task of Champions League football, but they should still finish in the top-four. Man United are a more complete side than Chelsea and Tottenham, with Newcastle just missing out this time round.
Who will be relegated?
MD: Luton Town, Sheffield United, Wolves . It's difficult not to think two are going straight back down given quality, although the Premier League has had a habit of disproving such notions in recent years. Wolves have illustrated that but it looks like different issues are catching up with them.
JR: Forest should have enough, and Morgan Gibbs-White should push for a place in England's Euro 2024. Everton have never looked like surging clear of the drop zone in recent years and this season might be their time, with Wolves narrowly escaping. Luton Town, Sheffield United, Everton
RJ: Sheffield United, Luton and Wolves. Sadly for the Blades, they look weaker than last season, with the sales of Iliman Ndiaye and Sander Berge potentially fatal blows to their chances and a lack of funds a major problem. Luton look like they have made some smart acquisitions but they overachieved – particularly relative to their budget – to get promotion and a gulf could be too big to bridge, even for such a well-run club. Wolves have contrived to become a club in crisis without kicking a ball, with Julen Lopetegui's departure before the season has started.
KM: Luton, Sheffield United and, as it stands with a month of the window to go, Wolves.
MJ: Luton Town, Bournemouth, Wolves. Of the newly promoted teams Luton will probably struggle the most to adapt to the rigours of the Premier League. Bournemouth's search for a new identity under Andoni Iraola could hit a few bumps and Wolves seem to be entering that phase when they need to drop down a league to fully reset – like Burnley under Vincent Kompany.
LB: Sheffield United, Wolves, Bournemouth. I'm a football romantic, so am backing Luton to survive by listening to my heart, not my head. I also think a Burnley side that blitzed the Championship will be fine, which puts some of the more established sides at risk. Wolves have been heading in the wrong direction for a while and are in turmoil with Julen Lopetegui's departure. Then I'll say the Andoni Iraola project at Bournemouth comes up short and Sheffield United fail to adapt to the step up, with Fulham and Nottingham Forest just about surviving instead.
AP: Luton Town, Sheffield United, Wolves.
ST: I think Everton will do just enough to survive again so, Luton, Bournemouth and Sheffield United.
JB: Luton Town, Sheffield United, Wolves. Or Gary O'Neil gets the last laugh and sends Bournemouth down.
KJ: Wolves, Sheffield United, Bournemouth. Echoes of Blackpool in 2010-11 for Luton Town this season, but the romantic in me believes they'll somehow stay up, just. Sheffield United will struggle after selling Iliman Ndiaye and Sander Berge while Wolves' state of disarray already does not bode well. Bournemouth will regret ditching Gary O'Neil, too.
Player of the season?
MD: He might not transform Arsenal into champions but the signing of Declan Rice has the feel of one that just fits.
JR: The importance of Martin Odegaard could emerge even further after Arsenal's reinforcements, but away from the absolute favourites, Trent Alexander-Arnold has the ability and the character to produce the best season of his career. He's now relishing a new role inside and appears to be physically stronger. With so many exciting options for Liverpool going forward, Alexander-Arnold should thrive and put up an outrageous assist total to attract attention for this award.
RJ: If Erling Haaland gets anything like a similar goal tally to last year, he will probably scoop the individual awards again, though a personal view is that Kevin de Bruyne can be the best footballer of virtually any season. But, in a bid to say something different, perhaps another unique talent, in Trent Alexander-Arnold.
KM: The first full "normal" season in a while; it feels as though Kevin de Bruyne is an obvious potential winner here as a result if he can stay fit for seven or eight months. Other than him it might be those who have stand-out roles: Trent Alexander-Arnold's all-action and all-creative one for Liverpool, Bruno Fernandes if he operates deeper with more regularity for Man United or maybe, just maybe, Kai Havertz in a very different role for Arsenal. Creativity rather than goals might be key if the man mentioned below simply monsters every defence again.
MJ: Harry Kane. This one comes with the requirement that Tottenham don't sell Kane to Bayern Munich in the summer. Should he stay at Spurs, this is probably Kane's last season with the club, and he will give it everything he's got. Winning Spurs a trophy will be on his bucket list, and he'll want to prove that he's still a wonderful striker at the age of 30 ahead of a potential move next summer.
LB: Probably Haaland but where's the fun in saying that? If I think they win the league (I do), then it sort of has to be a City player. Kevin de Bruyne will be mesmerising once more but let's get England fans really excited with an incredible season from Jack Grealish as he continues to improve under Pep Guardiola.
AP: Kevin De Bruyne. He's so often been that player in recent years, and when he hasn't, it's been debatable and largely down to injury. With City losing Ilkay Gundogan and with Bernardo Silva's future unclear, De Bruyne may need to be at his decisive best this season. I back him to be just that.
ST: Having backed Manchester City for the league title it is not inconceivable that Erling Haaland could even break his own record in a more traditional or "normal" season.
JB: Kevin De Bruyne. There's a chance he doesn't play enough in order to win this award, as De Bruyne has been held back by Guardiola or gone through a patch of poorer form in each of the last two seasons, but the Belgian's peak remains higher than anyone else in the Premier League. Haaland, quite rightly, got a lot of the attention last season but De Bruyne's case will be unable to ignore if his contributions come more regularly.
KJ: Luis Diaz. Something a little different from the City-led norm – predicting a big year for the Colombian at Liverpool. Electric in his first half-a-season at Anfield, his last campaign was curtailed by injury but he has hit the ground running in pre-season. Can be Jurgen Klopp's consistent match-winner.
Golden boot?
MD: The only question is how many, and whether Erling Haaland can break last year's record.
JR: Harry Kane could push Erling Haaland close if he stays at Spurs, but it feels like only injury will stop a repeat for the Norwegian.
RJ: Erling Haaland – Last year, I picked a forward who got 30 goals in an exceptional season. Although I did choose Harry Kane and everyone else picked Erling Haaland so they were right and I was wrong. Lesson learned this year. Perhaps only injury could stop Haaland from retaining the Golden Boot.
KM: Let's not be silly. Erling Haaland with a better than 1.0 goals per 90 mins strike rate yet again.
MJ: Erling Haaland. 52 goals in his debut season with Manchester City shows how hungry he is to succeed. He may not hit the same heights but as the main striker for the best team in the league he'll get ample opportunity to come close.
LB: Again, probably shooting myself in the foot by not going for Haaland. Darwin Nunez weirdly tempts me but Harry Kane ends up staying at Spurs, finds himself really enjoying life under Ange Postecoglou and is talked into signing another deal with the club after notching 35 goals to move within striking distance of Alan Shearer's all-time Premier League record.
AP: Erling Haaland. I picked against him last season, thinking he might just need a bit of time to adapt to the league. I'd feel foolish picking against him again. 
ST: Erling Haaland.
JB: Erling Haaland.
KJ: Erling Haaland. Surely only injury will stop the Norwegian claiming another golden boot?
Signing of the season
MD: Alexis Mac Allister. An obvious one, maybe, but that's why Jurgen Klopp wanted him. You can see how it will work.
JR: I'm excited to see how Mahmoud Dahoud slots in at Brighton, in what should be a lovely fit under Roberto De Zerbi, while Christopher Nkunku's knee injury likely takes him out of genuine contention. So let's go with the electric Harvey Barnes, who could quickly become a real force for Newcastle in that front three.
RJ: If Brighton get Mohammed Kudus then it might be him. It could have been Christopher Nkunku, until injury meant he will miss much of the campaign. But even in a summer dominated by talk of sales to Saudi, there are a host of intriguing, potentially excellent imports, including Sandro Tonali, Pau Torres, Nicolas Jackson, Rasmus Hojlund and Szoboszlai. If forced to pick one, Moussa Diaby should bring Aston Villa goals, assists and excitement.  
KM: Could be Kai Havertz if he has the impact the Gunners are hoping for! Otherwise, Moussa Diaby should be an excellent addition for Aston Villa, Brighton signing Bart Verbruggen as their new long-term goalkeeper is really exciting and Dominik Szoboszlai has every trait to be a big success at Liverpool. At the other end of the payscale, Ola Aina on a free is magical business by Forest and Jefferson Lerma to Palace is another really good pickup without cost. For the best overall: Szoboszlai for the final-third impact.
MJ: Declan Rice. If he can replicate his form while playing for West Ham and England, he'll become a mainstay in the Gunners' midfield and will take them to new heights.  
LB: Declan Rice. It was so easy to take Rice for granted at West Ham because he was just so consistently superb every single week. Every time in his career that he's been forced to step up a level (to the West Ham first team, to the England team etc), he's thrived and it gets a bit overlooked at how remarkable it is that a Hammer etched his name in stone on the England teamsheet so quickly. There's still so much more to come from him – he's a properly classy footballer and playing with the superior talent at Arsenal will unlock another level. No one will ever call £105m a bargain but he'll tear it up in the Premier League and Europe.
AP: Mohammed Kudus, if Brighton can get that deal done.
ST: Having been a consistent performer for West Ham for a number of years, if Declan Rice can make the step up and do the same at Arsenal he could turn them into title winners.
JB: Andre Onana. A signing that will truly alter how Erik ten Haag's team look to play, which will be interesting to watch no matter which way it goes. The goalkeeper's passing range is incredible and gives United an edge over their rivals, yet it could also go horribly wrong. David de Gea needed to leave, but he saved United countless times last season and still leaves a huge hole to fill.
KJ: Andre Onana. Perhaps replace "best" with "most entertaining." The David de Gea era is over at Old Trafford and Onana replaces him as a box-office goalkeeper. Emotional, bold and often brilliant on the pitch, he'll bring an extra dimension to United's build-up play with his passing range. There'll be mistakes, but it'll be captivating to watch.
What are you looking forward to most?
MD: The Premier League's remarkable capacity for storylines. Just when you think you've seen it all, it offers something else. 
JR: The early stages of two ambitious London projects. Angeball at Spurs and the return of Mauricio Pochettino to the Premier League at Chelsea. Specifically the derby on 4 November and what could be a mixed reception given to the Argentine on his return to north London.
RJ: Seeing how last season's success stories get on. The Premier League is sometimes accused of predictability but last year a host of clubs – Newcastle, Aston Villa, Brighton, Fulham, Brentford and Bournemouth – did considerably better than most expected. If expectations may be higher at each, there is the question of how they follow it up. Newcastle, Villa and Brighton, in particular, could be seriously good teams again.
KM: Spurs as a rebuild project under Ange Postecoglou should be really interesting, mostly if Harry Kane does depart. On a wider view, 99th-minute winners becoming a regular thing might get interesting from all perspectives: stamina levels, fans getting extra irate or extra elated depending on which side of it they're on, increased VAR tensions and more. And no mid-season interruption or getting started later than planned, or after shortened pre-seasons, is fairly novel these days too!
MJ: A close title race. Man City will miss Ilkay Gundogan's crazy form at the back end of the season while Arsenal, Man Utd and Liverpool have seemingly closed the gap with recent additions. Throw Chelsea, Tottenham and Newcastle in the mix and there's plenty of clubs who can challenge at the top of the table.
LB: Lots of debates about VAR and its usage conducted in a typically open-minded, respectful manner with lots of really well-researched, fresh points enhancing the conversation every week as people easily avoid becoming entrenched in whichever 'side' they deem to be right… It is in no way the most tedious debate in sport.
AP: Seeing if Arsenal really can close the gap to City and pull off what would be a refreshing title win – one that might be vital for the competition. Also the overdue return of Mauricio Pochettino and whether he can make it work at Chelsea.
ST: Seeing the balance of power shift away from the traditional "top four" or "top six" with the recent rises of Newcastle, Brighton and Aston Villa. It has made for a much more exciting Premier League all the way down, especially with the seemingly unlimited funds at Newcastle's disposal.
JB: Tottenham under Ange Postecoglou. It might take a bit of time, and patience could be required at first, but Postecoglou's attempts to dramatically shift Tottenham's style of play from last season and replace the desperate sense of doom that surrounded the club with optimism and belief should be fun to watch. Top four might be beyond them this season but as a partnership this seems to be a great fit.
KJ: Spicy, late drama: bring on the 100-minute game. How will more added time change results? Will the referees maintain strict law and order whilst allowing a more physical contest? The new rules add a different aspect to this season.