Preps roundup: Marcus Adams Jr. delivers 50 points for Narbonne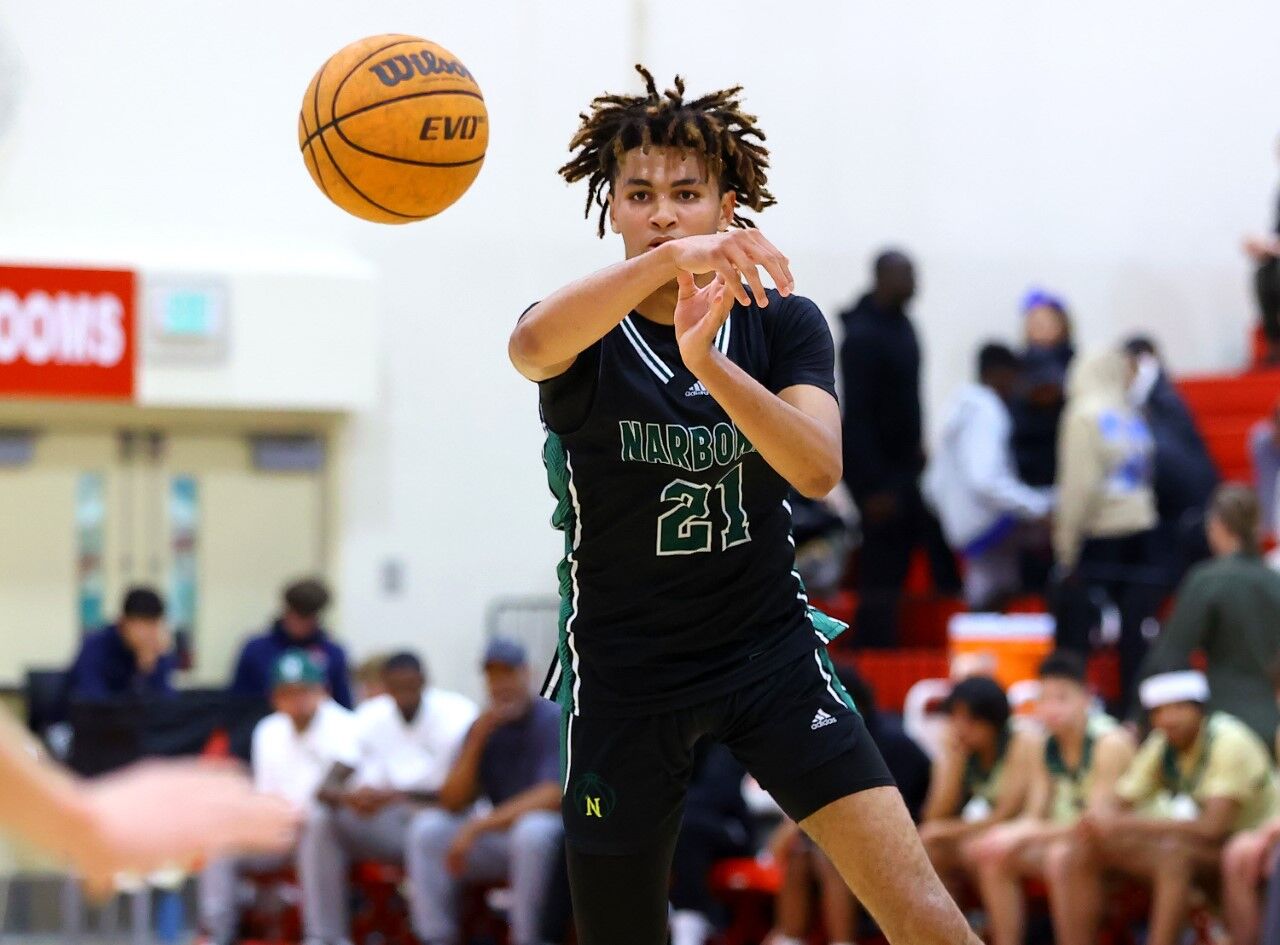 It was a night for offensive outbursts in high school basketball, and nobody scored more than Narbonne's Marcus Adams Jr. He matched his school record with a performance of 50 points and 21 rebounds to help the Gauchos win the Marine League opener with an 84-68 win over San Pedro on Wednesday.
"He was great on all three levels," said coach Kumase Demesma, referring to goals, rebounds and defense.
In another impressive offensive effort, Damien's Nate Garcia scored 48 points in an 83-60 win over Chino Hills.
78 Sherman Oaks Notre Dame, 51 St. Francis: The big three were too much for St. Francis in a Mission League win. Dusty Stromer and Caleb Foster each had 18 points and Mercy Miller had 17. Stromer had just three points at halftime and then took command in the third quarter to open the game.
Harvard-Westlake 63, Crespi 43: Brady Dunlap scored 18 points and Jacob Huggins 16 for the Wolverines. Joe Sterling had 28 points for Crespi.
Sierra Canyon 71, Loyola 52: Bronny James had 18 points and Ashton Hardaway 16 for 16-3 Sierra Canyon.
Chaminade 67, Bishop Alemany 33: Ethan Johnson finished with 15 points and 13 rebounds for Chaminade.
63 St. John Bosco, 54 JSerra: Elzie Harrington contributed 17 points to lead the Braves. Aidan Fowler led JSerra with 18 points.
Santa Margarita 67, Servite 37: The Eagles (18-3, 3-0) set up a showdown with Mater Dei, leaning on Brayden Kyman and Cameron McNamee, who each scored 13 points.
Etiwanda 71, Rancho Cucamonga 45: Jimmy Baker scored 19 points for Etiwanda in a Baseline League win.
La Mirada 61, Dominguez 49: Julien Gomez finished with 35 points and 20 rebounds for La Mirada.
King/Drew 62, Washington Prep 49: King/Drew may have been forgotten after playing a tough schedule outside of the league, but don't tell the Coliseum League teams that. Donald Thompson had 19 points, Jacob LaCount 18, JayShawn Kibble 11 and Josahn Webster 10. The Golden Eagles are 9-8 and 3-0 in the league.
Crenshaw 85, View Park 39: King Peterson led the Cougars (17-1) with 19 points. Jeremiah Blackmon added 17 points. Crenshaw is playing at Washington Prep on Friday.
Cleveland 76, Chatsworth 74: The Cavaliers won their first league game in three years behind Justin Rosenbaum, who finished with 40 points. Chatsworth freshman Alijah Arenas scored 40 points in the West Valley League overtime loss.
59 Birmingham, 46 Granada Hills: Tyson Jackson and Kory Blunt each finished with 10 points for Birmingham.
Taft 64, El Camino Real 42: The toreros rolled to an easy win in the West Valley League.
Grant 85, Verdugo Hill 62: Dilyn Martin and Jordan Taylor each scored 14 points in the East Valley League win.
Fairfax 66, Venice 62: Darius Carr scored 20 points on his Fairfax debut.
Viewpoint 78, category 45: Aeneas Grullon scored 23 points for Viewpoint.
Oak Park 71, Moor Park 62: The Eagles received 20 points each from Isaiah Sherrard and Trey McDonald.
Bishop Montgomery 78, St. Anthony 50: The Knights went undefeated in the Del Rey League. Xavier Edmonds scored 30 points and Will Smith 15.
Paraclete 69, Bishop Amat 43: The Spirits improved to 20:1. Donovan Ware scored 22 points and Mister Burnside had 19.
Basketball for girls
San Pedro 42, Narbonne 32: Aleisha Fizer had 12 points and 13 rebounds in the Marine League win for San Pedro.
Granada Hills 54, Birmingham 44: The Highlanders (14-4, 1-0) clinched the West Valley League win behind Marianne Boco, who contributed 15 points and eight rebounds.
boys football
Servite 2, Santa Margarita 1: Dylan Graham and Jahir Gonzalez-Sandoval scored goals for the Friars (11-0-3, 3-0) in a Trinity League game.
Harvard-Westlake 2, Chaminade 1: Josh Barnavon and Charlie Seymour scored to help the Wolverines improve to 13-0 and 6-0 in the Mission League.
Birmingham 2, El Camino Real 2: The West Valley League showdown ended in a tie after El Camino Real's Edan Lavarovitch scored from a direct free-kick late in regulation time. Anthony Villa, who scored three goals in the win against Taft, added another goal for ECR.
https://www.latimes.com/sports/highschool/story/2023-01-11/prep-sports-roundup-narbonne-basketball Preps roundup: Marcus Adams Jr. delivers 50 points for Narbonne