Proposal to raise minimum wage to $18.99/hour in unincorporated King County introduced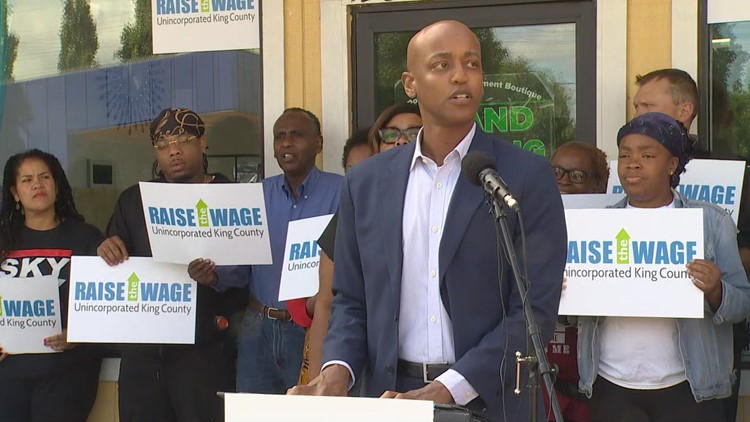 King County Councilmember Girmay Zahilay introduced the proposal. It has the support of three other council members.
KING COUNTY, Wash. — King County Councilman Gimay Zahilay introduced a proposal this week to increase the minimum wage in unincorporated areas of the county to $18.99 an hour.
If passed, this proposal would bring wages in unincorporated King County more in line with the minimum wages offered by several incorporated cities, such as Seattle, SeaTac and Tukwila, all of which have Minimum wage is about $19. The minimum wage will increase by an annual percentage to reflect the rate of inflation.
Currently, the minimum wage in unincorporated King County is the state minimum wage of $15.75 per hour. According to data provided by Zahilay, an employee earning that amount would have to work 103 hours a week to afford a one-bedroom apartment at fair market price in King County.
"To add insult to injury, if you're a Skyway worker and you walk one block north to Seattle, you're making $3 more an hour," Zahilay said during a press conference Thursday. ". "If you walk one block west to Tukwila, you'll make $3 more every hour, every day. A little further south, go to SeaTac, and you'll make an extra $3 per hour, per day."
The proposal is co-sponsored by councilmembers Jeanne Kohl-Welles, Joe McDermott and Rod Dembowski. Community advocates, union representatives and business owners also came out in support of the proposal.
Rebecca Zapata, CEO of the Skyway Alliance, said the proposal would have a positive impact on those in the Skyway area affected by institutionalized discrimination.
"Skyway has faced a legacy of neglect for too long, with unfair policies that have disproportionately affected our BIPOC residents," Zapata said. "Increasing the minimum wage would mitigate some of the harms directed at this community."
If passed, the order would not take full effect for small businesses immediately.
Employers with 15 or fewer employees and less than $2 million in annual gross receipts will pay their employees the minimum wage minus $3. The $3 reduction will be annually reduced by 50 cents on January 1 of each year thereafter.
Employers with between 15 and 500 employees will be required to pay their employees the minimum wage minus $2 per hour. The $2 reduction will be reduced by one dollar annually on January 1 of each year thereafter, until the minimum wage is in accordance with the ordinance.