Prosecutor asks judge to throw out charges against Black truck driver mauled by police dog in Ohio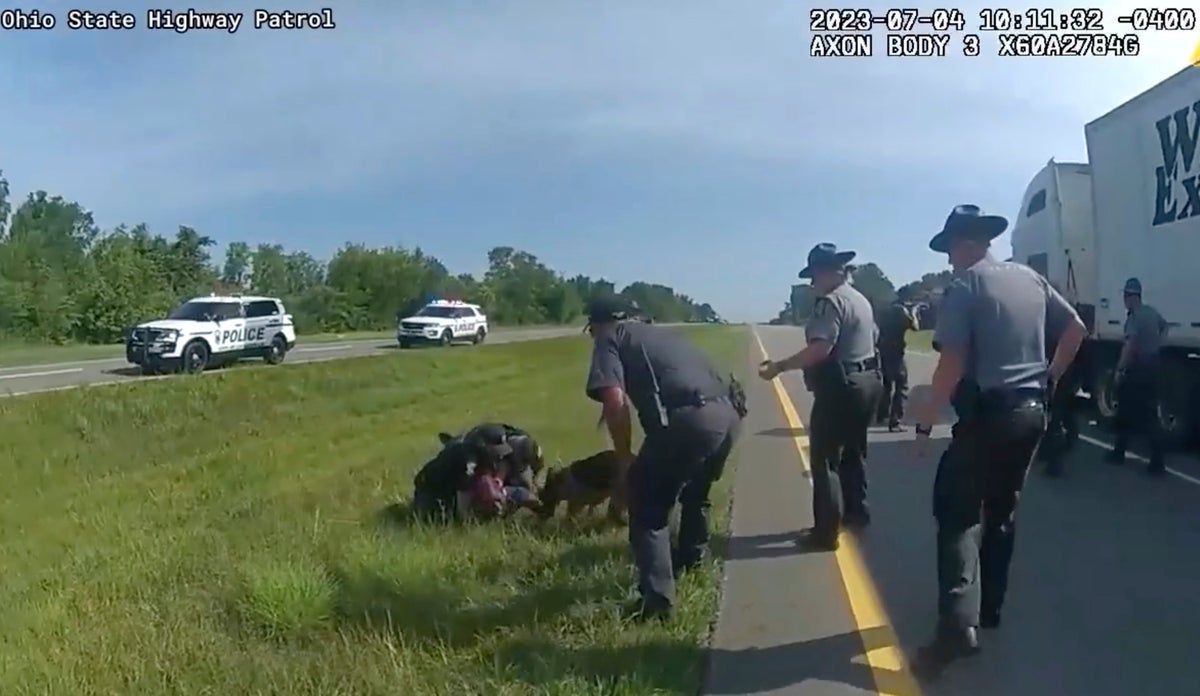 A prosecutor in Ohio wants a judge to dismiss charges against a black truck driver who was bitten by a police dog when he surrendered on a freeway last month.
"There is insufficient evidence to prove beyond a reasonable doubt" that Jadarrius Rose's operation of his truck posed a significant risk of serious physical harm to persons or property, attorney Jeffrey C. Marks told Judge Michael Ater Thursday.
Stressing "substantial," Marks told the judge he may wish to retry some of the charges at a later date. An aide to Rose's attorney, Benjamin J. Partee, said he declined comment Monday.
During Rose's July 4 arrest near Circleville, which was recorded by police body cameras, Circleville Police Officer Ryan Speakman had the dog maul Rose while he was on his knees and raising his hands in the air while State police officers shouted at Speakman to restrain the animal. Rose, 23, from Memphis, Tennessee, required hospital treatment.
Marks wrote in the filing that after reviewing the footage and police reports, he was convinced it was a mistake to charge Rose with fleeing after committing a crime. "There appears to be no evidence that the defendant fled immediately after committing a crime on July 4, 2023," Marks wrote.
He wants the judge to dismiss the case while Chillicothe's legal director's office reviews the findings of the investigation to determine if a misdemeanor charge applies, and wants the judge to allow prosecutors to reopen the case if warranted . The application remains pending with Ater.
Messages were left on Monday asking for further comment from Marks.
According to a police report, the chase along Ohio Route 35 began because Rose's truck appeared to be missing a mudflap and failed to stop for an inspection.
Police claimed Rose initially refused to get out of the truck and later defied instructions to get on the ground.
While the dog was on Rose, a police officer yelled, "Get the dog off him!" Rose said in visible pain, "Take it off! Take it off!" Please! Please!" before the attack ended.
Audio recordings suggest Ross told a 911 dispatcher that the officers who were chasing him were "trying to kill him" and that he didn't feel safe stopping. He also said he was confused as to why officers tried to stop him and why they drew their guns after he briefly stopped the truck before driving away.
The dispatcher told Rose to stop and obey the police and that the officers were not trying to harm him.
Speakman was placed on leave and then fired from the Circleville Police Department after the agency claimed he had "failed to meet the standards and expectations that we place on our police officers." Speakman's union, the Ohio Patrolman's Benevolent Association, filed a complaint, saying he was fired without adequate notice.