Protests In Iran Continue Over Death of Mahsa Amini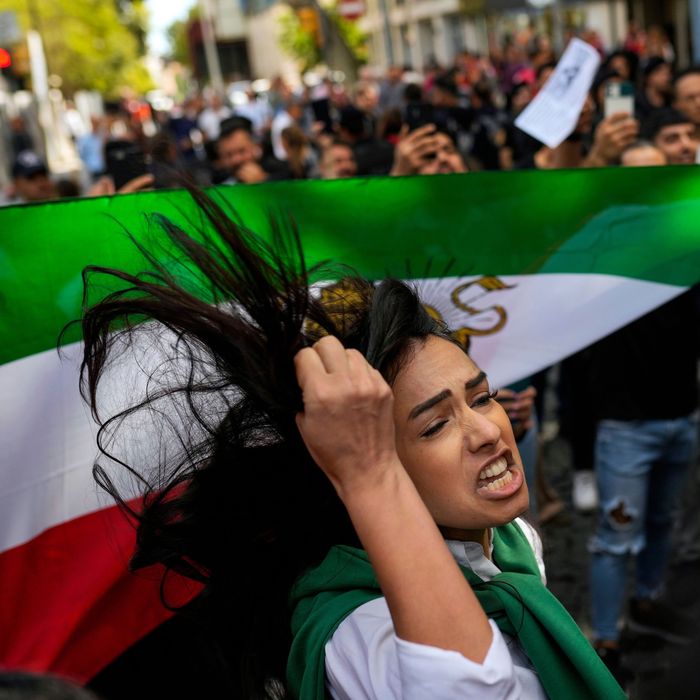 Photo: Francisco Seco / AP / Shutterstock
Protests in Iran over the death of Mahsa Amini, a 22-year-old woman who died in the custody of the country's "moral police", have turned increasingly violent since they began almost two weeks before, with videos showing police beating protesters – many of them women – with batons and pepper spray and bullets into the crowd. According to officials, at least 41 people have been killed in the unrest, although the Iranian Human Rights group says the death toll could be much higher, estimating that at least 76 people have been killed, although widespread internet blackouts have made it difficult to confirm deaths. (This week, the government restricted access to some social media platforms, according to Los Angeles Times reported, "falling sharply between 4 p.m. and about 1 a.m., when most demonstrations take place.") Hundreds of others were injured and at least 1,400 arrested.
Protests erupted on September 16, three days after Amini was arrested for violating the country's mandatory dress code that requires women, regardless of religion, to cover their hair and neck with a scarf. boss. Amini is said to have been arrested for "inappropriate hijab" while visiting Tehran to meet family members.
After her arrest, Amini's family struggled to find where she was taken and appealed to relatives for help in locating her. Irfan Mortezai, a cousin who fled to Iraq in 2020, quickly joined the search after receiving a text from Amini's brother: "She has been arrested by the ethics police."
"We tried in every way to reach her, but the Iranian authorities wouldn't allow it," Mortezai told The Associated Press. "I can't contact her."
Mortezai said he had not seen Amini since he left Iran, but it was recently reported that the 22-year-old had been accepted to study law at a university.
"She was beautiful, always smiling," he said. "Full of life."
Police claim Amini suffered a heart attack while in custody at the Vozara Street Detention Center, where she was sent for "education", but Amini's family said she was beaten up by officers in the police car after she was arrested. Iranian health officials attributed her death to a head wound. After her death, photos began to go viral of her lying helpless in a hospital bed with tubes and wires all over her body, blood oozing from one ear.
"What crime do they have to explain, why are they doing this?" Amini's mother said in an interview with Iranian news media, according to New York Times. "I'm her mother and I'm dying of grief."
Amini's father told BBC Persia he believes authorities are lying about his daughter's death. "They are lying. They are lying. Everything was a lie… no matter how much I begged, they wouldn't let me see my daughter," he said.
As protests spread across the country, women took the lead. Women in Amini's hometown of Saqqez, in Kurdistan province, removed their headscarves and chanted, "Death to the dictator." In Tehran, women tore off their headscarves and waved them in the air; One protester climbed to the top of a car and burned her hijab. The women followed suit in Sari with the flames consuming them en masse, throwing their headscarves into the great bonfires and dancing in celebration as they watched them burn.
In Kerman's Azadi Square, a woman dropped her hijab, cut her hair with scissors, and as the crowd cheered, she cut most of it. Women around the world have begun cutting their hair in protest of Amini's death. Bella Hadid posted a message on Instagram of solidarity with Amini and the protesters. "You don't deserve this," she wrote. "Blessings to her family and loved ones." Angelina Jolie also shared her support for the women protesting in Iran via Instagram. "Women do not need their morals controlled, their minds retrained, or their bodies controlled," she wrote. "They need the freedom to live and breathe without violence or intimidation."
For Muslim women, the choice to wear the hijab is deeply personal and Iran's loose dress code has been a point of contention since its adoption after the Islamic Revolution. 1979. Women have long been arrested for protesting the modesty law, including in 2017, when 29 women were arrested for not wearing a headscarf in public.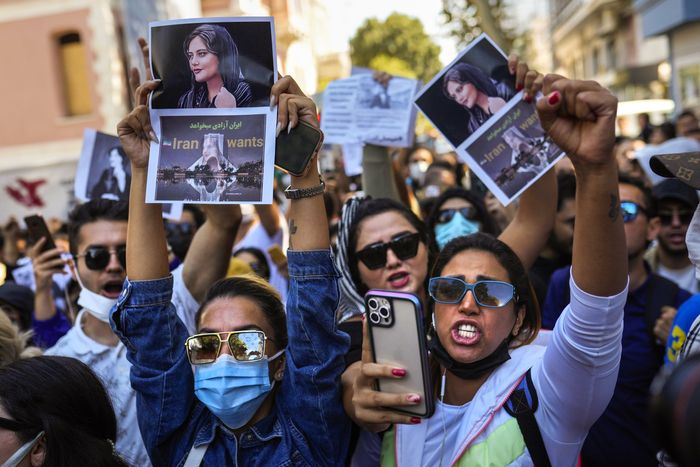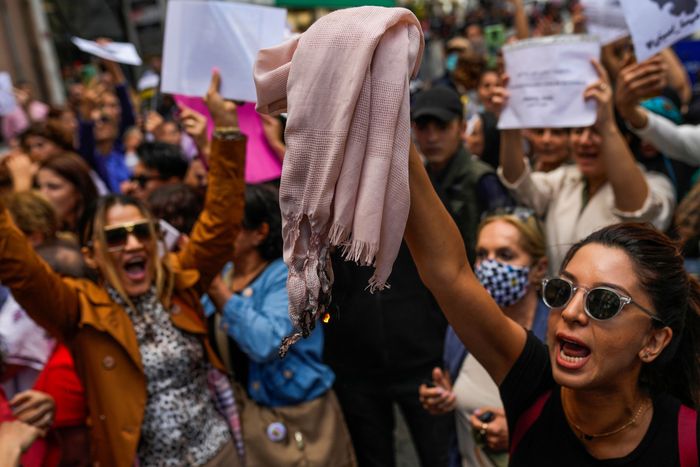 Amnesty International denounced the actions of the ethics police, calling for a criminal investigation into Amini's "suspicious death" and the circumstances surrounding it, "including allegations of torture". and other ill-treatment in detention." The human rights group also called for "global action" regarding the deadly crackdowns against the protests. Follow Times, Niloufar Hamedi, a female journalist who first came to the attention of Amini's story, has been arrested and is being held in solitary confinement. At least 17 journalists have been detained since the protests began.
On September 16, Iranian President Ebrahim Raisi ordered the interior minister to investigate the incident and is said to have phoned Amini's family to ensure that they would take action. "Your daughter is like my biological daughter, and I feel that this incident happened to one of my loved ones," he said.
Journalist Christiane Amanpour was expected to sit down with Raisi a few days later, but an aide told her the interview would not take place unless she wore a headscarf. "I politely declined," Amanpour wrote in one Twitter thread. "We are in New York, where there are no laws or traditions regarding the hijab. I pointed out that none of the previous Iranian presidents asked for this when I interviewed them outside of Iran."
Amanpour said she told his aide she "couldn't agree to this unexpected and unprecedented condition." She went on to write, "The interview didn't happen. As protests continue in Iran and people are being killed, it will be an important time to speak with President Raisi. "
In an interview with state television, Raisi said "chaos is unacceptable," although he was "deeply saddened by this tragic incident."
"One cannot allow people to disturb the peace of society through rioting," he continued.
On Monday, Iran's supreme leader, Ayatollah Ali Khamenei, blamed the United States and Israel for the unrest. "This riot was planned," he said. "These riots and insecurities were designed by America and the Zionist regime and its staff."
Despite the show of force by Iranian forces, people still took to the streets. Last week, women of all ages lit hooded bonfires in Gonbad-e Kavous as protesters chanted: "Fear not, we are all together."
On Sunday, at Sharif University of Technology in Tehran, the site of student protests, riot police confronted hundreds of students by force. Officers are said to have used tear gas, paintball guns and non-lethal steel pellet guns.
Students at Sharif participated in silence sitting in science buildings, boycotting classrooms and participating in songs near the university's main entrance, according to the rights group. Special forces arrived shortly after and reportedly surrounded the students, shooting at those trying to leave. The organization also noted reports of forces "catching students, covering them with plastic bags, beating them and sending them to unknown locations", estimating that at least 30 students were arrested. Since then, the university has announced to only allow doctoral students on campus until further notice, and protests have spread to other universities across the country.
Iranian journalist Omid Memarian tweeted a video of students at Isfahan University protested in solidarity with hundreds of students at Sharif University.
A similar scene played out over the weekend at Islamic University of Azad in Tehran, where students, many dressed in black, gathered and removed their scarves in defiance of the country's modest laws.
Hadi Ghaemi, executive director of the Center for Human Rights in Iran, said that "a government that beats and attacks its own children for peacefully protesting serious abuses by the state is a the government lost all connection with the people, all respect for the law and any beauty of humanity. "
This article has been updated.
https://www.thecut.com/2022/10/women-across-iran-are-protesting-the-morality-police.html Protests In Iran Continue Over Death of Mahsa Amini