Puyallup Tribe acquires Fife candy manufacturer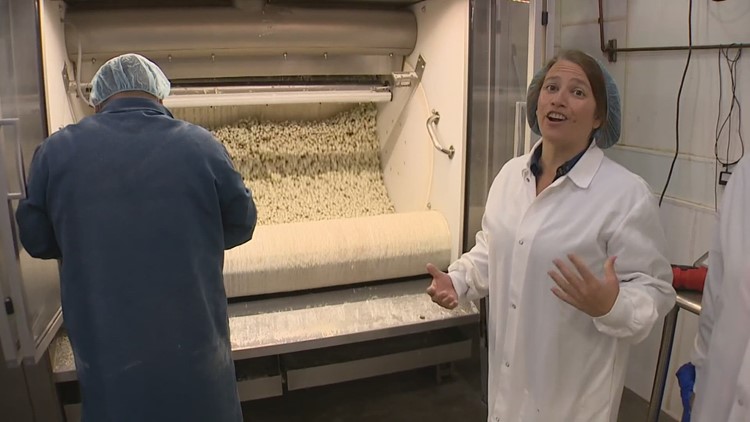 The company is based in Fife and has been a mainstay of the city's business community for over 35 years.
FIFE, Wash. — One of Fife's delicacies under new ownership.
Last week, the Puyallup Tribe announced that they had purchased Ames International, the company that produces Emily's Chocolate.
Emily's Chocolates has been out of Fife City for the past 35 years. It's a family tradition that CEO Amy Paulose proudly continues.
"Chocolate making is truly an art form. There's a lot of technique to it," she said.
This purchase is the latest in a series of investments made by the Puyallup Tribe to diversify income streams since 2020 when the Tribe opens a new $400 million Emerald Queen Casino in Tacoma .
Sylvia Miller, Vice President of Puyallup Tribe says diversity is important.
"With the increase in our membership, it is very important to grow our economy," she said.
Miller said the acquisition of the candy maker, renamed Ames: A Puyallup Tribal Enterprise, serves multiple functions. It helps to secure employment opportunities for Tribe members as well as maintain the company in Fife. Paulose says that maintaining local connections is crucial in keeping the local economy stable.
"It is important to keep the balance to ensure that we do not have too many larger corporations controlling or centralizing or can really drastically change the trajectory of the economy in the local market, and the Small businesses can help balance that," says Paulose.
Now that her family business is in Fife, Paulose is eager to see how this partnership with the Puyallup Tribe will move Emily's Chocolates into the future. She also said her company is currently in a growth phase and wants to quickly hire more employees and increase distribution to bring more products to market.
"We want to be known as a Northwest company, which is important. We also want to acknowledge Tribe's involvement in the success of the brand," she said. "The Northwest is a major economic locomotive. There are great economic opportunities with Asia, Europe and beyond, and being here in Washington allows us to capture that entire global market."