Questions raised over Rishi Sunak's security arrangements after climate protesters scale his home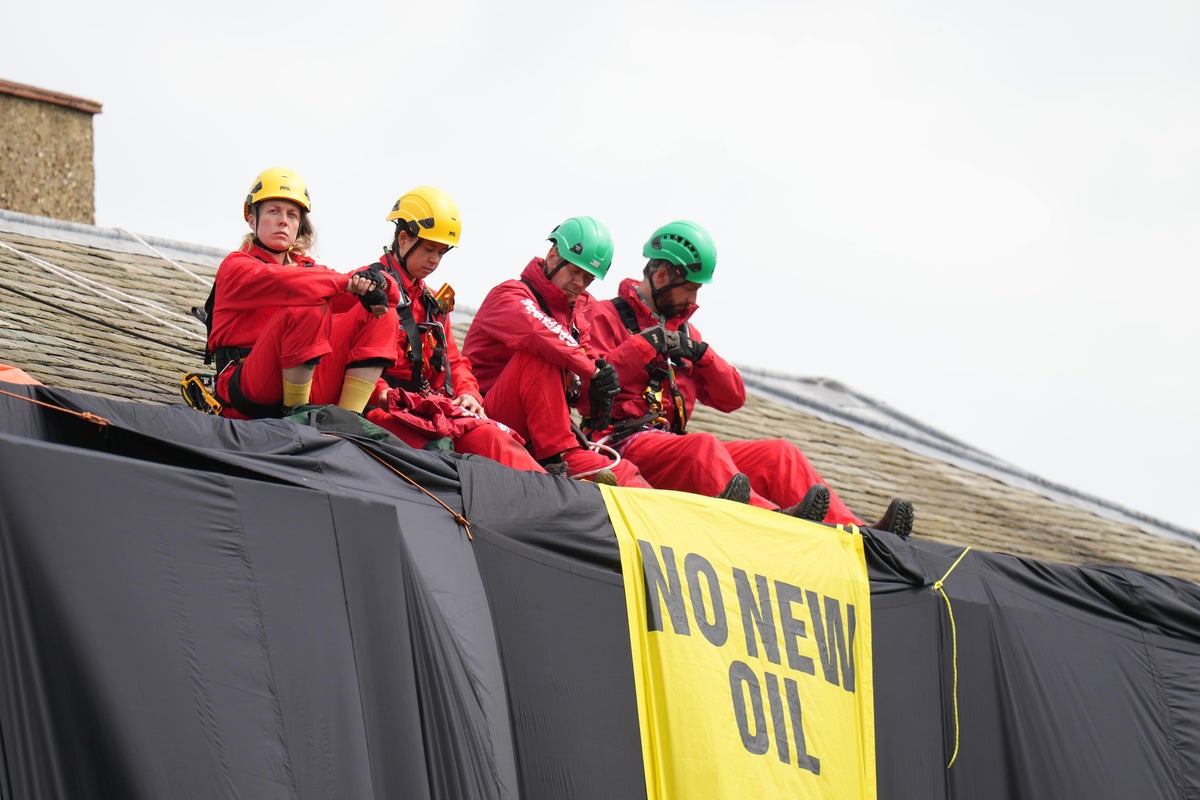 Questions have been raised about the prime minister's security arrangements after Greenpeace activists scaled his home in protest at new fossil fuels drilling.
A government minister on Friday said it would not be "responsible" for her to comment on Rishi Sunak's security arrangements, as police said there was "no threat to the wider public" from the demonstration.
Three men and two women were arrested after they scaled the roof of the PM's country mansion, draping it in oil-black fabric and a banner that says "no new oil".
Asked whether the stunt raised concerns about the PM's security, health minister Maria Caulfield on Friday said: "I'm not going to comment on the security arrangements of the Prime Minister, I don't think that would be a responsible thing to do," she told Sky News.
"But it does raise concerns for everyone, most people have seen some disruption from protesters."
Elliot Foskett, assistant chief constable of North Yorkshire Police, said in a statement: "Shortly after 8 am this morning we responded swiftly to reports of protest activity at the prime minister's North Yorkshire address.
"There was no threat to the wider public throughout this incident which has now been brought to a safe conclusion. The prime minister and his family were not at the address at the time of the incident."
But former home secretary Priti Patel urged her successor Suella Braverman to launch an immediate review into the PM's security arrangements.
"This raises some very serious questions around how the home of a sitting prime minister has been accessed in this way, to the extent that political campaigners and activists have been able to trespass on his property and physically gain access," she told the Daily Mail newspaper.
And former Tory leader Sir Iain Duncan Smith said he believed security "doesn't seem to know how to protect the house of the Prime Minister", adding: "There has to be an inquiry into what the hell was going on."
Responding to the protest, a Downing Street spokesperson said: "We make no apology for taking the right approach to ensure our energy security, using the resources we have here at home so we are never reliant on aggressors like [Vladimir] Putin for our energy."
Greenpeace said it had planned its protest "carefully and meticulously" and would not have done it if Rishi Sunak was at home.
Areeba Hamid, co-executive director of the organisation, said the protest was "proportionate response to a disastrous decision" by the Prime Minister to grant more than 100 new licences for oil and gas extraction in the North Sea.
"It was an empty home, the fact that he wasn't there was actually national news, everybody knows that he wasn't there," she said.


UK news in pictures
Show all 50
"We made sure, in fact we wouldn't have done it if he was there because our intention was to draw attention to the fact that what he's doing on climate is actually a big disaster, rather than to talk about his family or where he lives, so that was the entire point.
"Security is a big part of whatever we do, we planned it carefully and meticulously, we knew he wasn't going to be there.
"We knocked on the door to make sure that there was nobody there, initially there was no response, then we got a response, we told them who we were. So this was quite a peaceful, calm thing to make a very important point."
She said the group has received "both kinds of opinions" online following the protest at Rishi Sunak's home.
"Protests are disruptive by nature, for the amount of comments that we have received online saying we don't agree with you, an equal amount of people are saying 'this was brilliant, you made your point, it was peaceful, it didn't disrupt normal people's everyday lives, you took it to the home of the decision maker'," the co-director added.