Questions remain after Renton shooting leaves 1 dead, six injured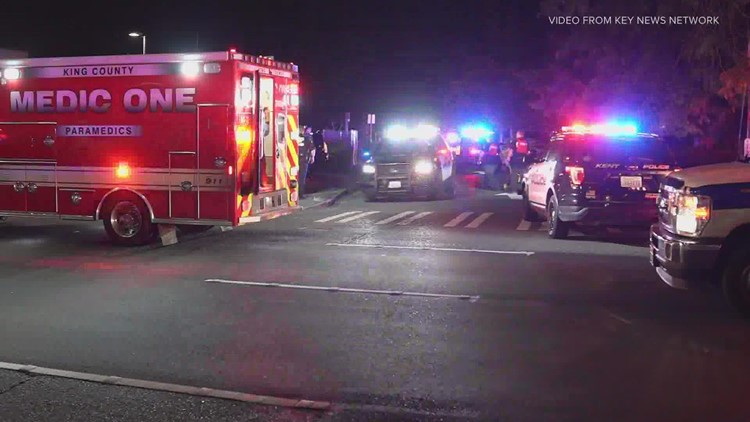 Renton Police say they are still investigating what sparked the argument that led to the shooting.
RENTON, Wash. – Renton police say they received multiple 9-1-1 calls around 1 a.m. Saturday, where shots were fired near Logan Avenue South and 2nd Street outside a musicians' hall, in which an event took place.
"Incoming units actually heard gunfire as they arrived," said Renton Police Detective Robert Onishi. "The suspects were all gone, there were a number of gunshot victims here, some were treated at the scene, others were taken to local hospitals themselves."
According to police, a 32-year-old Tacoma man was shot dead and six others were shot and injured. Her condition is currently unknown.
"We believe this is all related to some sort of argument that happened here – it's not a random event – however we haven't yet identified the shooters," Detective Onishi said.
Renton Police is asking anyone with information about the case to contact Scott Barfield at 425-430-7534 and reference case #22-7518.
It comes less than a month after eight people were shot dead outside a rave in Tacoma and weeks after people were shot dead at a parade in Highland Park, Illinois.
Tremayne Edwards of the Alliance for Gun Responsibility believes repeated exposure to gun violence in public areas has an impact on both those injured and those around.
"Every time these spaces are violated by senseless gun violence, it takes a toll on the people," Edwards said. "It can have a domino effect."
He encourages people to educate themselves and get involved.
"Really just helping to share public education because we don't have to live like that," Edwards said. "We don't have to constantly worry about if, but when – that's not a mindset we should have in our communities, and we know we can have a culture that balances rights with responsibilities."
https://www.king5.com/article/news/local/renton/questions-remain-shooting-kills-1-injures-6-renton/281-f7161862-a562-4a66-ab31-1160f3062c01 Questions remain after Renton shooting leaves 1 dead, six injured