Race a factor in analyzing police stops: Washington justices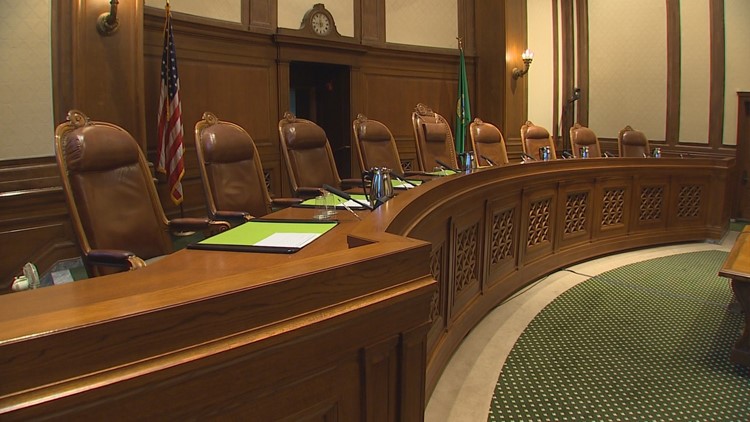 The ruling was the latest in a series of actions by the Washington Judiciary to address implicit and sometimes explicit bias in the justice system.
Editor's Note: The video above, about black leaders saying racial reckoning didn't go far enough after the death of George Floyd, originally aired May 25, 2022.
SEATTLE (AP) — A person's race and ethnicity must be considered when determining whether they are free to walk out of a police encounter, the Washington Supreme Court said Thursday in its latest decision aimed at addressing prejudice in the police force counteract the judicial system.
The unanimous verdict was for Palla Sum, a man identified in court filings as an Asian Pacific Islander. When a Pierce County sheriff's deputy found him sleeping in his car in Tacoma in 2019, Sum gave a false name and date of birth, drove off as the deputy was looking for warrants, and crashed into someone's front yard.
Whether Sum was free to leave if he did was a crucial point in his case.
At his trial, he attempted to suppress evidence of his false statements, saying they were made after the officer arrested him and implying that he was under investigation for stealing a car. In reality, the car was not stolen and the officer had no reason to detain him until he sped away, the judges said, meaning the initial detention was unlawful and a lower court judge had no evidence to back up the false testimonies in court should have allowed .
While the court might have reached the same conclusion in the case of a white defendant, it used the case to emphasize that people of color have different experiences of law enforcement, which is corroborated by data showing that police have long made a disproportionate number of arrests and violence against blacks and other minorities.
Because of these experiences, they may have different views on whether they are free to leave an encounter with officers. This makes minority status a factor in determining whether an individual has been "arrested" by law enforcement, the court said.
"Today we officially recognize what has always been true: when dealing with law enforcement, race and ethnicity matter," Judge Mary Yu wrote. "Hence, courts must consider the race and ethnicity of the person alleged to be seized as part of the totality of the circumstances when deciding whether a seizure has occurred."
>> Download KING 5's Roku and Amazon Fire apps to watch live newscasts and videos on demand
Some other courts have recognized that race and ethnicity are among the factors that can determine whether a police interaction reaches the level of a seizure. The 7th U.S. Circuit Court of Appeals, covering Illinois, Indiana and Wisconsin, has ruled that race is "not irrelevant" in making such decisions, and the New Hampshire Supreme Court ruled in 2020 that "race is a reasonable circumstance that it must be taken into account".
Thursday's decision did not affect Sum's conviction for attempted evasion from police and unlawful possession of a firearm, which he did not question. While prosecutors agreed that race and ethnicity can be considered when deciding whether someone is allowed to leave a police encounter, they said race was not relevant in Sum's case and that an officer asking for their ID was not imprisonment.
"Unfortunately, this decision is likely to further confuse law enforcement officials about their interactions with the public," Pierce County Prosecutor Mary Robnett said in an emailed statement as they seek to properly apply the court's ruling."
The ruling was the latest in a series of actions by the Washington Judiciary to address implicit and sometimes explicit bias in the justice system. The court has previously singled out racially biased prosecutorial misconduct for enhanced scrutiny on appeals, abolished the state's death penalty for being arbitrary and racially disproportionate, and passed a first rule in the nation aimed at improving racial diversity the juries.
This rule prohibits potential jurors from being dismissed without reason if "an objective observer" — one who is aware of the implications of institutional or implicit bias in addition to intentional racism — "uses race or ethnicity as a factor" in the dismissal could look at.
The state Supreme Court adopted similar language in its decision Thursday, saying whether a person's interaction with law enforcement escalates from a conversation to a "seizure" depends on what a similar objective observer would think.
Civil rights and public defense organizations praised the verdict. The King County Department of Public Defense, the American Civil Liberties Union of Washington and the Korematsu Center for Law and Equality at the Seattle University School of Law filed a brief urging the judges to side with Sum .
Ruling for Sum recognizes that people of color in the US have long faced excessive policing and sometimes find it necessary to overwhelm law enforcement as a survival strategy – and do not feel free in a situation where a white person is leaving the gangs could argued.
"We are pleased that the court recognized the lived experiences of our clients and the significant harm they face as a result of racist policing," said Anita Khandelwal, director of the King County Department of Public Defense, in an emailed statement Explanation. "It's not often that our clients raise their truths in this way."
Download our free KING 5 app to keep up with news from across western Washington.
https://www.king5.com/article/news/community/facing-race/washington-supreme-court-race-factor-analyzing-police-stops/281-c6b9a9a7-c0f2-40ab-8c3f-5c2e819d2850 Race a factor in analyzing police stops: Washington justices