Rally in Belltown honors pregnant woman shot, killed this week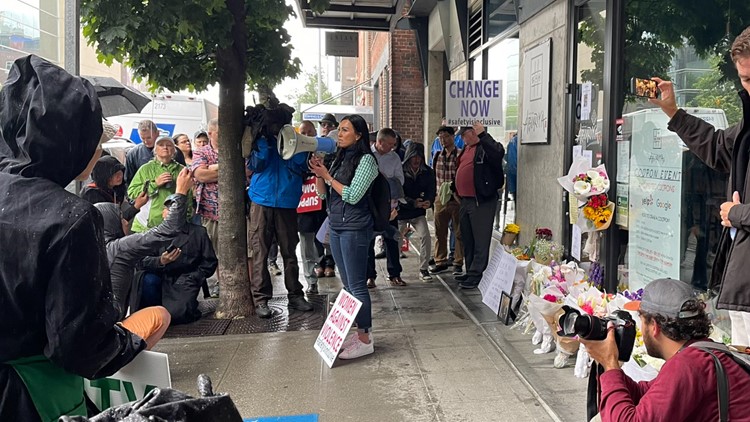 The protest was held in honor of the pregnant woman who was shot dead in an unprovoked attack in the Belltown neighborhood of Seattle earlier this week.
SEATTLE — A rally was held in the Belltown neighborhood of Seattle on Saturday morning in honor of the victims of the deadly shooting earlier this week.
On Tuesday, June 13, Seattle police were at the intersection of 4th Avenue and Lenora Street when there were reports of a shooting. When officers arrived, they found two victims in their Tesla vehicle. The victims were identified as Eina Kwon, 34, and her husband, Sung Kwon, 37.
Eina Kwon was 32 weeks pregnant at the time of the shooting.
Kwon's family was taken to Harborview Medical Center, where Eina Kwon was rushed for surgery and her baby was urgently born. Both Eina and her baby daughter died. Sung Kwon, who was shot multiple times in the left arm, survived.
Hundreds of people attended Saturday's rally to honor Eina and her family and call for change.
People marched from 4th Avenue and Lenora Street to Aburiya Bento House, the restaurant that Eina and Sung own. Community members held up signs reading "women against violence", "peace" and "change now".
The 30-year-old suspect, Cordell Maurice Goosby, was charged with first-degree murder and first-degree murder on Friday. He now faces up to 57 years in prison if convicted. Additional fees may be added, according to the King County Prosecutor's Office.
Currently, Goosby is not charged in the baby's death and that depends on state law.
Goosby has no local criminal record. However, he is wanted from Indiana for a 2020 family battery case and has a criminal record from Illinois for possession of controlled substances and more serious use of an illegal weapon/vehicle.