Ralph Yarl shooting update: Andrew Lester faces Kansas City court as Black teen pictured recovering at home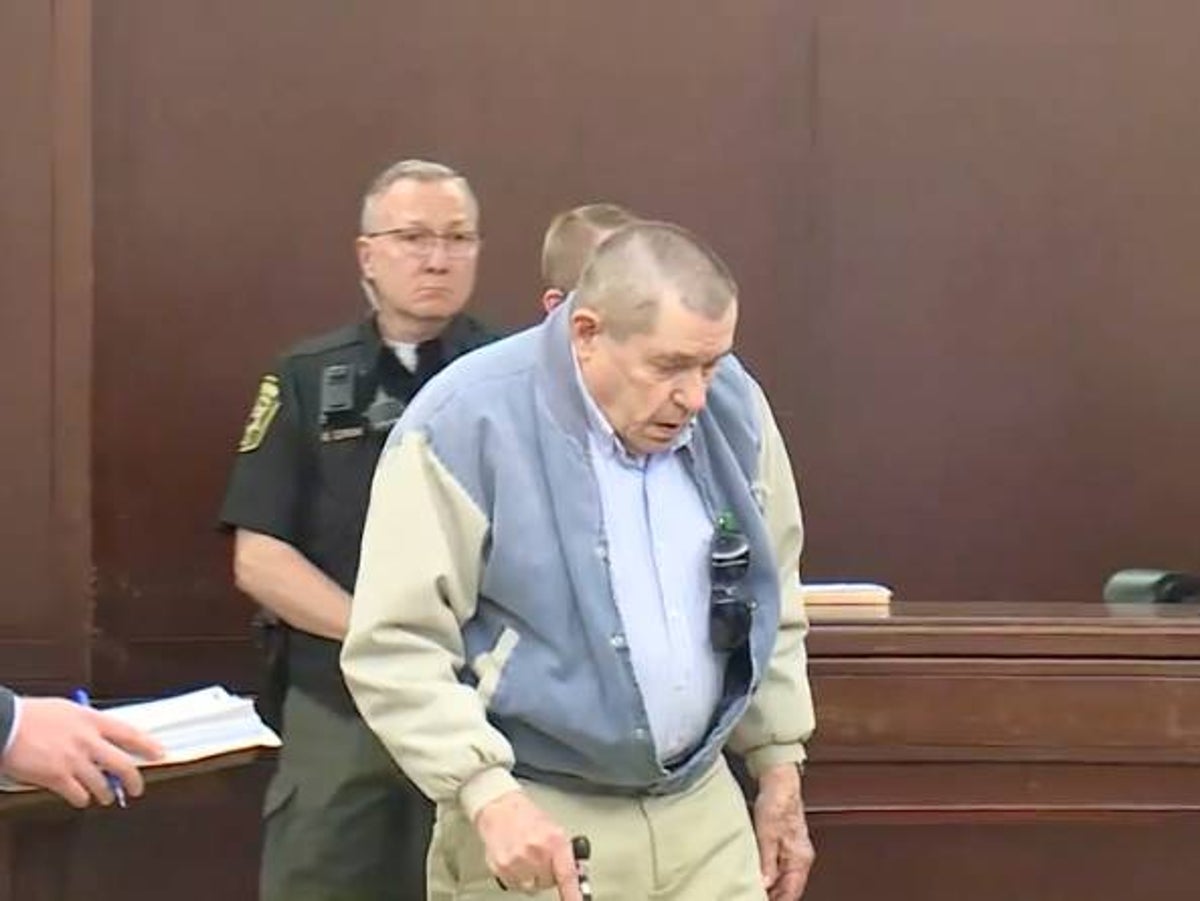 Ralph Yarl: Prosecutors accuse Kansas City homeowners of shooting teenagers
Andrew Lester pleaded not guilty to first-degree assault and armed criminal offense in his first appearance in Clay County Court on Wednesday regarding the shooting of Ralph Yarl.
After the hearing, Lee Merritt, attorney for Ralph Yarl's family, told reporters that the shooting is now being investigated by the Justice Department as a hate crime.
"Before I even made it to Kansas City, we approached the Justice Department, me and my co-attorney Ben Crump, we have some longstanding relationships there," Mr. Merritt said, according to KCUR.
Earlier, a new photo showed black teenager Ralph Yarl at home recovering from his injuries after white homeowner Andrew Lester shot him in the head and arm when the teenager accidentally got the wrong house to pick up his younger brothers.
Lee Merritt, the civil rights attorney representing the family, posted a photo of himself with the 16-year-old on Twitter.
"Ralph Yarl is home recovering! It's really a miracle that the bullet in his head didn't do any major damage. Glory to God!" wrote Mr. Merritt.
1681960169
Experts have criticized the "appalling" length of time it took the suspect to be arrested
Gwen Grant, head of the Urban League of Greater Kansas City, condemned the length of time it had taken to take the suspect into custody.
"It is appalling and totally unacceptable that the shooter remains free. It is extremely difficult to understand why testimony from the victim is required to arrest the attacker," she said.
A KCPD spokesman said The Kansas City Star that this was only a "fleeting" interview, not a formal statement to be conducted "away from medical personnel."
The decision to release Andrew Lester hours after the shooting sparked protests across Kansas City over the weekend, and the fact that he was not arrested promptly on Monday, April 17, when the charges were announced, sparked further outrage out of.
"This shows that we are less important and that equal justice is not a reality for us in this process," said Rev. Vernon P. Howard, president of the Kansas City branch of the Southern Christian Leadership Conference. "The law enforcement agency responsible for the arrest fails, it starts at the top."
Graem MassieApr 20, 2023 4:09 am
1681956343
Neighbor describes helping Ralph Yarl after shooting
The woman, who asked only to be called Jodi, told KMBC that she called 911 when the teenager knocked on her door after she was shot.
"I was supposed to pick up my little brothers from their boyfriend's house. And I went and knocked on the door and the man came to the door with a gun and shot me in the head," Jodi told Ralph, telling her.
"He was very observant," Jodi told the news channel.
The woman who says she is a doctor, Jodi, made her son get towels to support Ralph's head and put pressure on his wounds.
"Nobody should go through that. That was a child's blood that I wiped off the front door," Jodi said.
And she added: "He's a very strong, brilliant kid that speaks so much for him and his future. And that's just sad."
Graem MassieApr 20, 2023 3:05 am
1681952549
What we know about the shooting of Ralph Yarl
A black teenager went to pick up his younger brothers from a friend's house, accidentally rang the wrong doorbell and was shot twice by a white homeowner.
Now demonstrators, celebrities and civil rights activists are demanding justice.
The Independent's Rachel Sharp reports on the case:
Graem MassieApr 20, 2023 2:02 am
1681948709
Over in New York…
Kaylin Gillis' boyfriend has opened up about the final moments before she was shot and killed after they drove in the wrong driveway.
The 20-year-old was killed in New York on Saturday when the couple pulled into the wrong driveway while looking for a party. The friend, Blake Walsh, 19, told NBC News his life was devastated.
The teenager, from Cambridge, New York, told the network he was driving the car with his girlfriend and two other passengers in the Ford Explorer and was looking for the party when two bullets flew in their direction, one of which hit Ms Gillis.
She was fatally shot as they exited the gateway at Hebron, about 50 miles north of Albany.
Graem MassieApril 20, 2023 00:58
1681947042
Andrew Lester is a right-wing Fauci conspiracy theorist, says grandson
The grandson of 84-year-old Andrew Lester says they clashed over his right-wing conspiracy theories about Dr. Alienated by Anthony Fauci and his snide remarks about blacks and gays.
Klint Ludwig tells The New York Times that his grandfather shared a conspiracy theory involving the infectious disease expert at a family reunion during the Covid pandemic.
Mr. Ludwig, who lives in suburban Kansas City, told the paper his grandfather was able to make remarks that he considered derogatory about blacks, gay men and immigrants.
Graem MassieApr 20, 2023 12:30 am
1681946789
Will Andrew Lester try to use self-defense?
Legal experts believe Andrew Lester's attorneys will assert self-defense under Missouri's Stand Your Ground statute, which allows the use of deadly force if a person fears for their life.
Missouri is one of about 30 states with such statutes.
Robert Spitzer, professor emeritus of political science at the State University of New York, Cortland, whose research focuses on gun policy and policy, said Missouri law offers "a lot of latitude for people to use deadly force."
St. Louis defense attorney Nina McDonnell agreed. She said prosecutors have a strong case but defending the Stand Your Ground Act is a "huge hurdle" to overcome.
"The defendant was at his home and expressed fear," McDonnell said.
Graem MassieApr 20, 2023 00:26
1681944989
Ralph Yarl rang the wrong doorbell and was shot dead by Andrew Lester. These central questions remain unanswered
Ralph Yarl had no reason to believe he was in any danger as he approached the house where his younger brothers were believed to be waiting for him to pick them up, his family says.
"He got a bunch of bullets in his body instead of a bunch of twins coming out and hugging him," Ralph's mother, Cleo Nagbe, said in her first interview after the shooting.
Prosecutors have charged Andrew Lester, 85, with shooting Ralph twice on the evening of April 13 when the 16-year-old accidentally mistook the older man's address for that of his brother's friends.
Although Ralph survived and is reportedly in good spirits, the shooting sparked protests in Kansas City and condemnations across the country, with activists and civil rights leaders describing it as part of a pattern in which white Americans use deadly force against unarmed black people based on exaggerated and unreasonable ideas of danger.
Still, many questions remain about what exactly happened, not only on the night of the shooting, but also in the three days that followed, with no charges announced against Ralph's assailant.
Here are some of the questions that still need to be answered:
Graem MassieApr 19, 2023 11:56 p.m
1681943554
Why weren't there any hate crime charges?
Finally, on Monday afternoon, Clay County Prosecutor Zachary Thompson announced that Mr Lester had been charged with two felonies: first-degree assault, which carries a penalty of 10 to 30 years or life imprisonment, and armed criminal acts, which with a penalty of 3 to 15 years.
However, more than 20 hours passed before Mr Lester was taken into custody.
He turned himself in to authorities Tuesday before being released less than two hours later after posting $200,000 bail.
Under the terms of his release, he must not possess any weapons or have any contact with Ralph or his family.
He is scheduled to appear in court on Wednesday.
Ralph's lawyers have questioned why the suspect was not charged with attempted murder.
While Mr Merritt has said the family is happy two felony charges have been brought, he has questions as to why Mr Lester has not been charged with attempted murder.
He told CBS Mornings that while Mr Lester's age could be a factor in the case, the "current and former President of the United States is around that age". "He made a conscious decision to shoot a 16-year-old boy," he said.
He added that the case should be treated as a hate crime.
"Ralph Yarl was shot because he was armed only with his black skin," he said.
Asked Monday whether Mr Lester could also be charged with hate crimes, the prosecutor said Monday that state law does not allow it.
In Missouri, a hate crime is a lower-level crime, and adding the charge would constitute a double jeopardy, he said.
Graem MassieApr 19, 2023 11:32 p.m
1681939594
Pictures from the indictment against Andrew Lester
Graem MassieApr 19, 2023 10:26 p.m
1681937849
New photo shows Ralph Yarl recovering at home
A new photo shows black teenager Ralph Yarl recovering at home from his injuries from last week's shooting.
Lee Merritt, the civil rights attorney representing the family, posted a photo of himself with the 16-year-old on Twitter.
"Ralph Yarl is home recovering! It's really a miracle that the bullet in his head didn't do any major damage. Glory to God!" wrote Mr. Merritt.
Graem MassieApril 19, 2023 21:57