Rams show they can be more than competitive and thump Seahawks 30-13 in season opener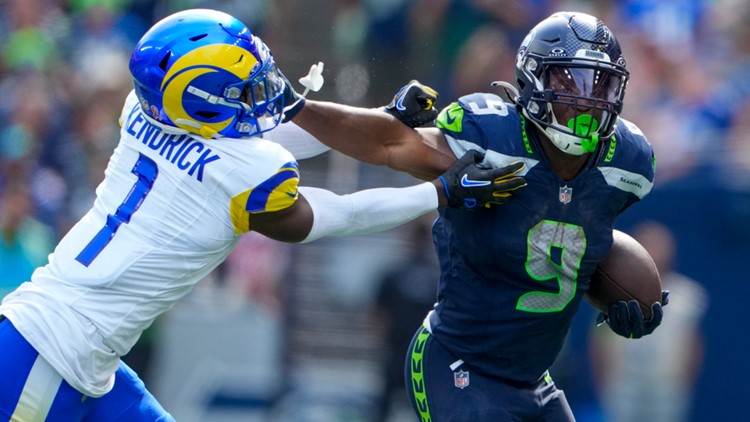 Even without star wide receiver Cooper Kupp, the visiting Rams stunned the Seahawks at home.
SEATTLE — Matthew Stafford threw for 334 yards even without favorite targets Cooper Kupp, Kyren Williams and Cam Akers combined for three touchdowns and the Los Angeles Rams stunned the Seattle Seahawks 30-13 in season opener on Sunday.
Stafford was excellent, pounding Seattle's secondary for the 58th 300-yard passing game of his career during the regular season. He did so despite Kupp having to sit out the first four games of the season on injured reserve with a hamstring injury.
Seahawks lesson: What we learned from the 13-30 loss to the Rams
Stafford found some new targets to use.
Rookie Puka Nacua had 10 catches for 119 yards and was targeted 15 times in his first career game. Tutu Atwell posted a career-high 119 yards on six catches. And the Rams were at their best on third down, where they converted 11 of 17 opportunities leading to long drives and a huge advantage in time of possession.
Los Angeles had 27 first downs, 426 total yards and 39:23 time of possession.
Williams had a 1-yard touchdown run in the first quarter and his 7-yard score on the opening play of the second half gave Los Angeles a 14-13 lead. Akers added a 1-yard TD with 9:45 remaining on fourth down and prompted Seattle fans to boo the home team's performance.
The goal for Stafford, head coach Sean McVay and the rest of the Rams is to be competitive even after a season that, due to salary cap issues, gutted most of the roster. That leaves Los Angeles to rely on some unproven players to surround some of the remaining stars on the roster.
The opener was a good sign that the Rams can do more than just be competitive.
Meanwhile, Seattle failed to enter a season where it was believed it could close the gap with San Francisco in the NFC West. But many of the issues that surfaced last season when the Seahawks had problems are still prevalent.
Seattle couldn't get off the field on third down. It couldn't maintain its momentum going 2-of-9 on third down and settling for field goal attempts in the first half when it needed a touchdown. The frustration with the performance became apparent in the final minutes of the game when DK Metcalf was flagged for taunting and Quandre Diggs was called for unnecessary roughness following a foul on the play.
Seattle had only 12 yards of offense and only trailed in the second half.
Geno Smith's second season as starter got off to a rough start as he completed 16 of 26 passes for just 112 yards. He had a 10-yard touchdown run to Metcalf in the first half, but Seattle only had one offensive play of more than 15 yards.
Seattle lost both of its starting offensive tackles to injuries in the third quarter when right tackle Abraham Lucas and left tackle Charles Cross left, along with wide receiver Tyler Lockett.
Lucas was diagnosed with a knee injury. Cross limped because of a toe injury in his right foot and did not return. Late in the quarter, Lockett was hit by Rams safety Russ Yeast during a run and was examined for a concussion. He didn't come back.
Rams cornerback Ahkello Witherspoon was injured late in the fourth quarter and did not return.
Seattle is without rookie first-round pick Devon Witherspoon as the young cornerback continues to work back from a hamstring injury that limited him in training camp. Witherspoon is listed as questionable, but coach Pete Carroll said the team will not rush him back after only returning to practice last week.
Rams: Host San Francisco next Sunday.
Seahawks: At Detroit to face the Lions next Sunday.