Reaction to officer's comments about Jaahnavi Kandula's death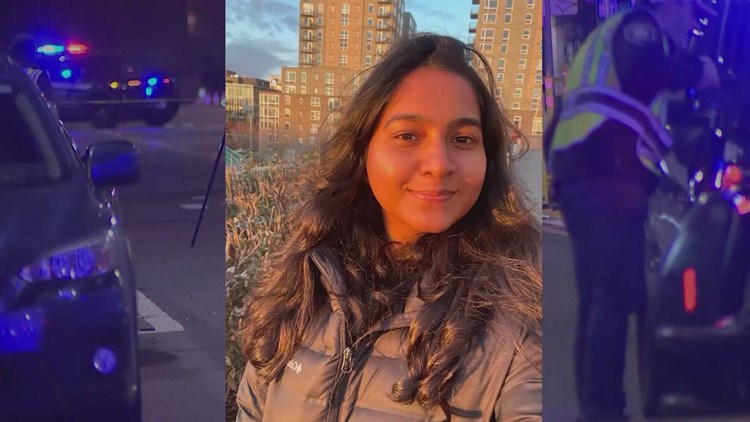 A Seattle police officer's comments about the 23-year-old woman beaten to death by another Seattle officer were made public on September 11.
SEATTLE — Since a Seattle Police Department (SPD) official's comments about the death of a 23-year-old Seattle woman in January were made public on September 11, several agencies have spoken out.
In the fatal crash in January, a Seattle officer was responding to an emergency and was traveling at 74 mph in a 25 mph zone when the officer struck and killing Jaahnavi Kandula, 23, who was walking in the crosswalk.
Body camera footage, recently released by the department, captured Seattle officer Daniel Auderer saying, "but she's dead" and laughing while talking on the phone the day after the incident. Auderer, vice president of the Seattle Police Officers Association, was not involved in the January crash.
"After all, she is 26 years old," Auderer said in the video. "She has limited value."
On Wednesday, Seattle Mayor Bruce Harrell sent a letter to Kandula's family on behalf of the Seattle community expressing his condolences.
"Although I do not know Jaahnavi personally, I understand that she is a thoughtful, kind and intelligent young woman who has a very bright and promising future ahead of her," he wrote. "I share your sadness that her life was tragically cut short."
While not specifically mentioning the Seattle Police Department, Harrell wrote in the letter, "I want to be clear that one person's comments do not reflect the feelings of our city or the communities that call it home. "
"We recognize that Jaahnavi's death is a loss to the entire community — the loss of a young woman who had so much more ahead of her to do great things and share that joy with others," Harrell wrote. Dear".
Kandula is a graduate student from India who is also working to support her mother who lives in India.
The Consulate General of India in San Francisco issued a statement Wednesday, calling the handling of Kandula's death "deeply troubling."
According to a social media post on September 13, in addition to contacting authorities in Seattle, Washington state and Washington DC, the Consulate also called for a "thorough investigation" and action against them. and the people involved in her death.
On September 13, Seattle City Councilmember Tammy Morales asked Seattle Police Chief Adrian Diaz to take action against Officer Auderer for his comments.
"As the Department and the Seattle Police Officers Association request more funding for recruiting and hiring, it is clear that the top deterrent in attracting officers," said Morales, who is running for re-election. High quality may be the culture of this department itself." to the city council.
Morales' city council opponent, Tanya Woo, released a statement on September 12 about the incident, saying she was "deeply troubled" by Auderer's comments and that she believed the force The police force must put accountability first.
Meanwhile, retired King County Sheriff John Urquhart expressed strong distaste for the officer's comments on a scale beyond Seattle.
"It's terrible, it's terrible for the Seattle Police Department, for the cause of policing, for the profession, not just in Seattle but across the country," Urquhart said. The sheriff needs to look into this guy's heart. What's really going on there? And that could also influence the decisions he makes."