Reactions to death of Southern Resident orca at Miami Seaquarium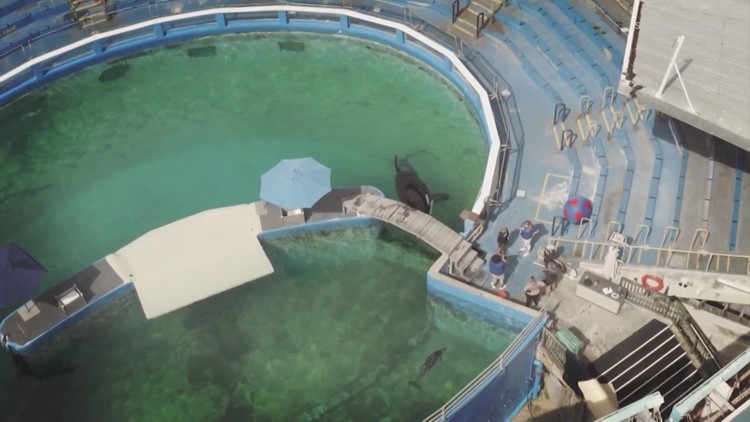 From Miami to the Pacific Northwest, here's what everyone is saying about the departure of the southern resident orcas.
SEATTLE — People across the country are reacting to the death of Tokitae, a Southern resident orcas captured from Puget Sound in the 1970s who spent more than 53 years in captivity at the Miami Aquarium.
In Whatcom County, the Lummi Nation mourns the orcas' death.
"Today is a very sad day," said Elder Raynell Morris of Lummi. We are very sad. We have lost a loved one."
Morris has been fighting for years to get her home and has just won that fight.
"About two months ago we were given the green light for the veterinary report – good to go home, good to travel – everyone was on the same page that this was the moment we had been waiting to make. people say, yes, she's coming home," Morris told KING 5.
Plans are underway to transport the Tokitae from Florida to a beach in the waters near Orcas Island.
It shouldn't end like this.
Morris said: "After I heard those words… it was just deep sadness, hurt by anger and loss.
Morris is currently flying to Miami, Florida to be with the orcas she considers the tribal elder in her own right.
How are others reacting?
From Miami to the Pacific Northwest, here's what people are saying about her departure:
Toki's Friends
"Our hearts are broken. Our beloved Toki has passed away.
Over the past two days, Toki began to show signs of severe discomfort, prompting her entire medical team at the Miami Seaquarium and Friends of Toki to begin immediate and aggressive treatment. Despite receiving the best medical care she could, she passed away on Friday afternoon from what is believed to be kidney disease.
Toki is an inspiration to all who are fortunate enough to hear her story and especially to the Lummi nation that has made her family. Those of us who had the honor and privilege of spending time with her will forever remember her beautiful soul."
Orca Network President Howard Garrett
"I'm so heartbroken. It all happened so suddenly. No one expected it. They've had some signs in the last 24 hours and all her carers are with her. So , it's as gentle a departure as possible.
But she's been a hero to me for over 25 years and a mentor. I wanted to bring her home, do whatever I could so that she could return to her own home. Now she will have to return as a dead whale."
Dolphin Company CEO Eduardo Albor
"With broken hearts, we announce Lolita's passing this afternoon, around 4 p.m. ET. We will await more information from the team of veterinarians in charge of her to share. more details Lolita is a warrior and friends of Toki and@MiamiSeaquariumreal heroes."
Miami Mayor Daniella Levine Cava
"On behalf of the nearly 3 million residents of Miami-Dade County, we are deeply saddened to learn of the sudden passing of Lolita, also known as Tokitae or Toki.
Our shared goal is to increase transparency, create accountability, and strengthen collaboration at the Miami Seaquarium for the benefit of the animals in their care. We are proud of the tremendous progress made over the past 12 months, from the successful transfer of ownership of the Miami Aquarium to the Dolphin Company, the unprecedented partnership with The Friends of Toki, and the announcement most recently about her relocating to the wilderness. Our common wish is to see Tokiin in her native waters and we are heartbroken to learn of this sudden loss.
Along with the many Miamis who grew up visiting her, generations of activists around the world have been inspired by her story, and her caregivers have been dedicated to her health. to the last minute – today, we say our final goodbyes to our dear Toki. "
Indianapolis Colts owner Jim Irsay
"Irsay has pledged to fund the effort to bring Toki home.
I'm heartbroken that Toki left us. Her story has captured my heart, like millions of others. I am honored to be part of the team working to bring her back to her native country and it comforts me to know that we have significantly improved her living conditions over the past year. Her spirit and grace touched so many people. Rest in peace, dear Toki."