Red Flag Warning issued for portions of western Washington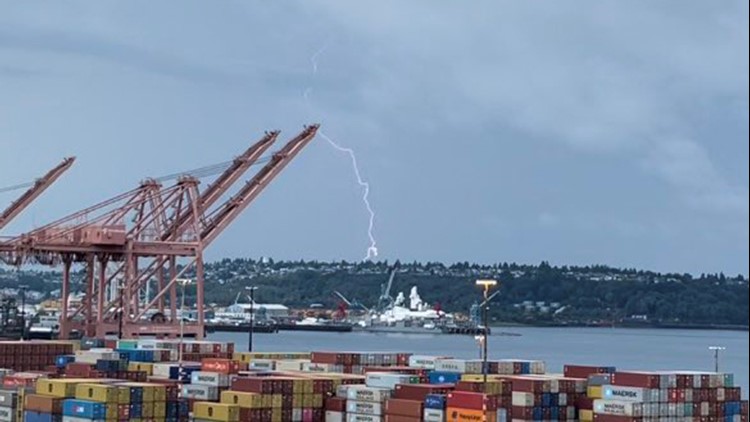 The National Weather Service issued a red-flag warning for parts of western Washington on Wednesday, saying scattered lightning could start fires in arid areas.
SNOHOMISH COUNTY, Wash. — Storms sweeping through western Washington knocked out power for thousands in the Puget Sound region on Wednesday morning and briefly disrupted air travel at Sea-Tac International Airport.
Areas including the Kitsap Peninsula and Pierce and King counties experienced lightning, thunder and heavy rain mid-morning Wednesday.
The lightning and dry conditions resulted in a red flag warning being issued for parts of western Washington.
The storms caused the Federal Aviation Administration to establish a ground stop for incoming air travel at Sea-Tac Airport for about 30 minutes. The ground stop was aborted at around 10:15
RELATED: Western Washington forecast
The Northwest Interagency Coordination Center said Between Tuesday evening and 10 a.m. Wednesday, there were 250 lightning strikes in Washington.
Storms are expected to move quickly, but residents are encouraged to take shelter if they see lightning or hear thunder.
Tacoma Public Utilities (TPU) reported that around 10:30 a.m. more than 13,000 customers were without power. At least five of the outages were due to lightning and the others are being investigated. According to TPU, crews were "working to restore power as quickly and safely as possible."
Puget Sound Energy reported 26 active power outages as of 11 a.m. affecting more than 7,100 customers
The red flag warning applies to areas such as the Olympic Mountains and the North Cascades. The warning means that "critical fire weather conditions are either imminent or about to occur," according to the National Weather Service (NWS).
The Weather Service issued the warning that scattered lightning in arid areas could start multiple fires.
The red flag warning is in effect for the northern and central coastal lowlands and western portion of the Olympic Mountains (fire weather zones 650, 651 and 652) until 11 p.m. Wednesday on Wednesday. Areas of the North Cascades "generally above 1,500 feet" (Fire Weather Zone 658) are in effect through a red flag warning through 2 a.m. Thursday.
>> Download KING 5+, our new Roku and Amazon Fire apps, for 24/7 live coverage
South King Fire and Rescue said crews responded Wednesday morning to a home in the Twin Lakes area for a possible lightning strike and another report of a boat possibly struck by lightning off Dash Point Beach.
"Thunderstorms can also bring sudden sharp changes in winds on existing fires, leading to rapid changes in a fire's propagation speed and direction," the NWS warned. "Outgoing thunderstorm winds can pose a threat several hours after a new lightning fire begins."
Storms are expected to be "generally fast-moving, which could limit rainfall and increase fire weather concerns" with lightning.
Thunderstorms moved through Grays Harbor County around 2:30 a.m. Wednesday morning, knocking out power to more than 5,100 Grays Harbor PUD customers. Crews were able to restore power to most customers by 8:40 a.m
There are currently no major wildfires burning in western Washington.
At least three major wildfires are burning east of the Cascades, including Cow Canyon, Vantage Highway and Williams Lake.
How to stay safe during a thunderstorm
As storms sweep through western Washington, residents should remain vigilant and stay indoors.
Here are some ways to stay safe when you're outside when the storm hits:
Seek shelter immediately.
If you are not near a shelter, descend from elevated ground and crouch in a ball-like position with your head tucked.

Things to avoid:

Lie flat on the floor
Shelter under an isolated tree or cliff or ledge
Ponds, lakes and other bodies of water
Objects that conduct electricity (such as barbed wire fences, power lines, or windmills)
Open spaces such as golf courses, parks, playgrounds or beaches
Stand near tall buildings that are more likely to be struck by lightning

Separate yourself from others to reduce the potential number of injuries from a lightning strike.
Open structures such as porches, gazebos, or baseball shelters will not protect you from lightning strikes.
RELATED ARTICLES: More Lightning Protection Tips
Download the KING 5 app to check the interactive radar in your area, as well as the latest forecasts, cameras and current conditions.
CLOCK: The top stories of KING 5 on YouTube
https://www.king5.com/article/weather/red-flag-warning-western-washington/281-7dec90cb-228e-4b84-91c4-0938f94ddafe Red Flag Warning issued for portions of western Washington