Redmond designer creates swimwear that's fit and fashionable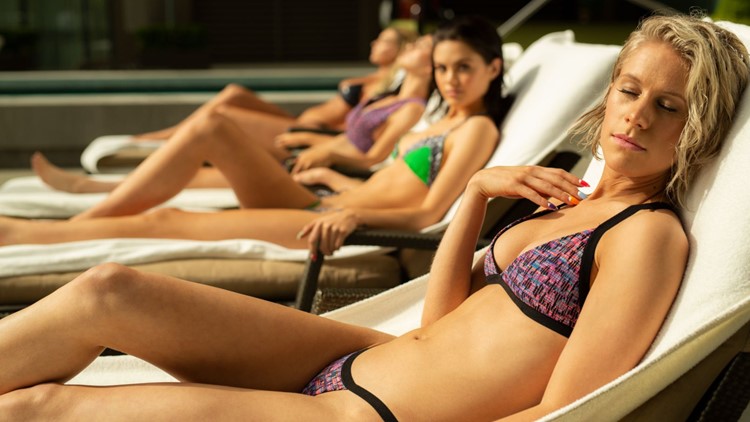 REDMOND, Wash – From a young age, Niveen Fateha knew she wanted a future in fashion.
"When I was eight years old, I would design my own dresses, bring the drawing to the tailor and then she would make it come true. And I loved that," said Fateha.
She loved it so much, she attended design school in Venezuela, where she grew up, before moving to Seattle in 2004.

"A lot of people ask me why Seattle, it's a gray town that rains a lot. But that's fate."
After working in fashion for others, Fateha decided to start her own clothing line.
"My company name is Adicora Swimwear. It's named after a beach in Venezuela," Fateha said. "A lot of the swimsuits I see are very basic, there are a lot of solid models and especially the bottoms. They don't fit. You really want your swimsuit to fit perfectly."
Fit and design are her first and foremost when she creates a new suit.

"I sketch them on paper, I put my illustrations on the computer. I love mixing and matching colors. I'm bold. I have no problem with being colorful and loud. And that's my personality."
To help accentuate her features, Feteha likes to take her workouts to the runway.
"Fashion shows are key to marketing just because after a fashion show you have people talking about it, you have customers seeing your products in person."
But it is the photos of her suit that have been exposed the most.
"I didn't want the typical catalog white background photography. I wanted a lifestyle. I wanted something that combined art," says Fateha. "There's a really fine line when you're shooting in a bikini. You don't want it to look vulgar. That's my main thing. It really looks flawless, beautiful, and very classy."
Swimsuits and Seattle might still be weird for some, but Fateha hopes Adicora Swimwear will prove to be the perfect fit.
"I just want to make Seattle proud."
https://www.king5.com/article/entertainment/television/programs/evening/adicora-swimwear-seattle-company-woman-owned/281-c4ccdef6-e7d0-4051-a55f-f71b6e1b6ce2 Redmond designer creates swimwear that's fit and fashionable