Reds push winning streak to 10, longest since 2012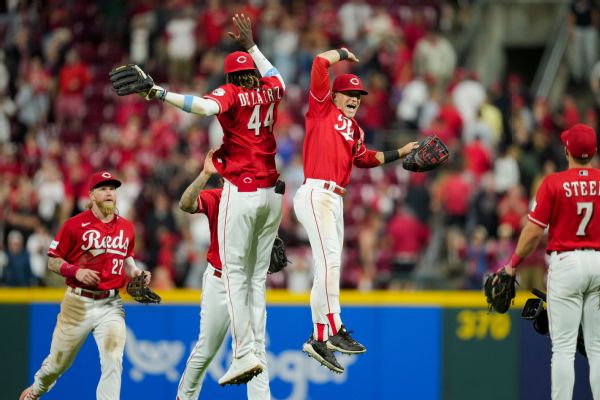 CINCINNATI — TJ Friedl hit a home run in three runs on a four-hit night, rookie Elly De La Cruz added a solo shot and the Cincinnati Reds extended their winning streak to 10 games with an 8-6 win over the Colorado Rockies on Tuesday night .
"I remember what it was like to lose a game," Friedl said. "So we're trying to stay away from that as much as we can."
Will Benson hit a sixth-round solo home run and helped the NL Central-led Reds to their longest winning streak since 2012, when they also won ten straight games. The last time they won 11 straight was in 1940, the year they won the World Series.
De La Cruz had three hits when fans chanted "Elly! Elly!" shouted.
"We are very grateful for the chance we have," said Reds manager David Bell. "We have experienced what that feels like and we want to continue like this. What a great crowd we had the last two nights; that means a lot to our team."
Jorge Alfaro's three-run home run in the eighth, which ricocheted off the top of the fence at center, couldn't save the Rockies from their seventh straight loss.
The Reds scored two runs in the fifth with help from three misses by Colorado right-hander Peter Lambert, two on second-round pickoff attempts.
Nolan Jones hit a solo home run against Cincinnati right-hander Ben Lively in the first game, setting the Reds to their best 25th win from behind in the National League.
Lively allowed a season-high four walks and gave up three hits and two runs with four strikeouts in four innings.
Alex Young (2-0), the second of six Cincinnati pitchers, met at least three batters in game five to earn the win. Alexis Diaz allowed a run before escaping a base-crammed backlog with a touch of Alfari to make his 20th save on 20 occasions.
"I'm not surprised," Colorado manager Bud Black said. "That's what our boys do. We don't stop. Everything in the dugout points to the next inning, the next attack."
Friedl followed back-to-back two-out walks from Benson and Curt Casali, the eighth and ninth hitters in Cincinnati's lineup, with a drive to the front row of right fields ahead of right-hander Noah Davis in the second.
"I just wasn't able to implement pitches there," Davis said. "When you come up with two outs bottom of the table, you have to make it and make sure they force the action. So this is a mistake on my part."
The switch bat De La Cruz hit his second home run in third field since his June 6 call-up. Spencer Steer added an RBI double in the inning.
The speedy De La Cruz struck in the fifth with a single on the body of Lambert, who threw the ball away after collecting it. De La Cruz went into third place through a bad pickoff attempt and grabbed a brace from Jake Fraley.
Davis (0-2) also set a season-high with four walks.