Reneé Rapp refuses to play by Hollywood's rules
To listen to this profile, press the play button below:
Approximately 50,000 people move to New York City every year with a dollar and a dream. In 2019, Reneé Rapp was one of them — a 19-year-old unknown from North Carolina ready to join the legions of aspiring performers willing to live in an overpriced closet or wait tables while chasing their big break.
Like, say, being offered one of the lead roles in the national touring production of a Broadway show. That's the stuff dreams are made of, right?
Not if you're Rapp. The teenager — whose résumé, at that point, included winning a high school musical theater competition and filling a YouTube channel with pop song covers — told Tina Fey and Lorne Michaels "thanks, but no thanks." She did not want a job in the traveling version of "Mean Girls." She wasn't ready to leave the Big Apple so soon, not after convincing her parents to let her defer her first semester of college at Texas State University and sleeping on the floor of her friend's cramped dorm room at the Parsons School of Design.
Who are the people shaping our culture? In her column, Amy Kaufman examines the lives of icons, underdogs and rising stars to find out — "For Real."
Miraculously, it was the right call. A few months later, her presence was requested at 30 Rock by the "SNL" veteran and Fey, who'd created the stage adaptation of her hit movie.
This time around, they had a different proposal for Rapp: replacing the Tony-nominated actor who originated the part of queen bee Regina George in the Broadway production.
"That sounds more appealing to me, but I want to be a pop star," Rapp replied. "Look, I would do this Broadway contract, and I would be very excited to do it — if you guys would agree to help me in my music career. I know you guys know everybody. You book 'SNL.' I'm not stupid."
It seemed brash, naive, maybe even career-ending — and yet somehow, the industry veterans didn't kick Rapp out of Rockefeller Center. They agreed to the quid pro quo, eventually hosting a solo singing showcase for her at a local supper club when her "Mean Girls" casting was announced.
Now, four years later, Rapp is actually on the cusp of pop stardom. She has a deal at Interscope Records, which released her first album, "Snow Angel," in mid-August. She performed at the MTV Video Music Awards in mid-September, where she was nominated for best new artist. And on Sept. 15, she embarked on a 30-date North American tour that has sold out more than 70% of its venues.
None of which makes her a meteoric success, like Billie Eilish or Olivia Rodrigo. But in just four years, Rapp has blown through a seemingly immovable wall of time-honored rules about how young female artists are meant to behave.
At 23, she's part of a generation that rejects the notion that one should just politely accept whatever they're given, never ask for more, remain quiet in the face of thwarted dreams or mistreatment.
But even for someone born at the turn of the millennium, Rapp stands out. She's seemingly unafraid to request what she believes she deserves, paying little mind to the hurdles many women in the entertainment industry have faced for decades. That she's white, blond and pretty doesn't hurt, a fact she readily acknowledges, but she's also queer, young and female.
Not the demographic, historically, that has been able to employ a "take it or leave it" attitude in the way Rapp has.
After Broadway, she transitioned to TV, starring on Mindy Kaling's HBO Max series "The Sex Lives of College Girls." Before the SAG-AFTRA strike began, she shot a film version of the "Mean Girls" musical. But the acting, she said, was really just a vehicle to get to what she always craved: pop stardom.
As with many young female musicians, who seed their lyrics with clues about their private lives, Rapp's songs are revealing — there are allusions to suicidal ideation, drug use and sexual fluidity. But she's also remarkably unfiltered outside of her music, freely discussing her bisexual identity, mental health diagnoses and ongoing eating disorder both online and IRL.
She's always been this way. Her dad taught her not to be a "bull—," and she surrounds herself with friends who share similar ideologies, like Dylan Mulvaney, the transgender influencer. "She has a completely different set of knives against her than I do, and she'll be so open about the days when she's uncomfortable," Rapp said. "I think that makes her so lovable, that she's that brave and vulnerable. I try to do that too."
In July, news broke that Rapp was departing "College Girls" after playing a lesbian co-ed on the series for two seasons. Page Six reported that she only told creator Kaling she planned to exit the show after announcing her music tour — which she didn't have scheduling clearance for.
Adam Mersel, Rapp's manager, called that "stupid hearsay," insisting things are "super amicable" between both parties. "Reneé was always really vocal with everyone about music being the focus," he said. "We were able to come together and find a way that I think is gonna work narratively."
Rapp said the SAG-AFTRA strike prevented her from getting into the specifics of her decision but acknowledged her unease with the job in less explicit ways. From the ages of 19 to 22, she said, she was on sets where she was "down to take s— and let things hurt my feelings and not speak up against them, necessarily." ("College Girls" was the only project she filmed during that time period.)
And when she started filming the show in 2020, she said, she had a boyfriend — leading her colleagues to question her about the similarities between herself and her character.
"Somebody asked, 'Well, you're only gay for here, right? You're not really gay in real life?'" she recalled. "I told them I was bisexual, and they were like, 'But you have a boyfriend?' And it was like, 'G— it.'"
Rapp, who has been dating TikTok content creator Alissa Carrington for the last eight months, is one of the few female-identifying artists in the pop space who has been openly queer from the outset of her career. In the music video for one of her first singles, "Pretty Girls" — which was directed by Cara Delevingne — she spends a night on the town hooking up with a woman who then returns to her boyfriend the following morning.
Because of her comfort with sharing her sexual orientation, Rapp has generated a large LGTBQ+ fan base, many of whom champion her as an emerging queer icon.
Part of that, she thinks, is because of the way she looks: all-American, traditionally feminine. There's a reason she was cast as a popular, preppy type in her two first major roles.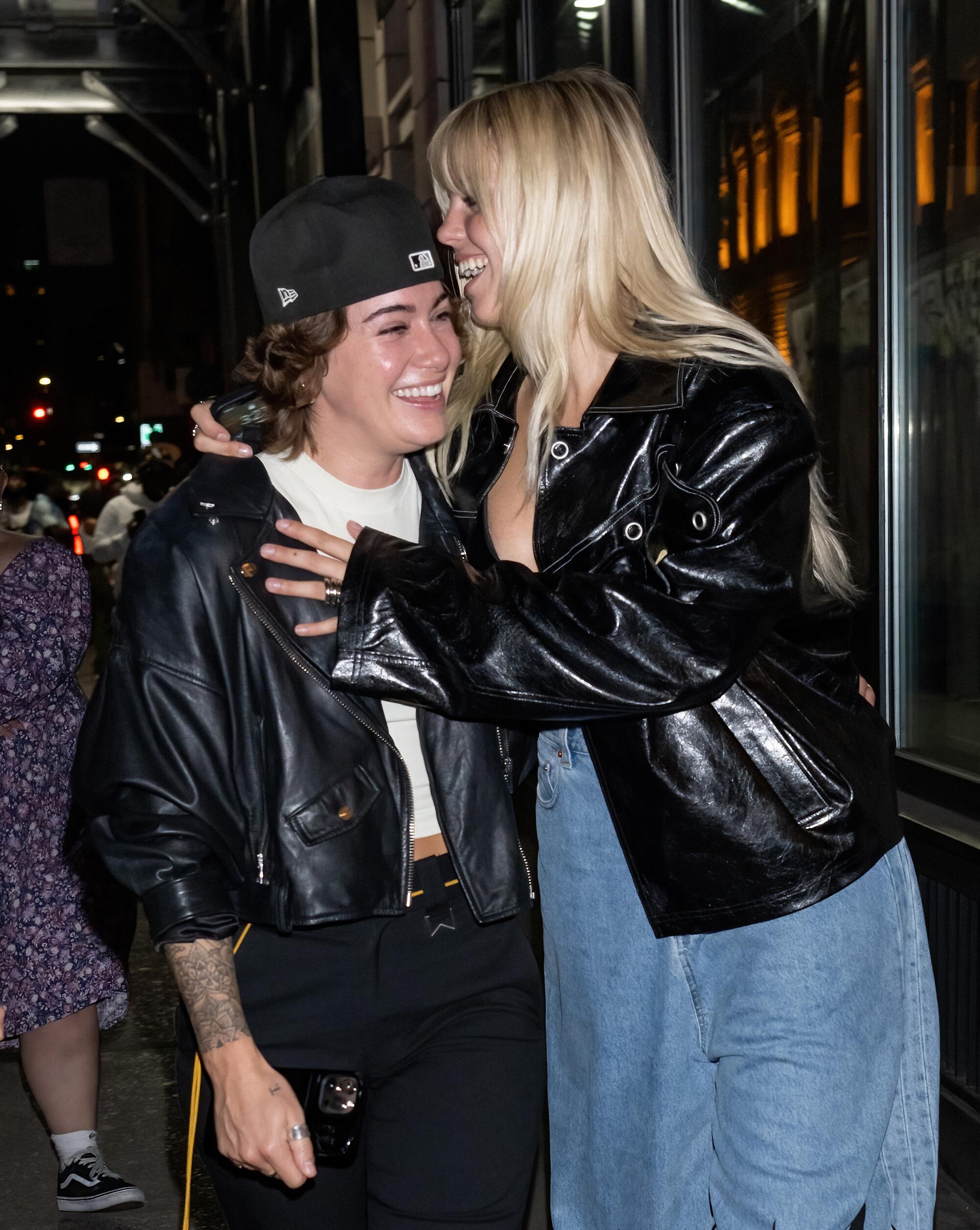 "I'm like the most palatable queer that queer gets," she said, "so when I'm pushed as a 'queer icon' — that's very sweet. But I am incredibly uncomfortable with anyone saying I'm the pinnacle of queerness. That's kind of dumb to say."
Rapp is adept at swiftly making strangers feel close to her — especially her fellow Gen Z fans. She has a penchant for using overly effusive adjectives and a propensity toward full disclosure that bears the marks of an age group virtually born with smartphones in their hands.
At a record store in Long Beach a few weeks ago, 450 of Rapp's young, devoted fans snaked through the aisles waiting to meet her at a signing event. It was late August, 88 degrees, and the shop had no air conditioning. Many in the crowd, which was composed almost entirely of women between 18 and 25, came bearing gifts: bouquets of flowers, handwritten letters, friendship bracelets.
"RENEE STEP ON ME!" read a sign made by one teenage girl. Asked to explain it, she shrugged: "I just really want her to step on me, honestly?"
Rapp arrived wearing a combination of the streetwear she favors: baggy jeans, oversize vintage tees, athletic jerseys, sneakers, Birkenstock clogs. Her publicist, manager and girlfriend — all of whom were a near-constant presence during the week I spent with Rapp — were with her. Carrington, her romantic partner, sat on a nearby piano bench and watched as adoring fans flirted with her girlfriend.
"I think it's sweet," said Carrington, 27, who met Rapp after sliding into her TikTok DMs and asking: "So, when are we going out?"
As the fans began filtering through, Rapp lavished them with terms of endearment.
"Hi, baby. I love your braces. Stunning."
A hand-knit bucket hat for her? "Obsessed. Fire."
"Oh my God, cutie! I've seen you online. You're funny as f—. Slay."
The next morning, Rapp was dropped off at the Greek Theatre by her manager. She has a gig at the Los Feliz venue on Sept. 30 but had only been there once before — as an audience member at a Rodrigo show last year. But now, walking onto the empty stage and looking out at the vacant 5,900 seats, she gasped.
"Oh, f— me," she said. "Very cool. I've never played anything this size."
She tucked her hands into her Beyoncé "Renaissance" hoodie and started walking toward the green room. She isn't particularly nervous for the tour, she said, save for the date in Charlotte, N.C. She grew up in Huntersville, a suburb about 15 miles outside of the city — and the gig is too close to home for her comfort.
"That's the one I'm most scared for," she said. "I don't want to see anyone I grew up with."
That's the thing about Rapp: One minute she's filled to the brim with moxie; the next, she'll make a devastatingly self-critical remark, delivered so casually that at first you almost don't take it seriously. This often happens when she's talking about her appearance. Take the photo on her album cover, for instance. She hates it. Doesn't think she looks good at all.
"I just thought yesterday, 'I should have edited that,'" she said. "I can't look at it and think: 'Oh my God, I look so cute here.' It's: 'I hate how my shoulders look. My face looks kind of whatever.'"
In high school, Rapp was awash in insecurity. As a teenager, she had a reputation for being overly dramatic; her parents, she said, referred to her as a "ticking time bomb." Sometimes in class, a teacher would make an anodyne remark to her and she'd burst into tears. Now, she recognizes her behavior was anxiety, but at the time, she thought something was wrong with her. "I thought it was a choice for a really long time."
Her father, Charles Rapp, and her mother, Denise Olexa, met as students at West Virginia University. In 1995, Olexa's job as a certified public accountant took the couple to North Carolina, where Rapp continued working in medical device sales. They both had a strong work ethic, which they instilled in Reneé and her younger brother.
"I'm very competitive, and I think Denise is competitive," Charles Rapp said when I spoke with him and his wife over Zoom. "Growing up, we would tell Reneé if [her voice] didn't sound good. I used to tell her, 'OK, that was fantastic, Reneé, but what could you have done differently? How could you have done it better?'"
For years, Rapp said, she was angry with her parents for acting more like professional critics than parents — "Are you f— kidding me? How do you not see what you are doing?" She wishes they'd been less judgmental and more unconditionally loving. Since learning about her feelings — sometimes through her songs — her father said he's struggled with guilt over his behavior.
"It's a headscratcher to hear some of it, and go, 'Where did we screw up?'" said Charles. "I wish we could have done better. I used to tell her: 'You got to look in the mirror first, Reneé, and check yourself.' Maybe I should have pulled back on that. I didn't know it scarred her."
"She's so hard on herself just inherently," Olexa added, "that she takes what you and I might take as a debrief that you do after any business meeting or whatever and turns it into: 'OK, I've got to do so much better.'"
Her parents also said they were unaware of how deeply Rapp was grappling with her sexuality. When she was about 15, she asked her dad if a male friend could sleep over; he said no. Upset, she pointed out that she often had sleepovers with her girlfriends — girls she had crushes on.
"And he was like, 'OK, I'm sure you do,' and just laughed," she remembered. "It hurt so bad. I think he was just, like, 'You're not gay, bisexual people aren't real.'"
Rapp's father had a different recollection: "It was, like, 'OK, you like a girl? Do whatever, that's fine. As long as you're happy. I just want you safe, happy and healthy. If you love a bug, that's fine. Adopt the bug, put the bug with you, and we'll take care of you and the bug.'"
Conflicted about her identity, Rapp chose to focus on the one thing that had always been clear to her: becoming a pop star. One who didn't look like anybody else but had elements of her idols — Beyoncé, Frank Ocean, Jazmine Sullivan — "put through my body and spit out."
She started posting videos of herself singing on YouTube. In the clips — which still live online — she stands in her kitchen or in front of her bed, belting out covers of songs from her favorite artists. Older girls at school discovered the videos and began trolling her online, commenting about how bad her voice was.
But she kept posting. Desperate to prove them wrong, she hustled harder. She heard about an acquaintance hosting a local fashion show and asked if she could bring a trumpet player and perform Solange songs. At the show, a photographer introduced himself and said he knew someone who might be able to help her: a former bodyguard for the R&B quartet Jodeci.
It sounded sketchy, but she met him anyway and the guy put her in a nascent girl group. The act didn't last long — "One of the girls is a raging conservative who had a pet pig," she said — but it gave Rapp the opportunity to work with a producer in a recording studio for the first time. There were other false starts, like when she flew to New York to meet with a guy at a major record company who said he'd work with her if she paid him $80,000.
Her fate finally changed in July 2018, when she won best performance by an actress at the Jimmy Awards, a national musical theater competition with 100,000 participants that's been dubbed the "Tonys for teenagers."
"I will never be as confident as that 18-year-old," Laura Benanti, who hosted the Jimmys that year, reportedly said after Rapp's performance of "When It All Falls Down."
Privately, Rapp was battling with self-loathing that came to a crescendo a year later, a few months into her "Mean Girls" run in 2019. She was the youngest member of the cast — Taylor Louderman, whom she replaced, was almost a decade her senior — and not yet accustomed to public judgment. During one performance, she checked her phone during intermission and found a message from an audience member:
"I just heard this mom talking to her daughters in the row in front of me saying she was so distracted by seeing you in the show," Rapp said, recounting the DM from memory. "She said she had no idea how you could be perceived as this character because you're way too big to play her."
She broke into sobs but composed herself and was able to go back onstage. Still, within weeks, she was in the throes of an eating disorder. She'd spend her days trying her hardest not to eat, allowing herself 10 almonds and some salsa. Then she'd head to the theater, where she grew so dizzy during performances that crew members threatened to pull her out of the show. Then she'd go home, eat a big dinner and start to panic all over again.
Her behavior, she said, was compounded by the media, who in early interviews often asked about how she felt being a "curvier girl" playing Regina George.
"In a lot of ways, I completely understand," she started, "but as a teenager, I really don't think I should have been asked stuff like that. I would love to maybe never speak about my body and maybe never have anybody else speak about my body ever. I personally do that to myself enough."
Her health grew so poor that she called her parents and begged them for help. She told them she didn't know what was going on with her, but she couldn't stop crying. She felt like she couldn't bear to return to the theater and put those costumes on again. She felt paralyzed.
"And I've never felt that way in my life — not to the point where it stops me, because usually I'm pretty f— determined."
It was in that moment, Rapp said, that something clicked with her parents.
"They saw me struggling and were like, 'Oh, she's not doing this to be dramatic. We've been telling her this is a choice, to pull your f— straps up and go to your f— job,' and they saw that I couldn't."
Rapp's mother and father started flying to New York every weekend, setting her up with a doctor and a therapist. And then, six months into her "Mean Girls" run, the pandemic hit. Broadway shut down, and she returned to North Carolina with her family, where she started teaching voice lessons over Zoom from her childhood bedroom.
It was over the computer that, just a few months later, she'd audition for "The Sex Lives of College Girls." She got the part, and drove cross-country with her parents in an RV to move to L.A. in December 2020. By then, she'd started conversations with Mersel about him becoming her manager, but the music industry was still on hold because of COVID-19.
It would be a couple more years until they made their partnership official. In 2022, Rapp started teasing a song she'd written, "Tattoos," on TikTok. The song got enough attention that it triggered a research program used by record labels to discover what's trending on social media. That's when Mersel started getting calls about Rapp.
One of the first was from John Janick, the chairman and chief executive of Interscope Geffen A&M. He was interested but had concerns about Rapp's acting career.
"I was like, 'Is she the real deal? Or is this somebody who has this current platform that likes music and wants to do it too?'" Janick said. "I get concerned about signing an artist when they were an actor, because what is the focus? I think a lot of people just immediately think that's a benefit, where I always question it. When you see somebody on a certain show or film, it can be hard for the audience to pay attention to what you're doing musically."
But Rapp dazzled him. She told him she wanted to be a "bisexual Justin Bieber." That acting had just been a vehicle to get to music. That she was so devoted to her career that it was sometimes detrimental to her well-being. She cried three times, trying to express how much music meant to her.
"Within 120 seconds, I watched John lean into his chair and I thought, 'Oh, he loves her,'" said Mersel, whose other primary client is Ben Platt. "He texted me immediately after the meeting and said: 'This is the one. You were completely right. She is so the real deal.'"
Rapp told Mersel to decline her meetings with the competing labels and sign with Interscope. The label set her up with in-demand songwriters like Blake Slatkin (Lizzo, Charlie Puth), Omer Fedi (Lil Nas X, Sam Smith) and Michael Pollack (Bieber, Miley Cyrus) to create an EP. Her debut album was produced by Alexander Glantz, who goes professionally by Alexander 23 and has served as one of Rodrigo's collaborators.
Initially, Rapp was hesitant to lean into the power of her voice, fearing she'd be branded a Broadway belter instead of a real musician.
"I always said to her, there's, like, five people on Earth who can sing like you. You have to sing like you," said Glantz. "So many times, she'd text me at night, like, 'This is good, right?' I'm like, 'Yeah, it's good!' She just so badly wanted it to be the highest possible quality."
During rehearsals for her forthcoming tour, Rapp's signature self-critique was on full display. In a cavernous warehouse at the end of a dead-end street in North Hollywood, a miniature version of her stage design had been replicated. There were craggy faux rocks on the ground covered in a substance meant to look like moss, clusters of paper flowers emerging from the cracks.
"We just had the Eras tour and Beyoncé, so we kind of had to slay," she said, gesturing through the theatrical smoke billowing around her. "Will we be making money? Unclear."
For the next 70 minutes, she ran through her 16-song set. When she got to "Too Well" — her most popular single, which has about 46 million streams on Spotify — she looked directly at her manager.
"I just love this song. This next one is for you, Adam," she said, her voice dripping with sarcasm.
Later, when she'd finished rehearsing, she explained that she begged Mersel to cut the "lyrically lifeless" song from her set; he refused, citing its popularity.
Rapp went to the bathroom to change into a pair of sweatpants and her Birks. She, Carrington and Mersel were heading directly to the airport to fly to New York for the VMAs. A week later, they were still by her side — along with her parents — when she FaceTimed from the car on the way to pretape her award show performance in New Jersey.
She'd spent the last few days running around the city: going to New York Fashion Week events, watching Coco Gauff win the U.S. Open, seeing the new movie "Bottoms" with her girlfriend. She liked the film so much that it made her miss acting. But beyond the film version of the "Mean Girls" musical (coming to theaters in January) — and a couple of episodes in the upcoming third season of "College Girls" — she's purposefully moved away from film and television.
"I go back and forth, because I get so anxious on sets and I feel s— about myself, so I feel like I shouldn't put myself back in that environment," she said.
"Writing this album has made me feel more accomplished, and accomplished makes me feel better. Which maybe sucks? But I definitely feel more self-assured than I did."
Those closest to Rapp continue to urge her to relish this moment — to feel proud of what she's accomplished so far.
"She enjoys her successes about that long," said her father, holding his thumb and index finger close together. "It's such a short window before: 'I suck.' I think she understands she's doing well, but she wants that next thing like that [snaps]. And that's her drive."
She's trying. But the panic hasn't released its grip yet.
"I am just so nervous all the time because I feel like it's all fake," said Rapp. "We shouldn't be celebrating. It's not this easy thing to do, to be, like, 'Congratulations, self!' But that's my goal this year. To enjoy things."