Retirement of franchise sacks leader Ryan Kerrigan closes an era for Washington football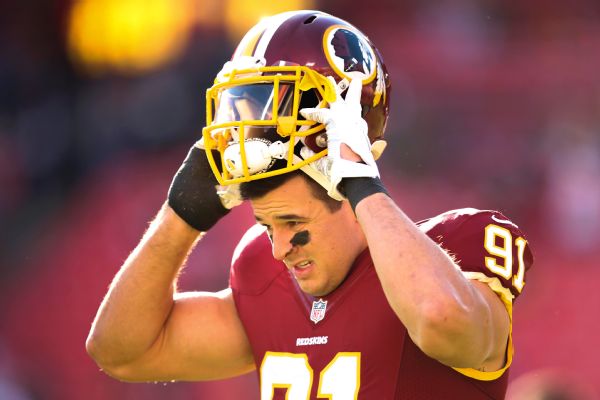 ASHBURN, Va. – Ryan Kerrigan took pride in taking a consistent approach that delivered equally consistent results. But when his left knee prevented him from doing so, he decided the best outcome would be retirement.
Kerrigan announced his retirement on Friday, ending his 11-year career by signing a one-day contract with the Washington Commanders. He played 10 seasons for Washington before signing with the Philadelphia Eagles in the last offseason.
He said some doctors told him he should have retired last year because of a bad left knee.
"I wasn't ready emotionally to stop playing football," Kerrigan said. "I had a good playoff game and I thought I could still do it. When I started training again at the end of June, my knee really started to bother me again."
That made it easier for a player who said football made every decision he made – down to what he ate for breakfast in the off-season – to quit playing. Kerrigan, the 16th overall pick in 2011, is eliminated as Washington's all-time sack leader with 95.5 while making four Pro Bowls. He didn't record a sack in the regular season with the Eagles but had a 1.5 in a playoff loss to Tampa Bay.
Kerrigan resigns from the company as one of the last faithful with ties to the organization's former name. Only 11 players remain who were Kerrigan's teammates under the previous name.
"We honor him as the Commanders continue the legacy of that name and our team as a whole," said center Chase Roullier, one of those 11. "It shows that whether that name has changed or not, we're the same group of guys. There are a lot of cultural changes, a lot of things that have changed, but we can still honor Ryan."
"It's really cool," Kerrigan said at a news conference Saturday, where he was joined by his wife and three daughters – all under the age of 3. "I know this team means a lot to a lot of people. It's one of the oldest franchises in the league and has produced a lot of great players, so it's pretty cool when people think of me like that."
Kerrigan has been consistent throughout his career, both in approach and production. He was strict about his diet, starting out with two chicken breasts each day and drinking 300 ounces of water daily during the season.
It helped him avoid injury as Kerrigan started the first 139 games of his career and didn't miss a game until his final season in Washington with a concussion.
"I tried to be consistent every day, whether it was week 1 or week 17, whether we were 3-0 or 0-3," he said. "That allows you to be successful in the NFL if you have an approach and you stick with it, even if it's not comfortable.
"…It meant a lot to me to be out there for 139 straight games and to be ready was a testament to how I felt about the game and my approach."
As Kerrigan entered Washington's practice facility on Friday afternoon, he was greeted by players and coaches who gave him an ovation.
"The most important thing is what he meant to the franchise, the fans and the community," said Washington coach Ron Rivera, "and also how important it was to do that when he spoke to him. We felt compelled because it was the right thing to do…. He was a guy you could always count on and lead by example. You only get a limited number of these guys, so they should definitely be celebrated when you get them."
Roullier called Kerrigan the "quintessential" NFL player. Kerrigan said it was so easy to commit to a game he loved – and would happily continue as a coach.
"I gave them everything I had," Kerrigan said. "Emotionally, physically, they hit me hard. Football was my life. I didn't have many hobbies… It was all about football: how would this daily decision help me with football? OK, I'm In the morning I wake up, I have breakfast, how will this breakfast help me with football? That's how I approached every day."
https://www.espn.com/nfl/story/_/id/34317933/retirement-franchise-sacks-leader-ryan-kerrigan-closes-era-washington-football Retirement of franchise sacks leader Ryan Kerrigan closes an era for Washington football