Rio Ferdinand: We all agree Pep Guardiola is one of greatest managers ever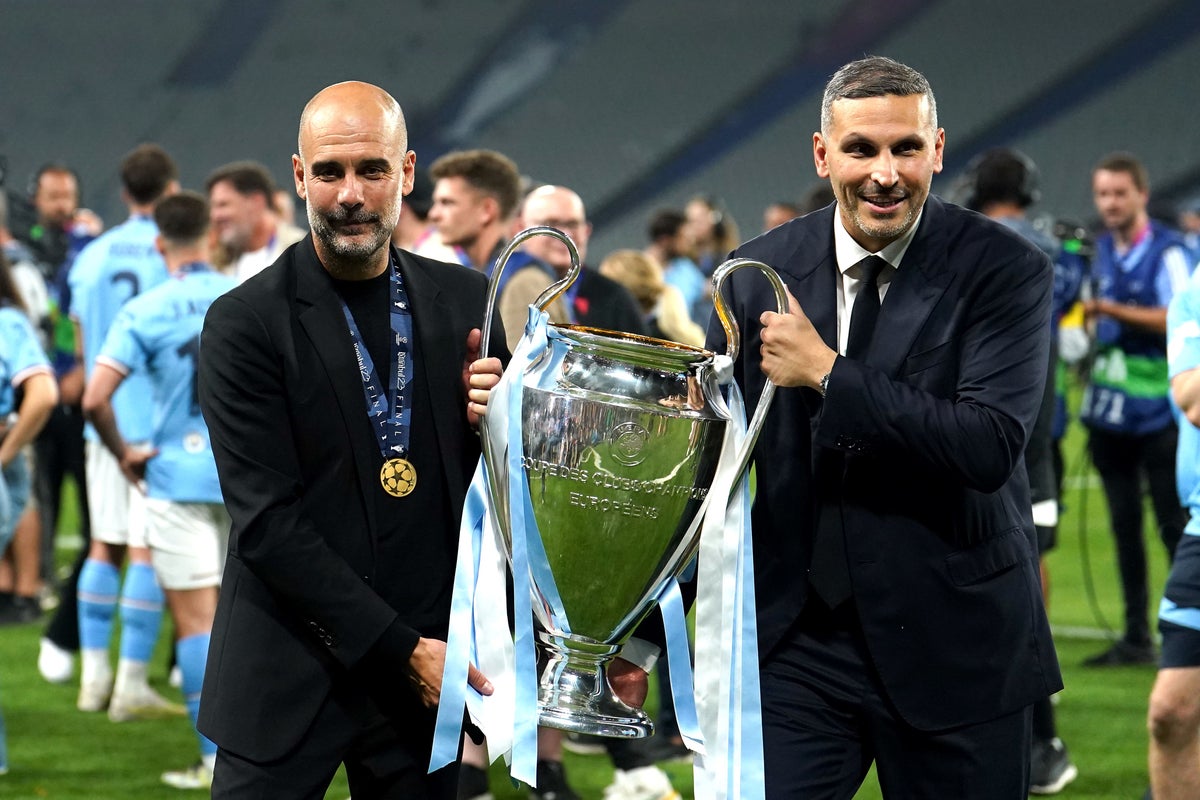 Former Manchester United defender Rio Ferdinand believes Pep Guardiola didn't need to lead his side to a historic treble to be in the running for football's 'greatest' manager of all time.
Rodri's 68th-minute strike in Saturday's 1-0 Champions League final win over Inter Milan was enough to earn the Spanish coach their twelfth major title with City and make him the first manager to win two European trebles, having done the same feat with Barcelona in 2009.
Champions League winner Ferdinand hailed the City boss with an unusual artistic analogy to describe what he believes is Guardiola's unmatched vision.
He told BT Sport: "Does he need this game to be recognized as one of the greatest, if not the greatest? I think we can all agree he doesn't even need it because of his view of the games. He lets his teams paint pictures like we've never seen in my life.
"(Like Picasso), Michaelangelo, however you want to do it."
Ferdinand was equally certain that Guardiola's men, who needed several spectacular stops from Ederson to secure the European title, would never be forgotten, adding they were now: "Immortal. Statues galore.
"Listen, this team played football that is respected and admired around the world. This has been a project and a process for a long time, Pep Guardiola has been coming for many years. But these players have produced football that is out of this world. Individually, but as a collective, this team will of course go down in history.
"They deserved it. A fantastic squad who dig deep when needed and can play both sides of the game. I think that's the difference between this Manchester City team and previous teams. They can pass, they can play fairy tale football, but if need be they can also get involved, roll up their sleeves and fight their way through games. Balance is everything in this team."
Ferdinand's colleague and pundit Joleon Lescott was part of the Manchester City side under Roberto Mancini that became the first club to secure a Champions League spot in 2011.
He watched a transformation at Guardiola over the course of a Premier League season that saw City climb up the table to Arsenal before clinching a third consecutive title and the FA Cup at the end of the season.
He told BT Sport: "I think he's been the most open and honest this season." I think it was Spurs' game when he came out and said he didn't recognize the team. Nobody sees this result in the first half of the season. Nobody sees a triple.
"Then he passed Kevin De Bruyne and wanted more, he did the same thing with Kyle Walker. The only way to get that relationship you have with a group of players is to be that close and genuine about connecting with a group of players."
Cesc Fabregas, who played under Guardiola at Barcelona, ​​recalled the days when the City boss was untried in England, even drawing doubters who wondered if he could repeat his success in the English game.
Since joining City in 2016, Guardiola has guided the side to five Premier League titles, two FA Cups, four League Cups and one Champions League.
Fabregas told the broadcaster: "It's a very difficult coach to play for him because he demands the absolute best, but in everyday life you have fun because he has a philosophy that every player dreams of."
"At first we thought, not me because I knew his way of working first hand, but that he would find it difficult when he came to England. Can he bring that kind of game to the country?
"And everyone doubted him. But he's a very special man, a very special person, a very special manager and I'm happy for him."