Rishi Sunak says tax cuts are on the way ahead of the autumn statement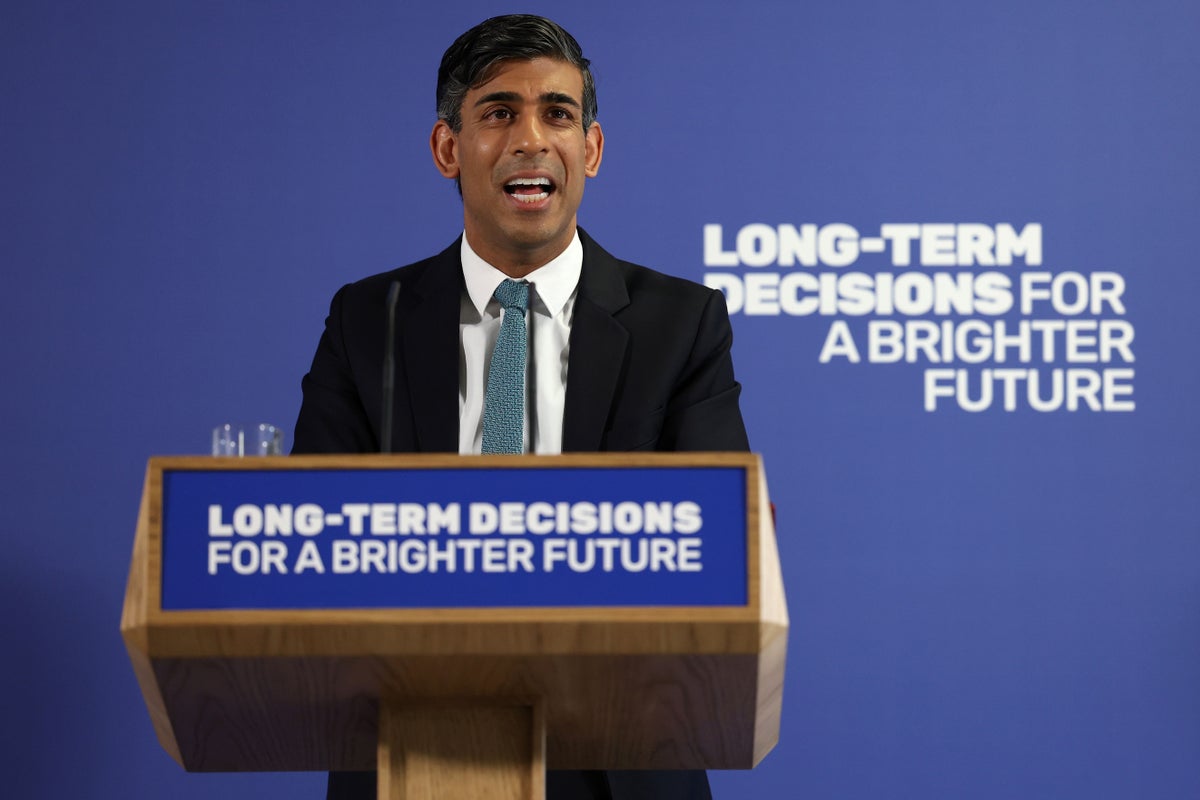 Rishi Sunak has signaled the Conservative government is ready to announce tax cuts for individuals in Wednesday's autumn statement.
In a key economic speech on Monday, the Prime Minister said: "You can trust me when I say we can start cutting taxes responsibly."
His comments followed intense speculation over the weekend that Chancellor Jeremy Hunt would announce cuts to income tax or national insurance.
The move aims to boost the Tories' sagging poll numbers – and force Sir Keir Starmer to say whether a future Labor government would reverse such a decision.
Mr Sunak boasted about the halving of inflation he had promised by the end of the year and said the government could now "turn our attention to tax cuts".
The prime minister hinted that a cut in personal taxes was planned this week, saying "we will reward work" and insisting his government would focus on measures "to grow the economy."
However, with Mr Sunak facing pressure from Tory MPs to cut personal, business and wealth taxes, the Institute for Fiscal Studies (IFS) warned that the government could only afford "a small tax cut" on Wednesday.
Reports over the weekend suggested Mr Hunt was considering a shock income tax cut. But the Chancellor emphasized on Sunday that he did not want to offer a tax cut "that would fuel inflation."
Accordingly, a cut in social security is now more likely than income tax The timeswith Treasury officials presumably believing it would be cheaper and less inflationary.
The Independent assumes that a controversial cut in inheritance tax is now off the table and will be postponed until at least next year. A government source said any tax cuts announced on Wednesday would focus on supply-side measures to boost economic growth – something that is not the case with an inheritance tax cut, a levy on wealth.
Mr Sunak has been under intense pressure from various Tory factions to cut a range of taxes – with many of his MPs insisting the spring budget was too late to wait to revive the party's fortunes ahead of elections expected in autumn 2024.
The Prime Minister said he believes in a "cautious and sustainable" tax cut and warned against "easy, fairytale" promises. "We can't do everything at once," Mr Sunak said – before setting out that reducing the tax burden was one of his five new long-term economic goals.
The Tory leader also claimed handing over Britain's economy to Labor would be "just as dangerous" as Liz Truss' leadership – recalling the unfunded wave of tax cuts in last year's disastrous mini-Budget.
The Prime Minister said Keir Starmer and Rachel Reeves wanted to continue the "big spending approach", pointing to the opposition's £28bn green business plan. He claimed there was "no way" a Labor government could cut taxes.
"This makes the same economic mistake as last year's mini-Budget – wasting tens of billions of pounds on unfunded spending is just as dangerous as wasting tens of billions of pounds on unfunded tax cuts," Mr Sunak said.
Senior Tory John Redwood – a leading supporter of tax cuts – has backed the idea of ​​cutting income tax. "Any tax cut is better than none," said the right-wing man The Independent.
"I would rather have income tax [cut] as the social security option," Mr Redwood said. "People are upset about it [income tax] More, people recognize it more, and if you're trying to boost your confidence, you should do something that people feel good about."
Mr Sunak and Mr Hunt are also expected to cut benefits by cutting real terms on Wednesday – a move that will spark outrage from charities and opposition parties.
Ministers should use September's inflation rate – an increase of 6.7 per cent – when increasing benefits. But Mr Hunt could use the much lower October figure of 4.6 per cent instead. Analysis by the Resolution Foundation found families would lose £500 a year as a result of the lower payments.
Senior Conservative MP Stephen Hammond, deputy leader of the moderate Conservative party One Nation, warned of cuts to benefits.
Mr. Hammond told The Independent: "We should stick to our commitments to improve performance. Let's not try to say that because inflation has come down, we can't stick to the previously set number, which is good news."
Mr Sunak said on Monday that the welfare system is currently not "sustainable" as the Government prepares a new crackdown on claimants who refuse to contact their employment agency – potentially cutting off payments and even dental care.
Tory MP David Jones, deputy chairman of the European Research Group, urged Mr Hunt to focus on cutting the "deeply disgruntled" inheritance tax and corporation tax. "He needs to stimulate growth – cutting corporation tax would be a good way to do that – it's been up and down like a yo-yo," he said.
Meanwhile, Paul Johnson, director of the IFS, said the chancellor could only afford "a tiny amount". [tax] cut here or make a small cut there" on Wednesday.
Although Mr Hunt was said to have increased fiscal "space" by around £25bn, the IFS director said the UK's dire debt situation meant there was little room for maneuver. "There is a lot of speculation that there is a bit more leeway against his rather strange target. But that's not real," Mr Johnson told Times Radio.
Mr Hunt told the CBI conference on Monday that his autumn statement was "not yet finalised" so there was still time for changes – but again hinted at tax cuts for individuals, saying he was "looking forward to halving inflation". "focus on growth."
The chancellor also said he was "much more positive" about Britain's economic prospects than a year ago and hoped the Tory government could shed "defeatism and pessimism" in the run-up to the general election.