Rishi Sunak 'to approve Boris Johnson's honours list' despite by-election warnings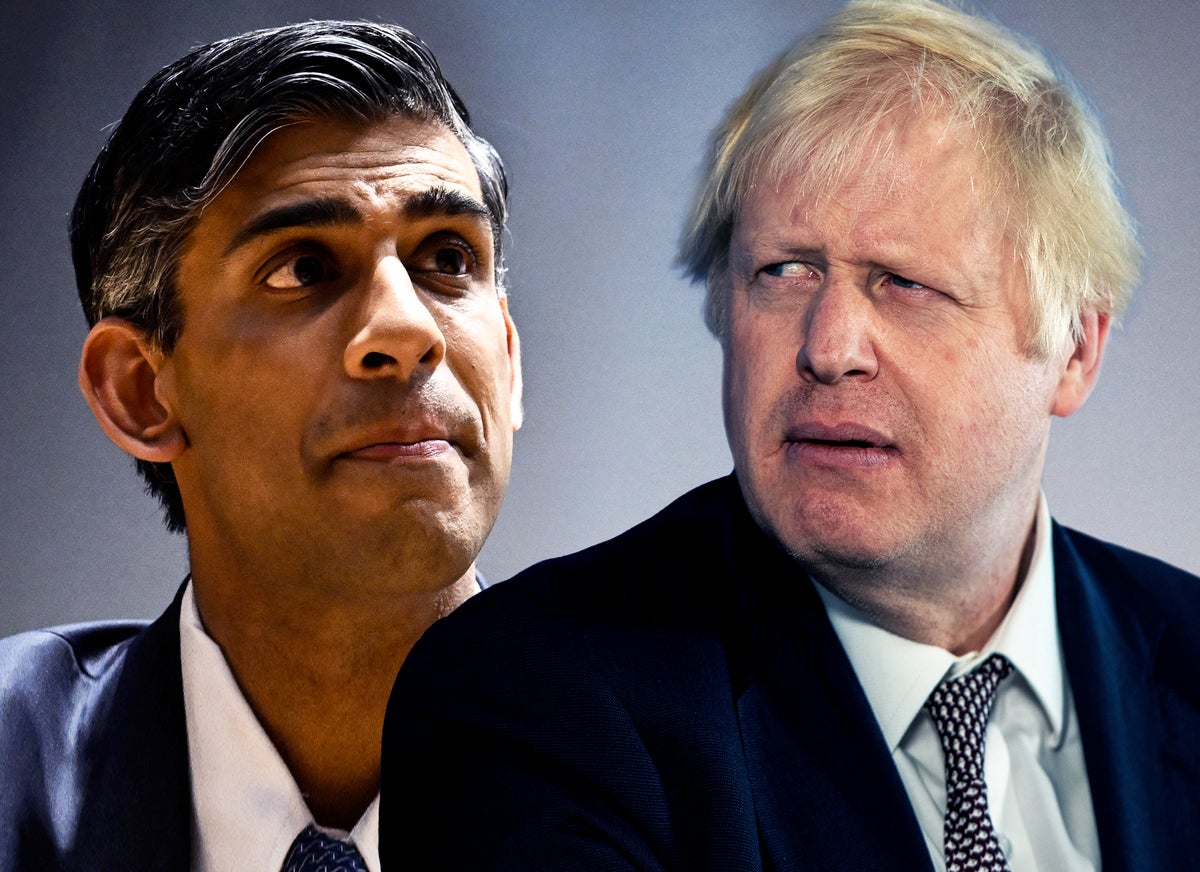 Rishi Sunak appears poised to nod through Boris Johnson's controversial roll of honor, which could trigger at least two Tories by-elections.
The former Prime Minister's list has already caused quite a stir after he reportedly nominated a number of close political allies, friends and collaborators – including several Tory MPs and his own father.
However, according to The Times, Mr Sunak is ready to approve the list of around 50 names in the coming weeks in a bid "to rid the deck of another dispute" involving his predecessor.
The step will mean further electoral obstacles for Mr. Sunak. Former Tory ministers Nadine Dorries and Alok Sharma are expected to step down to take up peerages nominated by Johnson.
Mr Sharma, former Cop26 President, commands a narrow majority of just 4,000 votes in his Reading West seat, which could be difficult for the Tories to hold.
Former Culture Secretary Dorries' Mid-Bedfordshire constituency has traditionally been a safe Tory seat with a majority of 24,664, but even that could be jeopardized if there is a big move to Labour.
Two other people believed to be on Mr Johnson's list – Alister Jack and Nigel Adams – are expected to remain MPs until the end of this Parliament before taking up their posts in the House of Lords.
Mr Jack, the Scottish Minister, has made it clear he will not resign until the next election. Mr Adams described the idea of ​​stepping down early as "absolute bullshit".
"We do not comment on honors as a matter of principle," Mr Johnson's spokesman said.
Mr Johnson could face a by-election in his own constituency amid allegations that he misled Parliament over the Partygate scandal.
The Privileges Committee investigating the allegations is due to report at the end of June and could suspend the former prime minister if found guilty.
It comes amid reports that he and his wife Carrie were hosting a close friend at Checkers – the Prime Minister's Grace and Favor country home in Buckinghamshire – while some Covid restrictions were still in place.
A sanction of 10 days or more could trigger a recall motion in his Uxbridge and South Ruislip constituency. For a recall petition to be successful, 10 percent of the registered voters in a seat must sign the petition.
However, recent polls by Tory politician Lord Ashcroft found Mr Johnson, who has a majority of 7,210 votes, would clearly win the contest and secure 50 per cent of the vote.
A separate survey using the MRP method in new constituency boundaries, conducted by FocalData and commissioned by campaign group Best For Britain, believes Sir Keir Starmer's party is on track for a 140-seat majority, despite a Some of that support "remains fairly weak".
According to the poll, the 'worst case' scenario for Labor is that it becomes the largest party in the next parliament after the general election, which is due in January 2025 at the latest but is widely expected in the autumn of next year.
That put the opposition 12 per cent ahead of the Conservative Party – a figure consistent with what independent pollster Sir John Curtice said Labor needed to win a large majority.
The dispute over Mr Johnson's list dragged on for nearly a year, exacerbated by reports that his father Stanley had been nominated for the knighthood.
Such gongs are usually awarded to people who have made outstanding contributions to charity, business, science, sports, the arts and other areas of public life.
Prime Ministers can nominate people for awards and make appointments to the House of Lords, the lower chamber of Parliament.
Appointments to the lords are made by the government and approved by the monarch.
The process is overseen by a House of Lords commission, but its role is purely advisory, meaning the Prime Minister has the final say on whether to nominate someone for nobility.