Robbie Robertson was on the verge of his greatest success
This article was not meant to be an appreciation. I was literally hours away from interviewing Robbie Robertson for a celebratory post about his most impressive film score, the upcoming Killers of the Flowers Moon, and his long and varied collaboration with its director, Martin Scorsese, who would also answer some our questions. The gods had other plans.
Robertson, whose mother was born in the Six Nations Reserve near Lake Erie, Canada, breathes and strums a storm of personal expression into the stunning score, which Scorsese cranks up significantly in the mix. It thumps along with the pounding of drums and shakers, chords rippling on acoustic and electric guitars, accented by banjo twangs and the bird-like screams of various flutes.
Robertson's contribution is an amazing and vibrant musical ecosystem that lends immediate authenticity to Scorsese's equally vivid depiction of Osage life and culture in 1920s Oklahoma. It's music that proudly worships and dances with these people — alternately weeping at their oppression and at times almost sounding sick at being treated by history's white predators.
The film was the absolutely perfect canvas for Robertson's gifts – not only his native heritage, but also his ingrained songwriting DNA and his skills as a musical storyteller. When the film comes out in October, it will be the last film he ever made. Robertson died Wednesday at the age of 80.
Scorsese recognized this ability immediately when he first worked with Robertson in 1976. In "The Last Waltz," the director cinematically captured the band's star-studded farewell performance, Robertson's virtuoso troupe, who shared a constellation with Bob Dylan, Neil Young, Joni Mitchell and a dozen other 1960s legends performing that evening stood with them on stage.
In addition to interviewing Robertson and his bandmates, Scorsese coordinated every text and recording with Robertson as if it were a choreographed musical. The songwriter also produced the film, and in his on-screen conversations with the director, he comes across as a scruffy, charismatic character from one of Scorsese's early films, perhaps Mean Streets.
"Every time we went to a gig and a concert, it was like a round in a price war," says Robertson in the film.
"That automatically triggered something in me," Scorsese told the Hollywood Reporter of the line in 1978. "It's like 'Mean Streets'." I was starting to understand the characters a little better. Because no one ever knew the band. They had this aura about them that you couldn't get close to. And I started talking to them and I realized what kind of guys they are and the pain they go through every time they sing a song. I wanted to capture that."
Hollywood came along and Robertson was cast in the lead role in the 1980 film Carny, which he also produced. But he felt much more at home in the studio and with the soundtrack, and quickly became Scorsese's musical wingman.
"It was never about traditional film music," Robertson told Headliner in 2019 about the role.
Scorsese has often used rock and pop songs in place of the music throughout his prolific film career – it was what he called the "soundtrack of his life," the music pouring out of apartments and car windows as the backdrop to his own story. After The Last Waltz, he appointed Robertson as his music consultant and soundtrack supervisor.
Beginning with The King of Comedy, the 1982 cringe comedy classic starring Robert De Niro and recently reprized in Joker, Robertson has helped curate and produce songs for numerous Scorsese films. He often contributed a song or two himself, and where an instrumental score note was occasionally needed, he provided that too.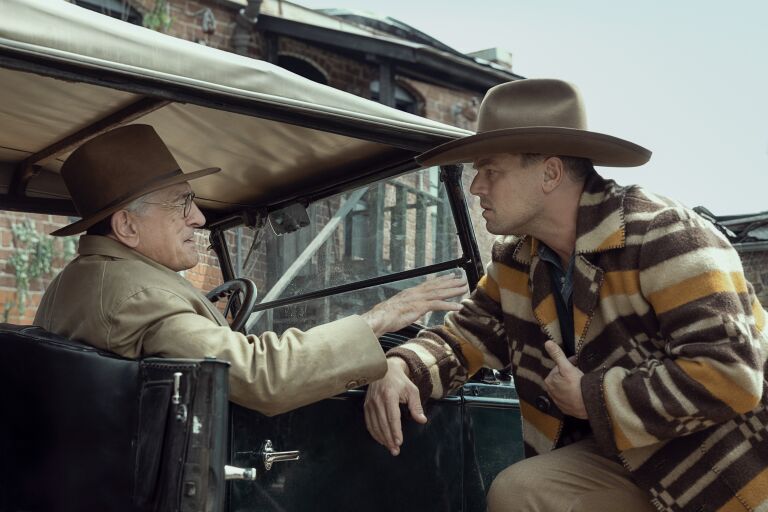 For The Color of Money, Scorsese's sequel to The Hustler, starring Paul Newman and Tom Cruise, Robertson collaborated with blues legend Willie Dixon and arranger Gil Evans to create a fitting Barroom jukebox soundtrack. Robertson could neither read nor write music, so he recorded tapes humming for Evans to translate for an orchestra. He also sent the tapes to Scorsese, "and he put them into the film," Robertson recalled in 2019.
"I said, 'No, that's not going to be in the movie.' I just compose my way. "We do that with the orchestra." And he said, "Oh no, it works really well."
"From then on," Robertson quipped, "I've been careful about what I send him."
The anecdote reveals their playful, unorthodox partnership, which lasted from 'Casino' to 2019's 'The Irishman.' Scorsese often worked with college-trained film composers to write more traditional film scores: Howard Shore, also Canadian, was one of his favorites. But for his sprawling, multi-epochal story about an Irish-American gangster, the director wanted some of Robertson's distinct magic.
The musician is looking for a "haunting vibe," he told Headliner, and has dreamed up a strolling death march for blues harmonica and jet black bass. His score formed the link between a needle-drop soundtrack starring Glenn Miller and Fats Domino. The picture ends with an original song, "I Hear You Paint Houses" – the title of the Charles Brandt book that inspired the film – with Van Morrison singing the phrase and Robertson repeating it.
It would have been a fitting conclusion to the four-decade duet between Robertson and Scorsese, but then the filmmaker created a stunning late-career work, based on David Grann's 2017 book Killers of the Flower Moon, and gave Robertson his most prominent appearance and poetic role in any scoring assignment he had ever taken on.
The resulting music, so rich in mood and melody – full of Turtle Island terroir and the first hapless Americans to sing and dance with spirits – is the best music Robertson ever wrote for the screen. It's not fair he didn't live to see the reception, but it couldn't be a finer eulogy for a leading American musician.