Robert Taylor in dreamland after new team-mate Lionel Messi celebrates his goal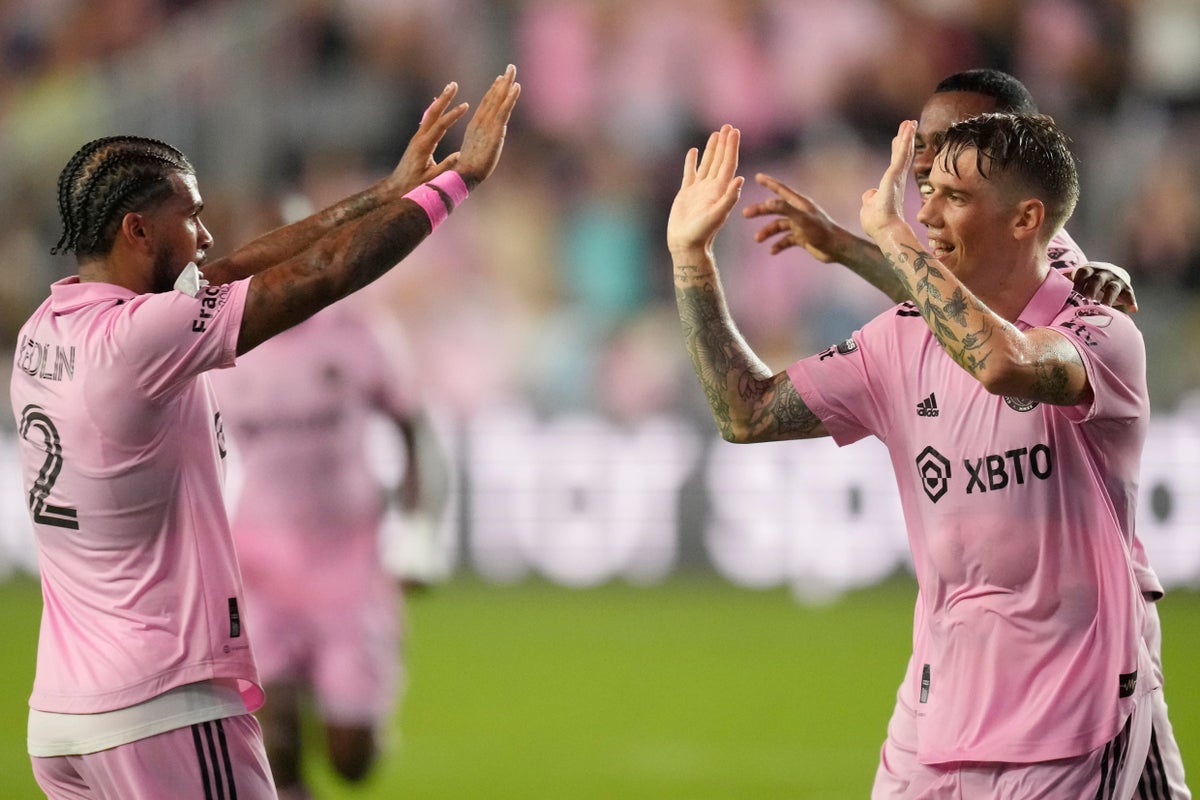 From pondering his future on the Lincoln Moorlands Railway bench to Lionel Messi celebrating his goal, Inter Miami midfielder Robert Taylor has a different story.
The eyes of the football world were on DRV PNK Stadium on Friday night as the Argentine wizard began his new chapter in the United States.
Messi's Miami debut took years and was worth the wait as he came on from the bench and scored a stunning injury-time free-kick winner against Cruz Azul.
The 2-1 League Cup win was a dream debut for the 36-year-old and a surreal moment for new team-mates including Taylor, who also made his debut alongside Sergio Busquets.
"It's amazing, it's great, of course I'm excited," Taylor said.
"He just came in and brought a lot of energy to the team. His game means he always makes the right decisions in training and in games, which is why it's so good.
"It is a good feeling. Also the way to win it. It's amazing to see that free kick and the quality it brings to the team."
It was a very special night for Taylor, who said it was "pretty sick" to see Messi celebrate his superb opener from the post.
It's just the latest chapter in a hard-to-believe rise from the Finland international, who has played for top clubs in his home country, Sweden and Norway after struggling to make a name for himself in England.
The 28-year-old spent stints at Nottingham Forest, Barnet and Lincoln from where he was exploited with frustrating failed loans to Boston Town and Lincoln Moorlands Railway.
"If someone had told me a few years ago when I was on the bench at Lincoln Moorlands that I was going to play with Busquets and Messi, I would have just laughed in their faces," said Taylor with a grin.
"I was on the bench, couldn't get any minutes in the non-league and the coach told me I wasn't strong enough or fundamentally good enough. I just sat on the bench and watched.
"It tested me when I was younger. I called my parents back in Finland and said I might want to look for something, other opportunities."
Taylor's father, Paul, is a former England footballer who played for KuPS in Finland, where he still lives, and stayed up to watch the madness in Fort Lauderdale.
It's a night to be remembered for a long time, but Miami won't linger in its aftermath for long as they try to recover from a poor major league soccer season.
"Of course it's an incredible feeling for everyone in the team, but at some point we have to get used to it and not get too emotional. We just have to focus on the game," added Taylor.
"I think everyone needs to enjoy the win but for now we need to focus on having Atlanta next."